Deliverance Blu-ray Review
Written by Steve Pattee
Blu-ray released by Warner Bros.
Directed by John Boorman
Written by James Dickey
1972, Region A, 109 minutes, Rated R
Blu-ray released on June 26th, 2012
Starring:
John Voight as Ed
Burt Reynolds as Lewis
Ned Beatty as Bobby
Ronny Cox as Drew
Review:
There are two scenes in Deliverance that are so well known and are so engrained into pop culture that many people are familiar with them, even if they never saw the film. Simply mention "squeal like a pig" or sing (hum?) the first few bars of Dueling Banjos and images of the consequences of inbreeding and redneck rape are generally conjured.
It's both fortunate and unfortunate that Deliverance is more-or-less only remembered by the casual film viewer for these two moments. It's great for the obvious reason that the movie is such a part of cinematic history, but at the same time, those two scenes are so memorable they overshadow what is an otherwise terrific movie as a whole. Go on, ask a few friends who have seen the film to tell you anything about it outside of assraping and banjo playing. Chances are they won't remember much. So what does that say about the rest of the film? I don't know, I'm not smart enough to figure that out, although I will say it deserves the high regard it's held in. This isn't like Deep Blue Sea, where the only thing remembered about it is Sam Jackson's death (and rightfully so). This is goddamn Deliverance and it is much more than a hillbilly rape movie.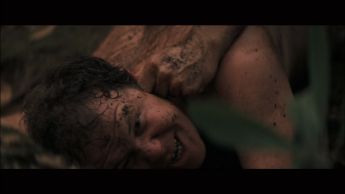 The story of Deliverance is shockingly simple for such a highly regarded movie. Four friends decide to canoe down the Cahulawassee River one last time before it's damned up and turned into a lake. Led by Lewis (Burt Reynolds in a very manly shirtless-except-for-a-skintight-vest ensemble), each of the four characters is quite believable. There's Ed (John Voight), the guy in the group who keeps his cool when the shit hits the fan. He's the one that you usually should listen to, but often don't, after you go and screw something up. The aforementioned Lewis is the stereotypical man's man and the friend you'll always want on your short list should you ever get stuck in the wild. Lewis goes fishing with a bow and arrow for crying out loud. Drew (Ronny Cox in his first film role) is the artist of the group, what with his handy guitar ready to play with the locals or sing a tune around the campfire. Rounding them out is Bobby (Neal Beatty in debut role, as well). Poor, poor Bobby. He's the guy that really shouldn't be there and feels like more of a tag-along, an outsider. He seems to admire and dislike Lewis all at once, but seems to be there to try fit in with the popular kids. Unfortunately, it is he that is the catalyst to the four's descent into hell.
Long story short: Four men go canoeing miles from civilization, Bobby's ass becomes a target for the local moonshine manufacturers, and the friends try to get back to the world with electricity and cars, leaving bodies in their wake.
Deliverance goes completely against the grain of what you'd expect from a movie like this. Once Bobby is raped, you'd assume that he would break down and Lewis would become even more manlier and get them all to safety, kicking any ass that gets in his way, but that doesn't happen. Sure, Lewis saves Bobby (and Drew as well, who was next to be homecoming queen after his buddy's date was over) from possible death, but as the film goes on, Bobby actually becomes stronger. So does the rest of the group. The movie is an interesting exploration on how some people would react in a dire situation. But what makes it most interesting is any less of a budget or less popular actors or director, and this could have been dangerously close to being a grindhouse flick. At first glance it is a rape / revenge movie (and I keep wanting to point out the similarities between this and I Spit on Your Grave, but then this review would go on entirely too long). Yet, as much as I do love the 42nd Street cinema, this goes deeper than your standard grindhouse quickie of that era.
With gorgeous cinematography, amazing acting across the board and a seemingly realistic approach to a horrific situation, there is good reason why Deliverance still holds up amazingly well after four decades. Next time someone suggests you squeal like a pig, ask them if they've ever seen the movie it came from and, if they haven't, invite them to watch it because this should be on your shelf.
Video and Audio:
Deliverance's 1080p 1:85:1 presentation gets a bit soft at times, and colors are somewhat muted, but the latter is intentional (according to the commentary) and the former is made up for when the detail does make its appearance. For instance, I never noticed that Lewis' fantastic vest actually has a pattern to it until watching the film recently.
The DTS-HD Master Audio 5.1 track is great, with dialogue always intelligible. But where it really pops is when the river is at its maddest, sucking you right into the action. There is a great use of the surrounds found throughout the movie.
Special Features:
Deliverance: The Cast Remembers
Commentary by Director John Boorman
Four-Part Retrospective

Deliverance: The Beginning
Deliverance: The Journey
Deliverance: Betraying the River
Deliverance: Delivered

Vintage Featurette: The Dangerous World of Deliverance
Theatrical Trailer
"Deliverance: The Cast Remembers" is...awesome. This 30-minute retrospective was filmed at the Burt Reynolds Museum (a place I obviously have see before I die) for this 40th Anniversary Blu-ray and it's just Burt Reynolds, Ned Beatty, Ronny Cox and John Voight hanging out and talking about their experiences with the film. No moderator, no interviewer. Just some men sitting around a table reminiscing. It's very real and very personal and very, very good.
John Boorman's commentary is a must listen for fans of the film. While he does go quiet at times, whenever he is talking it's interesting. He talks about the film's budget and how they worked around certain issues with it, why Dueling Banjos ended up playing such a pivotal part of the film's soundtrack, stunts, James Dickey (author of the book the film is based on) and his effect on the cast and much more. Well worth a listen at least once.
The four-part retrospective has a total running time of about 55 minutes and delves into Deliverance from beginning to end. It's rare that you get not just a true behind-the-scenes fluff-free piece, but one that runs almost an hour? Watch it and appreciate it.
Although it has a running time of just about 10 minutes, "The Dangerous World of Deliverance" is worth a watch, if only to check out some more behind-the-scenes footage of a very young cast and crew.
Rounding it out is the theatrical trailer.
Grades:

Movie:
Video:
Audio:
Features:
Overall:
This page includes affiliate links where Horror DNA may receive a small commission at no extra cost to you.