The Devil's Rock DVD Review

Written by Charlotte Stear

DVD released by Metrodome Distribution
Directed by Paul Campion
Written by Paul Campion, Paul Finch and Brett Ihaka
2011, Region 2 (PAL), 98 minutes, Rated 18 (UK)
DVD released on 11th July 2011

Starring:
Craig Hall as Captain Bell Grogan
Matthew Sunderland as Col Klaus Meyer
Gina Varela as Helena
Karlos Drinkwater as Sergeant Joe Tane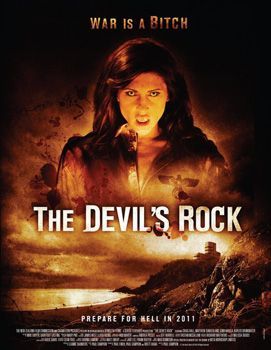 Review:
The Devil's Rock is the first feature film by special effects master Paul Campion, and it deals with Nazis and the occult. Now, you may be quick to dismiss the premise of this new film, but unlike other Nazi based horror that we've seen before, The Devil's Rock takes a slightly different approach.

The film is set on the Channel Islands, during WWII, where two kiwi commandos have been sent to destroy German gun emplacements to distract Hitler away from Normandy. However, as the two arrive on the island they hear tortured screams and, fearing these screams are from their own men, they go to investigate. What they find is something they never could have imagined. Inside the walls of an isolated fortress they uncover a Nazi occult plot to unleash a demonic monster to win the war for Germany.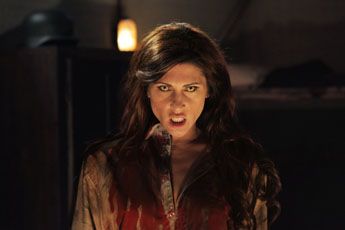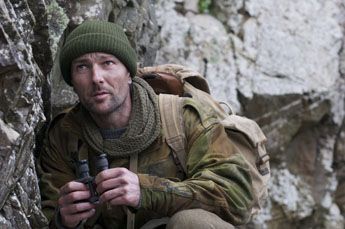 A lot of people will instantly think of previous films that have tackled World War Two (Dead Snow, Hellboy, Shock Waves etc) but The Devil's Rock bears no resemblance to these previous efforts other than its timeframe. For one thing, we're not dealing with zombies here. The evil in this film is altogether more encompassing and it creates a dark mood for the entire movie, even when the evil is not on screen, its presence is there. But also there is an emphasis on dialogue and a rapport between the two lead characters that make it more than just an all-out gorefest, it has more depth than that.

Now, as this film is nothing like I had initially expected, it did take a while to get into. The first 20 minutes consist of the two soldiers approaching this ominous building while there are screams of pain echoing the surrounding forest. Sergeant Joe Tane (Karlos Drinkwater) does remark to Captain Bell Grogan (Craig Hall) before they go in, "Bad shit is going on in here, BAD SHIT!" Ben really should have listened to him because "bad shit" doesn't even begin to cover it. A game of cat and mouse starts as the two soldiers separately navigate themselves round the interior of this castle, and before long, we realise there is something following them.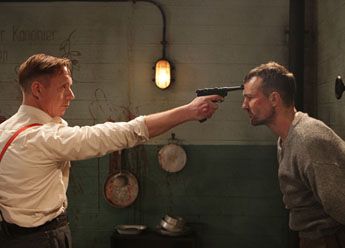 As I've said there is a rapport between the two leads and it is really well acted by Craig Hall and Matthew Sunderland, who plays the Nazi soldier responsible for summoning the demon. There is a great deal of tension that builds towards the end that explodes in unimaginable ways.

This isn't a film that ever feels like it really "gets going". There is a lot of starting and stopping, there's a bit of action, a bit of gore and then it rests again. But this in turn is a reflection of the evil beast that lies within the walls, it flares up and then it dies down.

Although the movie does have a lot of dialogue and the acting is great, there is also a fantastic use of gore and the effects are really impressive. From the torn up bodies of Nazis the beast has already devoured, to the evil demon itself which is a nasty creature to behold, the attention to detail is superb.

This film will not appeal to everyone, it is at times very drawn out but all the slow paced dialogue and creepy atmosphere leads up to one hell of an ending that really highlights director Paul Campion's knowledge of special effects. I wouldn't want to spoil anything here so I'll just say it is a fine piece of action and is worth the wait of the sometimes slow plot.

Overall, it's a new take on a great idea and it's refreshing to see this from Campion's directorial debut and it definitely is a good indication of things to come from him.
Video, Audio and Special Features:
Not graded as this was a screener.
Grades:

 

Movie:
Video:
n/a
Audio:
n/a
Features:
n/a
Overall:
This page includes affiliate links where Horror DNA may receive a small commission at no extra cost to you.