Don't Go to the Reunion Movie Review
Written by Robert Gold

DVD released by Slasher Studios

Directed by Steve Goltz
Written by Kevin Sommerfield
2013, 70 minutes, Not Rated

Starring:
Stephanie Leigh Rose as Erica
Spencer Harlan as David
Matty Dorschner as Brandon
Hannah Herdt as Jessica
Mike Goltz as Joe
Nick Sommer as Christopher
Johnathon Krautkramer as Jeremy
Tawnie Thompson as Megan
Hayley San Fillippp as Kimberly
Brady Simenson as Scott Rantzen
Review:
High-school seniors Erica, her boyfriend Joe, and friends Christopher, Jessica and Brandon play a prank on Scott Rantzen, the local horror-film geek. Things get a little out of hand and consequently Scott never returns to school. Ten years later, Erica receives an invitation to her high school reunion and her current boyfriend David, urges her to go in order to find closure to nagging regrets. An exclusive pre-reunion party invite finds the former clique reunited and not a lot has changed over the decade: the jerks are still jerks. Despite a lot of infighting, everyone agrees to stick around the invitation-only gathering, even though it is located in an undecorated, isolated farmhouse.

Jessica discovers a collection of violent drawings like the ones Scott used to make and assumes that he is planning to get revenge for having his life ruined. The others dismiss these fears and go about their business until they learn the hard way that she may be right. Nobody knows the killer's identity, but somone is recreating famous kill scenes from 80s slasher movies, just like the images in Scott's notebook. Will Erica survive the night long enough to figure out who is responsible for killing her friends? Will the motivation satisfy audiences? The answer to these questions and more are found within a brief 70-minute running time (61 without credits).
Low-budget horror films are never in short supply and dedicated audiences have to wade through a sea of inferior product in order to find the rare gem of quality entertainment. The once-popular slasher film has all but disappeared, only to be replaced by a ton of movies with few variations on the same themes. An endless stream of found-footage clones continue to clog the drain while vampires and werewolves cannot seem to get along and ghosts and zombies refuse to take things lying down. While creativity is occasionally missing, micro-budget cinema frequently falls victim to overreaching its means and either copies material from more expensive films or worse, incorporates ghetto-grade CGI.

Don't Go to the Reunion is not the elusive winner in the pile, but the filmmakers have their hearts in the right place and bring enthusisam to the material. By revisiting the classic slasher structure, there is a welcome return to an unseen assailant stalking the annoying archetypes as they earn their place in the pile of corpses for the final-act reveal. Anyone that's ever seen a horror film will recognize many key plot devices that are presented here with a straight face, but the writer's tongue is firmly planted in his cheek. The kills are delivered through a series of shoddy makeup effects, but they are exactly the style needed for this kind of project and the music cues are occasionally looney yet appropriate.

Director Steve Goltz and writer Kevin Sommerfield, creators of several fun short films including Teddy, have jumped into the feature-length world of horror with Don't Go to the Reunion, a love letter to 1980s slasher films. The central hook for genre fans is that the killer is recreating favorite death scenes from 30-year-old horror films, including Night School, Madman and Friday the 13th Part 2, just to name a few. Goltz and cinematographer Paul Bjorge score with the murder set pieces, methodically staged and nicely executed. Knowing how much these original films suffered at the hands of the MPAA Ratings Board, instead of going for a traditional shot-for-shot approach, it would have been nice to see these kills in their over-the-top gory glory as originally intended--homage on steroids, if you will.

Sommerfield's script moves at a decent pace but suffers from focusing on clever comebacks and jerky jock behavior to the point of distraction. I have no problem buying into these kids all showing up for the private party, but their treatment of each other is so harsh at times that there is no reason for any of them to actually be friends, much less agree to hang out together for the first time in years. Additionally, there is the problem of extreme coincidence and luck for the killer's plan to succeed with precision timing. Most of this could have been corrected with an extra dialogue pass, but some of these problems actually stem from the delivery. The acting is a bit uneven, but fortunately the stronger actors are given the larger roles.

Stephanie Leigh Rose does a fine job as Erica, the conflicted heroine and Spencer Harlan, while occasionally over-the-top, keeps things believable for the first two thirds of his performance as David. Matty Dorschner is a welcome addition as Brandon the non-douche from the class of 2004, but again, I don't understand why he would come back to an isolated pre-party reunion instead of just meeting everyone at the main event. Nick Sommer is clearly the cast member having the most fun with his portrayal of my favorite character, Christopher, the supreme asshole of the bunch. There is no way anyone would volunteer to hang out with this lech, but his crass behavior is moronically entertaining and I found myself giggling at just about everything he says or does.

I love the idea of using Slaughter High as inspiration and then revisiting standout moments from the genre's history, but I wanted a stronger final product. Low-budget cinema will always suffer from audio problems and stilted performances, but there is the advantage of having total creative control over the script and direction. While not completely successful here, Goltz and Sommerfield show terrific promise and audiences should keep an eye out for future projects from their Slasher Studios production company.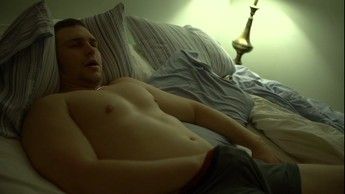 Video, Audio and Special Features:

Video, audio and special features will not be graded as this was a screener.
Grades:

Movie:
This page includes affiliate links where Horror DNA may receive a small commission at no extra cost to you.