Don't Look at the Demon Movie Review
Written by Kat Albrecht
Released by Outsider Pictures
Directed by Brando Lee
Written by Alfie Palermo and Brando Lee
2022, 95 minutes, Not Rated
Released on January 13th, 2023
Starring:
Fiona Dourif as Jules
Jordan Belfi as Matty
Harris Dickinson as Ben
Review:
As soon as Brando Lee's Don't Look at the Demon starts, you know you're in for an aesthetic treat. Lee tells the story of a team of ghost hunters who travel to Malaysia to investigate reports of a demonic presence in a stately home that's seen better days and worse owners. In their investigation, the ghost-hunting team gets a lot more than they bargained for – and so does the audience of this surprisingly elegant low-budget film.
Don't Look at the Demon is beautifully shot and takes full advantage of very well-composed and well-lit sets. Lee does an especially good job creating contrast in the filmic world, from the lushness of the Malaysian setting to the sort of musty elegance of the house at Fraser Hill and into the darkness of the hidden spaces. Some of the actual shots in the film are memorable, especially as we shift back and forth between found-footage-esque camera work and omniscient narration camera work.
However, the best thing about the movie is that it isn't just a piece of good-looking cinema. The story, the effects, and the actors hold their own and work together to create a real banger of a film. Too often, artistic films can be hard to enjoy narratively and even – dare I say it – condescending to watch. Don't Look at the Demon handily avoids this problem by making the aesthetic complementary to the narrative rather than openly privileging one above the other.
For example, dramatically shifting camera perspectives can be annoying for the viewer, regardless of the artistic payoff. However, in this film, we deftly move from the perspective of the camera in the hands of our paranormal investigators to zoom outward to see them filming. This change in perspective does something for the story, reminding us that our main characters are filming a television show, justifying where different characters are in the physical space and explaining why they see what they do. Artistically though, it also lets us gain aesthetic perspective on the various horrors as they unfold.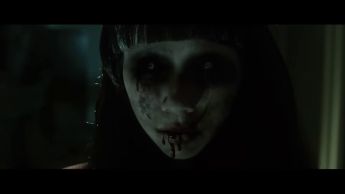 The special effects in the film are impressive and delightfully plentiful. There are more than enough scares for audience members who aren't motivated by waxing philosophical about camera angles. There is psychological horror and physical horror, with the demon effects being particularly good. Special effects are supported by strong physical performances by the actors, particularly notable in the case of Harris Dickinson (Ben), who embodies substantially different characterizations convincingly.
The performance of lead Fiona Dourif is a credit to the film. Her portrayal of troubled head ghost hunter Jules is strong and raw, but not overplayed. This is particularly important in a film that is already visually strong in its treatment of the setting since an over-acting job would not fit into the world of the film. The supporting cast is convincing and plays well off each other, especially considering the film gives only hints of backstory to many of the characters.
The easiest critique is the sheer volume of ideas it introduces cannot be fully explored in one movie. This damages the story in two ways: 1) not giving itself space to fully twist or subvert known tropes, and 2) introducing elements and leaving them unresolved.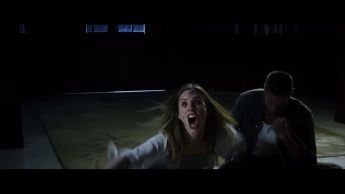 Don't Look at the Demon has a lot of ideas, but many of them will be familiar to horror lovers (which isn't necessarily a bad thing). A ghost-hunting crew that gets more than they bargained for, a haunted house, a possession, etc.; you've seen variations of this before. However, the film does offer a different lens on some of these tropes by grounding them in a cultural mythology and refreshing setting.
The second shortcoming is more detrimental to the story's construction. A principal example is the introduction of a romantic sub-plot between Jules and Matty (Jordan Belfi). We get background, tension, and betrayal. However, after the betrayal, there is a moody scene and then we promptly forget all about it since we have a demon to attend to. Luckily, demons are far more interesting than the average lover's quarrel, so I didn't care that much. The film also reveals various characters to be complex or villainous but doesn't really complete a character arc for anyone other than Jules. Fiona Dourif's compelling performance alleviates this problem in part, by really making Jules the character you care most about anyway.
This movie was a welcome surprise and a much-needed breath of fresh air. I wasn't familiar with director and writer Brandon Lee and Alfie Palermo before this film, but I will be keeping tabs on them in the future to see what chilling tales they come up with next.
Don't Look at the Demon is a great choice for viewers who want to watch a beautiful film and for viewers who just want to get the shit scared out of them.
This page includes affiliate links where Horror DNA may receive a small commission at no extra cost to you.