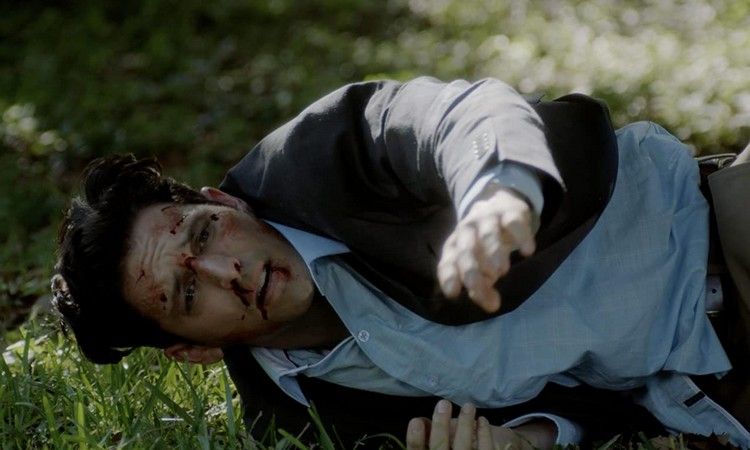 Don't Look Back Movie Review
Written by Ren Zelen
Released by Hood River Entertainment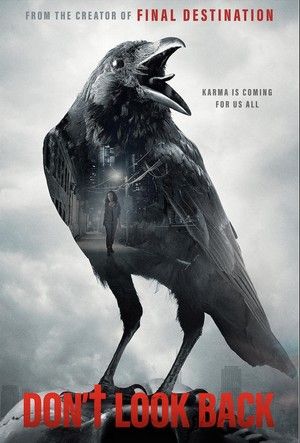 Written and directed by Jeffrey Reddick
2020, 90 minutes, Not Yet Rated
Frightfest UK premiere on 23rd October 2020
Starring:
Kourtney Bell as Caitlin Kramer
Will Stout as Lucas Helton
Skyler Hart as Josh Bowman
Jeremy Holm as Detective Boyd
Review:
Jeffrey Reddick, best known as the writer of Final Destination, makes his directorial debut with the feature Don't Look Back. Based on his own short film Good Samaritan (2014), Don't Look Back generally utilizes something similar to the Final Destination formula, wherein a cast of characters are set to suffer fatal retribution.
Where the Final Destination movies revolved around youngsters being stalked by the grim reaper because they had managed to cheat death, Don't Look Back focuses on those who fail to prevent the death of a victim by their inaction, and where Karma comes back to enact the gruesome revenge.
The premise initially seems to be a promising one, and in the first scene we are introduced to Caitlin Kramer (Kourtney Bell), as she awakens early to hear unexpected noises in her kitchen. Fearfully she prepares herself to face an intruder, but not to worry, it's only her dad (Orlando Eric Street) who has let himself into her kitchen to make her a surprise Birthday breakfast. Alas, the homely scene is short-lived as there is a knock at her door and two masked men break in, shoot her dad and leave poor Caitlin for dead. Not the kind of birthday surprise anyone wants.
Miraculously, Caitlin is pulled from the jaws of death, and after nine months of healing and therapy she attempts to regain some semblance of normal life. She struggles with survivor's guilt after the death of her beloved father, but oddly, refuses to move out of the flat where the trauma occurred. Unsurprisingly scared to leave the house, Caitlin is encouraged and cajoled by her boyfriend Josh (Skyler Hart), to get outside and resume some of her regular activities.
Caitlin must have the worst luck ever, because as she finally plucks up the courage to go for a run in the park she is witness to yet another shockingly violent event – Douglas Helton (Dean J. West) a local philanthropist, is set upon by an attacker and beaten to death as several people look on and fail to help him. One witness called Nathan (Stephen Twardokus) simply stands and films the beating on his phone.
Although the news stations broadcast Nathan's film and interview him, (including an anchor played by an uncredited Rainn Wilson) they also criticize his inaction and that of the other witnesses, all but blaming them for the death of the victim and labelling them as "bad Samaritans".
The brother of the victim, Lucas Helton (Will Stout), finds out who the witnesses are and in a moment of reckless vengeance reveals the names of Caitlin and the rest of the bystanders on television. As if a nationwide broadcast calling to shun and vilify the passive onlookers to Helton's murder isn't bad enough, Nathan, the man who filmed the attack, then falls from his apartment window in an apparent suicide.
Finding herself at the scene of Nathan's death, Caitlin glimpses a figure at his window moments after his fall. Brushing aside the concerns of the police, her therapist, and boyfriend Josh, who reminds her of her still fragile mental state and of the fact that she has been prone to hallucinations, she becomes convinced that there is now some kind of supernatural entity stalking them.
Sound familiar? Clearly, Reddick is working from the same playbook he helped write for the first Final Destination film - bringing relative strangers together through an extreme event and then killing them off one by one. Sadly, Reddick's feature has nothing of the panache of the Final Destination movies; he has apparently forgotten the elements that made them enjoyable and engaging. Don't Look Back might pass as a glossy, made-for-TV supernatural thriller – it is mainstream, family-friendly stuff, and most people who have seen these kinds of movies will soon guess where it's going and who the perpetrator is.
Kourtney Bell as Caitlin puts in a performance committed to her scream-queen role, but most of the other characters are two-dimensional and are included for the sole purpose of being picked off and killed (and they mostly do that off camera).
Don't Look Back could have given us a 21st Century examination of the Good Samaritan fable where, instead of taking action which could save someone's life, people choose to merely observe the tragedy unfold. The film could have done something interesting with its critique of people who film violence rather than prevent it. Unfortunately, Reddick gives us nothing new or particularly satisfying. There are few supernatural thrills, the storytelling is mundane and leaves loose ends, the script is banal, and the action is punctuated by a few jump scares.
Don't Look Back ambles on through the thriller-by-numbers screenplay to the obligatory twist ending featured in an epilogue tacked on to the end of the film. It is undemanding and diverting enough for a Friday night on the sofa, but if you are looking to watch something altogether more entertaining, I'd recommend going back to rewatch the whole of the Final Destination franchise instead.
This page includes affiliate links where Horror DNA may receive a small commission at no extra cost to you.