Elvira: Mistress of the Dark Blu-ray Review
Written by Robert Gold
Blu-ray released by Arrow Video
Directed by James Signorelli
Written by Sam Egan, John Paragon and Cassandra Peterson
1988, 96 minutes, Rated PG-13
Released on April 28th, 2020
Starring:
Cassandra Peterson as Elvira
W. Morgan Sheppard as Vincent Talbot
Daniel Greene as Bob Redding
Edie McClurg as Chastity Pariah
Susan Kellermann as Patty
Jeff Conaway as Travis
Ira Heiden as Bo
Review:
Los Angeles TV horror hostess Elvira quits her job when the station's new owner sexually harasses her. As perfect timing, she receives notice that she is a beneficiary of her great aunt's estate and is invited to a reading of the will in Massachusetts. Eager to raise money for a pending Las Vegas show, Elvira happily jumps in her convertible and drives cross country. She arrives in the button-up town of Fallwell, and learns that instead of money, she has inherited a rundown house, a recipe book and a dog. She quickly makes friends with the local teenagers who help her fix up the house, much to their parents' chagrin, who view her as a bad influence.
The town is more or less run by a deeply conservative "Morality Council", headed by prudish busybody Chastity Pariah. They set their sights on Elvira and plot to find a way to force her to leave. Elvira's creepy Uncle Vincent was cut out of the will entirely and expresses keen interest in her recipe book. She puts him off and instead focuses her attention on Bob, the handsome owner of the local movie theater. While using the book to cook dinner for him, she inadvertently summons a small monster. Realizing she's onto something, she uses the book again to cast a love spell over the meddling council members' picnic for a laugh. Vincent is determined to steal the book for its power and turn the community against Elvira, accusing her of witchcraft. What follows is a wild night of bonfires, jail breaks, warlocks and wisecracks as the town goes bonkers.
America's favorite late-night horror queen, Elvira (Cassandra Peterson), rose to fame hosting KHJ-TV's Movie Macabre (1981-1986). The character rapidly gained notoriety with her quick wit, sexy demeanor and tight-fitting, low-cut black gown which showed ample cleavage. The show aired B-grade horror movies that were occasionally interrupted by her humorous catty comments. Elvira found greater exposure through multiple appearances on The Tonight Show, a series of Halloween-themed commercials for Coors beer and as the face of the Knott's Berry Farm theme park's October festivities. Over the next several years, Elvira appeared in guest spots on several popular TV shows and in 1988 she made the jump to the big screen.
Elvira: Mistress of the Dark is a fast-paced, highly entertaining comedy directed by James Signorelli (Easy Money) and co-written by Sam Egan, John Paragon and Peterson. The film tells a simple fish-out-of-water story with the super-sexy Elvira dropping in on repressed small-town America, causing a silly level of culture clash hijinks. The script delivers a rapid-fire stream of lighthearted jokes and puns, sexual innuendos, sight gags, non sequiturs and double entendres that seldom let up. Peterson knows this character inside and out and her delivery is flawless. She has excellent comic timing, a great screen presence and she carries this picture with ease.
The supporting cast is made up of familiar faces, most notably Edie McClurg (Ferris Bueller's Day Off), whose Chastity Pariah steals almost every scene she is in. W. Morgan Sheppard (The Doctor and the Devils) is sufficiently menacing as Uncle Vincent, at first quiet and reserved as the straight man, he quickly evolves into an over-the-top cartoonish villain. Daniel Greene (Kingpin) turns in a respectable performance as Bob and plays well off of Peterson. Genre fans will be happy to spot Ira Heiden (A Nightmare on Elm Street 3: Dream Warriors) as one of the teens charmed by Elvira's beauty and Susan Kellermann (Beetlejuice) is appropriately prickly as rival Patty.
Elvira has gone on to enjoy lasting success as a pop culture icon, spawning many products like comic books, Halloween costumes and a memorable pinball machine. She returned to cinemas in 2001 with Elvira's Haunted Hills and continues to draw crowds at her appearances on the convention circuit. In more recent years, there was a revival of Movie Macabre (2010-2011), followed by another hosting gig with 13 Nights of Elvira (2014). Elvira: Mistress of the Dark holds up surprisingly well with its good cheer and playful tone and would make for an excellent double feature with Pee-Wee's Big Adventure, a film Peterson also appears in.
Video and Audio:
Presented in the 1.85:1 aspect ratio, picture quality is at an all-time high with the original camera negative receiving a 4K scan and restoration. The bold colors and rich detail on display are nicely satisfying. Hair and fibers are particularly clear and skin tones appear natural throughout.
The DTS-HD MA 2.0 track preserves the film's stereo recordings with a lively mix that fills the room. Music cues and sound effects are well-balanced and never intrusive while dialogue levels are always understandable.
Optional English subtitles are included for anyone in need.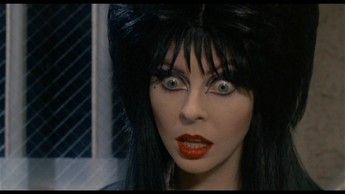 Special Features:
The disc offers a brief director's introduction (1 minute) cobbled together from a string of gaffes and flubs that is mildly amusing.
Kicking things off, we get three audio commentaries, the first featuring actors Cassandra Peterson, Edie McClurg and co-writer John Paragon, recorded in 2012. This is the best in the bunch, featuring a steady stream of entertaining stories and memories from the shoot. We learn about how the project came together, the writing process and thoughts on the characters as well as fun production stories and tales of the cast and crew.
The second commentary from 2017 finds director James Signorelli in conversation with Fangoria editor emeritus Tony Timpone. This track is full of fits and starts with information coming at a stilted pace punctuated by extended gaps of silence. We do get some insight into his approach to filmmaking and how certain scenes were accomplished.
The third track – also from 2017 – comes courtesy of webmaster Patterson Lundquist (elviramistressofthedark.com), who served as a judge on the TV program The Search for the Next Elvira. He too falls victim to lengthy quiet periods but does deliver some fun bits of trivia mixed with his thoughts on the script's strengths and weaknesses. He shares some funny anecdotes and observations as well as some behind-the-scenes tales.
The feature length documentary Too Macabre: The Making of Elvira: Mistress of the Dark (97 minutes) is listed as a newly-revised 2018 version, though I could not find a release date or running time for a previous cut. As it stands, this is an exhaustive look at the production, including interviews with numerous members of the cast and crew. Everybody looks back on the shoot fondly and offer nothing but kind words for all involved. The piece is well-paced and consistently interesting and entertaining, offering clips from the film and rare behind-the-scenes photographs.
Recipe for Terror (2018, 22 minutes) takes a look at the creation and design of the "pot monster" and the multiple stages of the demonic warlock make-up. On hand are Signorelli, Peterson and actor Morgan Sheppard, but the real stars are the effects artists who detail the process of their work. Visual effects illustrator Larry Nikolai shows off a collection of well-preserved concept drawings and design sketches and we also hear from make-up artist Steve Laporte, sculptor Yancy Calzada and puppeteer Mark Bryan Wilson who share some interesting production stories and behind-the-scenes stills.
There are six extensive photo galleries dedicated to: production stills (89 images), behind-the-scenes (32 images), special effects (68 images), storyboards (33 images), pictures from the New York premiere (8 images) and a collection of miscellaneous promotional art (10 images).
The original theatrical trailer and teaser are included.
Grades:

Movie:


Video:
Audio:
Features:
Overall:
This page includes affiliate links where Horror DNA may receive a small commission at no extra cost to you.