Elvira's Haunted Hills Collector's Edition Blu-ray Review
Written by Robert Gold
Blu-ray released by Scream Factory
Directed by Sam Irvin
Written by Cassandra Peterson and John Paragon
2001, 90 minutes, Rated PG-13
Released on October 5th, 2021
Starring:
Cassandra Peterson as Elvira, Mistress of the Dark
Richard O'Brien as Lord Vladimere Hellsubus
Mary Scheer as Lady Ema Hellsubus
Scott Atkinson as Dr. Bradley Bradley
Heather Hopper as Lady Roxana Hellsubus
Mary Jo Smith as Zou Zou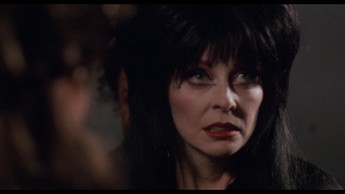 Review:
It's 1851 and Elvira, Mistress of the Dark, is traveling through Transylvania on her way to Paris to open her new show "Yes, I Can-Can". Low on funds, she and her faithful maidservant Zou Zou catch a bumpy carriage ride from the dashing Dr. Bradley Bradley, who takes them as far as an isolated castle nestled deep within the Carpathian Mountains. It is here that Elvira meets the eccentric Hellsubus family: Lord Vladimere; his new wife Lady Ema; and his delicate niece Lady Roxana. Vladimere is highly sensitive to bright light and the slightest noise. This proves immediately problematic, as everyone that meets Elvira screams in shock at her uncanny resemblance to Vladimere's first wife, the late Elura. What follows is a long, crazy night filled with shenanigans as Elvira and Zou Zou get entangled in the Hellsubus family curse.
Elvira (Cassandra Peterson) first appeared on late-night television hosting KHJ-TV's Movie Macabre (1981-1986). The show ran B-grade horror movies that were introduced and occasionally interrupted by her humorous, snarky comments. Her quick wit, sexy demeanor and tight-fitting, low-cut gown drew a rapidly increasing audience. Appearances on several popular TV shows and guest spots on The Tonight Show led to long running Halloween-themed ad campaigns with both Coors beer and Knott's Berry Farm, securing her place as the Queen of Halloween. In 1988, she made the jump to the big screen with her feature film Elvira, Mistress of the Dark. The character continued to flourish but it would take thirteen years before she returned to cinemas.
Elvira's Haunted Hills once again finds our star caught in a fish-out-of-water story, this time set in nineteenth-century Europe. The film is a send-up of the classic Edgar Allan Poe films of the 1960s starring Vincent Price (Theatre of Blood) and directed by Roger Corman (A Bucket of Blood), most notably The Pit & The Pendulum (1961), House of Usher (1960), Premature Burial (1962) and Tomb of Ligeia (1964). The idea of placing the uproarious Elvira within the constraints of a Gothic horror environment is one filled with exciting possibilities. Unfortunately, not every joke hits its mark, but the rapid-fire delivery of witty double entendres and innuendo mixed with contemporary references keep things moving.
Director Sam Irvin (Guilty as Charged) captures the mood perfectly and does his best to fill each scene with laughs, though yielding uneven results. One of the better bits in the script is the hilarious audio dubbing of the character Adrian, the Romanian Stable Stud, as an homage to countless foreign language films that receive atrocious English voice-overs that never land lip sync – sometimes referred to as "Dubs Disease". Another highlight is the show-stopping naughty musical number that allows Elvira to sing and dance that ends with a great sight gag. Co-written by Peterson and longtime writing partner John Paragon, Haunted Hills benefits from some spot-on set design and inspired cinematography that captures the visual style of the Corman classics. As an added bonus, the film was shot on location in the Transylvanian region of Romania.
Elvira's Haunted Hills is a broad comedy filled with fright screams and physical buffoonery. While this is clearly Peterson's show, the supporting cast keeps pace with generally solid performances. Mary Scheer (Mad TV) co-stars as the devious Lady Ema, who receives a great introduction by way of delivering an impressively lengthy blood-curdling scream. She proves an excellent foil to Elvira and the two play well off each other. Her best moments, however, are the scenes she shares with Scott Atkinson (Windtalkers) – doing his best George Sanders (All About Eve) impression – as the conservative Dr. Bradley Bradley. The film's secret weapon, however, is the always-watchable Richard O'Brien (The Rocky Horror Picture Show) as Lord Vladimere Hellsubus, who steals every scene he is in and is clearly enjoying riffing on the classic genre material.
Peterson must have an aging self-portrait stashed in her attic because this lady simply does not age. She is currently enjoying something of a revival of all things Elvira, as the character is celebrating her fortieth anniversary, complete with a new memoir (Yours Cruelly, Elvira) and streaming specials on Netflix, Shudder and Shout! TV, all in time for Halloween. Add to that this twentieth-anniversary collector's edition Blu-ray release and it's shaping up to be a very good year for the Mistress of the Dark! As far as Elvira movies go, Haunted Hills stands in the shadow of its far superior 1980s predecessor, but die-hard fans of Elvira and the old Vincent Price films will still find a lot to like.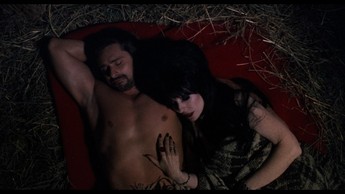 Video and Audio:
Picture quality is fantastic thanks to a full restoration and 4K scan of the original camera negative. The image, presented in the native 1.85:1 aspect ratio, is sharp and rich with fine detail in both close-ups and wide master shots. Colors are bright and well-saturated while black levels are rock solid.
Both a DTS-HD MA 2.0 stereo track and an enhanced DTS-HD MA 5.1 surround mix yield satisfying results. Dialogue levels are clear and always understandable. Music cues and sound effects are never overpowering with the 5.1 mix delivering some activity to the reach channels. Optional English subtitles are included for anyone in need.
Special Features:
Legacy extras from the 2011 DVD release are carried over for this Blu-ray, but despite the "Collector's Edition" moniker, there is only one new special feature, a brief introduction from the lovely Elvira (2021, 5 minutes), who does her best to remember just how old this movie is. It's pretty funny and runs longer than I expected and it's great to see she is still in top form.
The lively audio commentary features director Sam Irvin joined by actors Cassandra Peterson, Mary Scheer, Mary Jo Smith and Scott Atkinson. Peterson dominates the discussion as one would hope, but leaves plenty of room for others to share their stories. The track moves at a steady clip without gaps of silence, as everyone has something funny to say. The highlights come as Peterson share tales of her behind-the-camera responsibilities as to how the project came together.
Peterson, Irvin, Scheer, Smith and Atkinson share many of the same stories from the commentary in a series of vintage interviews shot for the featurette, Transylvania or Bust (2011, 28 minutes). Topics of discussion include writing and casting the film, finding a director and shooting in Romania. The piece is loaded with movie clips and behind-the-scenes footage, including a look at the poster design.
A traditional Making of (2002, 22 minutes) segment finds Peterson and Irvin (credited here as Irving) joined by producer Mark Pierson reflecting on the arduous and costly process of getting the film made. They talk about the classic Poe pictures that served as inspiration and how they designed their sets to echo the originals. There are stories about the challenges of filming on location and also of the work that went into choreographing the musical number.
Elvira in Romania (2002, 47 minutes) is an interesting collection of raw behind-the-scenes footage mixed with an interview with Cassandra Peterson shot for Romanian TV between setups.
An interview with actor Richard O'Brien (2002, 6 minutes) is highly entertaining as he shares his thoughts on Transylvania and his character. He also discusses writing lyrics and poetry and how The Rocky Horror Picture Show connects with audiences and enjoys a lasting legacy.
A brief collection of outtakes (1 minute) provide the expected flubbed lines and silliness.
Two trailers are also included.
A photo gallery of production stills, publicity shots and behind-the-scenes images plays as a silent slideshow (2 minutes).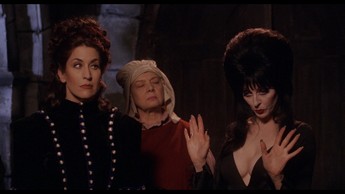 Grades:

Movie:




Video:
Audio:
Features:
Overall:
This page includes affiliate links where Horror DNA may receive a small commission at no extra cost to you.