Entity Movie Review

Written by Simon Bland

DVD released by Metrodome Distribution
Writen and directed by Steve Stone
2012, 87 minutes, Rated 15
DVD released on 24 June 2013

Starring:
Dervla Kirwan as Ruth Peacock
Charlotte Riley as Kate Hansen
Branko Tomovic as Yuri Levkov
Rupert Hill as Matt Hurst
Oliver Jackson as David Hamilton
Michael David Worden as Mischka
Review:
You can do a lot with a creepy location. Case in point? Director Steve Stone's paranormal thriller Entity, a movie that confirms our fears that abandoned buildings are indeed terrifying come nightfall. Stone takes us on a tour of a long deserted government compound in the middle of the Siberian woods where thirty four unidentified bodies were recently unearthed. It's this event that has caught the attention of our dubious guides, the crew of the fictional English TV show Darkest Secrets. However, unlike your average episode of Most Haunted, the ghostly activity captured on this expedition is no laughing matter.


Lead by presenter Kate (Charlotte Riley), camermen David (Oliver Jackson) and Matt (Rupert Hill) are joined by sensitive psychic Ruth (Dervla Kirwan) and native Serbian guide Yuri (Branko Tomovic). On arrival it becomes clear that there's more to these mysterious deaths than meets the eye. When their clairvoyant guide leads them to an abandoned government facility, any doubts they had about the afterlife are quickly put to rest as Ruth discovers their location was once the testing ground for clandestine experiments conducted by the Soviet authorities on those with psychic abilities. While the unfortunate subjects were left for dead, their spirits still linger within the building's grimy, run down walls and as you might imagine, they're not in the best of moods.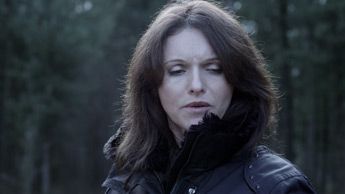 Their situation is further complicated when one of their number reveals an ulterior motive while deep in ghost territory. However as the building's secrets make themselves known, any attempt at control becomes purely illusory. Newcomer director Stone crafts an impressive calling card that'll have you doubting this is his first movie. By using the TV show element, he flits between traditionally shot narrative and the shaky, hand-held scare-o-vision that we're all familiar with. But instead of pulling out this technique at the drop of a hat, he switches when it matters most. It's a feature that's emphasised when used in his gloomy location. One noisy encounter with a nasty spirit taking place in total darkness is particularly effective. Here's a horror director that excels in the shadows, knowing just when to turn off the lights and make you jump.


Script, performances, scares - for the most part, the stars align on Stone's inaugural feature. Its Cold War-myth-on-steroids storyline carries enough intrigue to make you want to follow it into the darkness and every plot-lull is complemented by an unnerving, ear-drum rattling fright that'll shock you right back into attention. Deep in the shadows, the world of supernatural horror may have just found an intersting new voice.


Video, Audio and Special Features:
Video, audio and special features will not be graded as this was a screener.
This page includes affiliate links where Horror DNA may receive a small commission at no extra cost to you.