Entrails of a Virgin (aka Shojo no harawata) DVD Review
Written by Eric Strauss
DVD released by Synapse Films
Written and directed by Gaira (Kazuo Komizu)
1986, Region 1 (NTSC), 83 minutes, Not rated
DVD released on July 27th, 2004
Starring:
Saeko Kizuki
Naomi Hagio
Kazuhiko Goda
Taiju Kato
Review:
Synapse Films has dubbed its ongoing line of eclectic Asian films the "Asian Cult Cinema Collection." And the half-dozen films released so far are certainly not in the mainstream.
The most recent pair, Entrails of a Virgin and Entrails of a Beautiful Woman, may be the farthest from it. Forget everything a regular film — even a genre film — needs. These mid-1980s shockers are all sex and over-the-top gore. And if that's your thing, there's nothing else you need — or want — than a copy of Entrails of a Virgin.
Written and directed by Gaira (in real life, Kazuo Komizu), Virgin has what amounts to a one-sentence plot: A photographer and his crew take refuge in a deserted hotel, only to find their night of passion interrupted by a homicidal monster.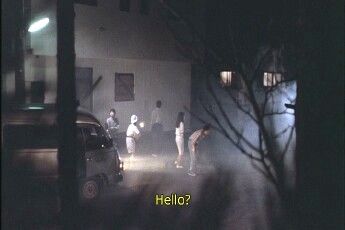 But let's be honest. The plot is virtually nonexistent, a device to set up the sex and the kills. The sex isn't even that impressive, though the actresses are generally attractive — the most notable thing about the softcore scenes is the "fogging" censorship required in Japan when the films were made, masking genitalia in the interests of decency. The gore is bright and ample, but often so over-the-top as to be unrealistic. And the penchant for rape and degradation of women that mars many strange Japanese films — including another release from the Asian Cult Cinema line, the otherwise straightforward horror flick Evil Dead Trap — is present in spades.
Some of the material is outlandish enough to make a fan question his taste, if not sanity, for enjoying this film. There's a standing "69," the most obviously fake penis this side of Boogie Nights, a geek in his underwear demonstrating wrestling holds on a lingerie-clad girl and a javelin strong enough to impale a man, yes flimsy enough to wobble as he staggers in his dying throes.
Never seen a crazed model perform oral sex on a mud-encrusted monster while masturbating with a rigor mortis-stiffened severed arm? Entrails of a Virgin is just what you're looking for. There's that, and more.
Asian film is more popular than ever in America, particularly thanks to DVD. In addition to Synapse's releases, Media Blasters has its Tokyo Shock line, and even major studios such as Columbia/TriStar have gotten in on the act. The remake of Zatoichi is playing in theaters this summer. Ringu and Ju-On have inspired expensive U.S. remakes. Quentin Tarantino helmed a two-part pseudo-samurai epic, Kill Bill. Akira Kurosawa's classics are being rediscovered through the Criterion Collection. Jackie Chan, Chow Yun Fat and Jet Li are starring in Hollywood blockbusters, and John Woo is directing them.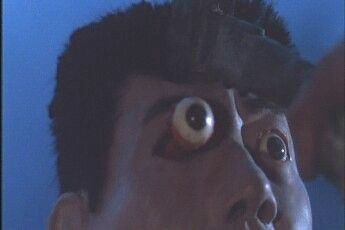 But not all Asian film is polished. Not all Asian film is inspiring. And not all Asian film is destined to find broad appeal.
Some Asian film is very, very strange. Some Asian film is borderline offensive. And some Asian film is Entrails of a Virgin.
If you like the goofy grue of Nikos the Impaler or the horror-tinged softcore from Shock-O-Rama Cinema, and you don't mind a healthy dose of bad taste — the value judgment, not the Peter Jackson favorite — mixed in, this disc might be worth a try.
If you've seen one of the import DVD versions, and enjoyed it, you've already received your preorder and sent Synapse head honcho Don May Jr. a thank-you note.
But if neither of these applies, about the best thing to say about Virgin is that it is mercifully short.
Video and Audio:
The source material is mediocre, but Synapse has made the most of what it had to work with. The anamorphic picture is clear and bright in the well-lit scenes, and in the nighttime shots, blacks are usually solid, though the visibility of the image is inconsistent. It is obvious, however, that any fault lies with the film, not the digital transfer.
In its favor, Virgin's Japanese mono track is clear and functional. In a movie with little sound that isn't a scream of pain, moan of ecstasy or wet slop of fake guts, there really is no need for a stereo mix, much less surround sound. But the more suspenseful scenes do miss the depth of field surround can bring, and the few scenes that have any bombast miss the bass.
The English subtitles are very good, up to the standard set by the other discs in Synapse's Asian line.
Special Features:
The disc is essentially bare-bones. The primary extra is a 15-minute subtitled interview with the director, Gaira, which is really the first half of two parts, the first on Entrails of a Virgin and the second on Entrails of a Beautiful Woman. The interview is wide-ranging and chaotic, with the eccentric yet intelligent director sometimes clowning and sometimes offering deep thoughts. Unfortunately, very little of this first part has anything to do with Virgin, and the volume is very low at times — so the speakers are competing with the background noise of the office shooting location. However, the interview is in Japanese, so the subtitles overcome this problem.
The disc also contains a clear, but unsubtitled trailer, and a liner-notes essay detailing the history that led to the "fogging" process. The essay is probably of most interest to those already aware of this odd form of censorship but not knowing the reasons behind it.
Grades:

Movie:
Video:
Audio:
Features:
Overall:
Conclusion:
This film does have a following, and Synapse's release is head-and-shoulders above earlier DVDs in audio/video quality. Don May Jr. puts a lot of effort into his discs, and just giving fans a solid DVD of Virgin should be considered a triumph. Readers of Synapse's website know there really are people who have been clamoring for these releases, and for them, this disc is certainly worth the wait.
This page includes affiliate links where Horror DNA may receive a small commission at no extra cost to you.