Evil Things DVD Review

Written by Joel Harley

DVD released by Scanbox Entertainment
Written and directed by Dominic Perez
2009, Region 2 (PAL), 86 min, Rated 15
DVD released 10 Oct 2011

Starring:
Elyssa Mersdorf as Miriam
Laurel Casillo as Cassy
Morgan Hooper as Mark
Ryan Maslyn as Leo
Review:
Partying teenagers take off to an aunt's holiday house in the woods, celebrating their friend's birthday. Things take a sinister twist when the kids find themselves menaced by a vicious van driver, intent on ruining their party. Conveniently, one of the youngsters is recording it all on his handheld video camera, so we get to see all the hysterics firsthand. Who's up for a lovely game of murder in the dark?

In its cinéma vérité  tale of a group of youths stalked by an angry van driver, Evil Things is like the 2001 Paul Walker piece Joy Ride crossed with The Blair Witch Project. Certainly, scenes in which the gang get lost in the woods and wander around screaming at every shadow are very reminiscent of the latter. Meanwhile, much of the housebound sections invite unfortunate comparison to Paranormal Activity, simply by virtue of being set in a house and having lots of doors slamming.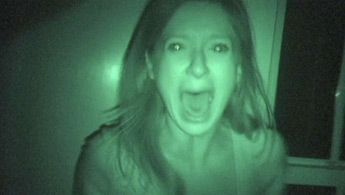 Whilst there is some tension in the long run up to the payoff, much of it is quite dull. "Why do we need the camera?" one character asks, not for the first time. Why indeed. A video camera at the dinner table? Now that's just bad manners. Not one, but two dinner scenes are recorded by our diligent cameraman; no normal inactivity too banal for his lens. Beyond a bit of driving like an idiot, the kids' stalker does nothing to suggest himself worthy of the tension the film drenches itself in. And so, in lieu of anything scary actually happening, the kids jump about screaming at every knock at the door or ring of the telephone.

The leap from bemusement to hysterics happens far too quickly. The stalker throws a VCR tape at their doorstep and they all fall about as though it's the second coming of Freddy Krueger. The acting during the final stages of the film makes the snotty-nosed antics of The Blair Witch Project look subtle by comparison. It is a creepy film, but the total overreaction on display is very distracting.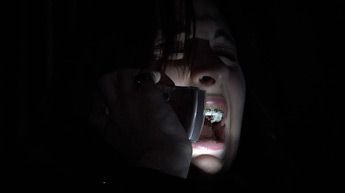 It fails in its cinéma vérité aspirations in that real life, generally, does not have a soundtrack. There's a lot of loud tension-building music that wouldn't have gone amiss in Insidious, all jangling piano keys and a complete lack of subtlety. The footage, allegedly, is courtesy of the FBI's evidence locker. Perhaps they got bored with all of the dinner scenes and added the soundtrack themselves to spice things up a bit.

A little confidence in its own creepiness would not have gone amiss. The slasher angle is one largely unexplored in this subgenre of horror, so it might have been nice to see a bit more of that and less Paranormal Activity. Evil Things is an inherently unsettling movie with a few good shocks up its sleeve and a nice concept at heart. It doesn't need the overacting or heavy music cues; anyone who has ever been alone in a big house late at night will be able to sympathise.
Video and Audio:
The video does the job just fine, perfectly in keeping with its nature. The audio track is inappropriate, although the screams sound nice and crisp.
Special Features:
More sobbing hysterics from the kids' friends and family in a five-minute series of video appeals, followed by a further five minutes of a girl being stalked to no real payoff. A microcosm of the film itself.
Grades:

 

Movie:
Video:
Audio:
Features:
Overall:
This page includes affiliate links where Horror DNA may receive a small commission at no extra cost to you.