Eyes of Laura Mars Blu-ray Review
Written by Robert Gold
Blu-ray released by Mill Creek Entertainment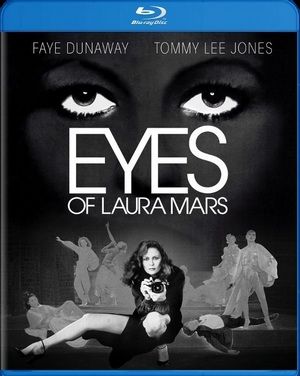 Directed by Irvin Kershner
Written by John Carpenter and David Zelag Goodman
1978, 104 minutes, Rated R
Released on May 14th, 2019
Starring:
Faye Dunaway as Laura Mars
Tommy Lee Jones as Lt. John Neville
Brad Dourif as Tommy Ludlow
Rene Auberjonois as Donald Phelps
Raul Julia as Michael Reister (credited as RJ)
Frank Adonis as Sal Volpe
Lisa Taylor as Michele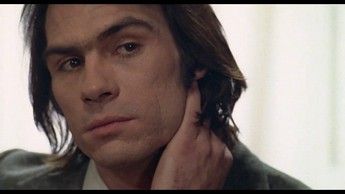 Review:
New York's top fashion photographer Laura Mars is on fire. A collection of her work is on display in a prominent art gallery and she is in the final stages of assembling a book of her craft. She works with the world's top models creating provocative and controversial images that are both violent and titillating. As successful as she is, she has her critics who find her images deplorable. It is while attending the gallery event that Laura is plagued by visions of a murder somewhere in the city; the victim – her editor. She sees the crime through the killer's eyes and witnesses the act from a first-person perspective. The next day she has another vision and this time arrives at the crime scene at the same time as the police. She is taken downtown as a possible witness and questioned by Lt. John Neville. While she cannot identify the killer, she provides details that no one outside the police department knows about.
Neville shows Laura a series of confidential crime scene photographs and compares them with some of her recent work. The staging is identical to the real thing and he wants to know her angle. Another murder of one of Laura's co-workers finds her ex-husband as a suspect and a third and fourth killing soon follow. Laura has visions of the assailant coming after her and Neville orders a protection detail. Someone is killing her friends and associates and the maniac shows no sign of stopping until he gets to her. He is likely someone known to her, possibly an employee or a member of her inner circle. There are plenty of suspects and a growing body count keeping her life upended as she tries to live long enough to see these killings stop.
In Eyes of Laura Mars, voyeurism is the name of the game as our heroine makes a living looking through a camera lens and staging provocative images. She creates art that engages physically, morally and spiritually, but has become a target of objectification herself. Laura shares close ties with her agent Donald Phelps, who keeps her grounded and shields her from drama whenever possible, but these visions are something new. Lt. Neville is her best chance at survival, as he is determined to catch this psycho and the two begin a physical relationship during the investigation. One key suspect is Laura's driver Tommy, who has a prison record and always seems to be around, but he may just be a dedicated employee. The nature of Laura's telepathic gift is never revealed or explored, but that didn't bother me, as I was caught up in the story.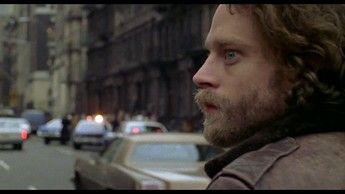 1978 was a busy year for John Carpenter with his screenplays for Someone's Watching Me and Eyes of Laura Mars coming out within months of his knockout hit Halloween. Co-written by David Zelag Goodman (Straw Dogs), Mars is a classic thriller with a modern twist. The idea of a psychic bond between Laura and the killer is fresh and exciting and keeps audiences firmly engaged. Director Irvin Kershner (Robocop 2) is a master at generating tension as he skillfully presents gripping sequences of terror and suspense. Using the city of New York as a backdrop, the filmmaker keeps things lively as police track a killer that could be hiding in any shadow.
Faye Dunaway (Chinatown) stars as Laura Mars, an empowered woman, talented and successful in her craft and capable of standing up for herself. She is out of her element when actual physical violence is threatened but is never reduced to the role of traditional victim. Tommy Lee Jones (Rolling Thunder) co-stars as the dedicated policeman John Neville, a man on a mission to protect a beautiful woman he is falling for. While he may not be the most professional cop in town, he is very good at his job. Tommy the driver is a suspect in part because he has a record, but mostly because he is played by the always-menacing Brad Dourif (Exorcist III). Seeing him in early roles is always a treat, but knowing his place in the genre keeps audience's eyes firmly on him whenever he pops up. Supporting turns from Rene Auberjonois (MASH) as agent Donald Phelps and Raul Julia (The Addams Family) as Laura's ex-husband round out the suspects list and both are welcome faces.
Eyes of Laura Mars is a fun 1970s mystery that will keep you guessing. I admit I was fooled as to who the killer is and was surprised by the ending. Others might figure it out pretty quickly and be disappointed, but if not, you are in for a treat. It's been several years, but the picture holds up well and remains gripping. Carpenter would go on to provide a solid decade of cinematic creations and Kershner was just a few years away from directing The Empire Strikes Back (1980). Their work together is satisfying and with a top-notch cast the piece really works. The film was released overseas as a special edition that quickly went out of print and makes its domestic Blu-ray debut now in a pared-down version. The title features a very reasonable price tag of under ten dollars and Carpenter completists will want to add it to their collections.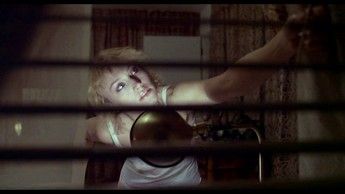 Video and Audio:
This is likely the same HD transfer used for the 2017 UK release. Presented in the original 1.85:1 aspect ratio, picture quality is rock solid with plenty of small-object detail and rich colors throughout.
A DTS-HD MA 2.0 preserves the original stereo recording and is surprisingly active. Music cues are strong and well-balanced with dialogue levels. The audio is clean and free from hiss or other forms of distortion.
Optional English subtitles are included for anyone in need.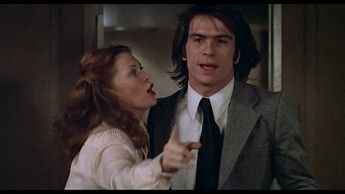 Special Features:
Director Irvin Kershner is particularly chatty in this audio commentary that is thoughtful and engaging. He shares a lot of information on how he works as a director and what tone he was going for in select scenes through lighting and camera work. There is some on-screen narration, but he keeps things moving and interesting throughout.
A theatrical trailer has not been included.
Grades:

Movie:


Video:
Audio:
Features:
Overall:
This page includes affiliate links where Horror DNA may receive a small commission at no extra cost to you.