Flatliners 4K UHD/ Blu-ray Review
Written by Robert Gold
Blu-ray released by Arrow Video
Directed by Joel Schumacher
Written by Peter Filardi
1990, 114 minutes, Rated R
Blu-ray released on August 2nd, 2022
Starring:
Kiefer Sutherland as Nelson
Julia Roberts as Rachel Mannus
Kevin Bacon as David Labraccio
William Baldwin as Joe Hurley
Oliver Platt as Randy Steckle
Kimberly Scott as Winnie Hicks
Joshua Rudoy as Billy Mahoney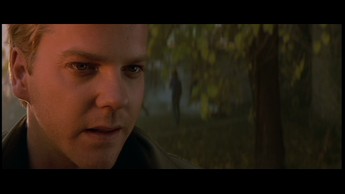 Review:
Nelson, a medical student, believes he has figured out a way to cheat death and to be able to come back and report on the afterlife. Something this tricky is going to require serious assistance and he has enlisted the help of classmates and friends. There's atheist David Labraccio, the womanizing Joe Hurley, Steckle, a smart guy with some great comic timing and Nelson's ex-flame, Rachel Mannus. Together these five conspirators sneak equipment and medicine into a Chicago University building undergoing renovations and perform their death-defying trick. The group succeeds and Nelson is indeed clinically dead one moment and then returned to life less than two minutes later.
The others start playing a figurative game of Russian Roulette by upping the amount of time they are willing to play dead in order to outdo the previous experiment. What nobody expects, however, is that when you mess with the dead, something changes in you, and you might not be the same when you return. It seems our medical deviants are haunted by the sins of their pasts and these ghosts not only scare them, they are able to physically harm them too. What follows is a race to see if there is a way to atone for the offenses of your earlier days, or if the ultimate price really is a one-way ticket underground.
Flatliners has a great premise and largely runs with it, but the script by Peter Filardi (The Craft) could easily have benefitted from a few darker turns. The round trip to the great beyond is intriguing, but I'm surprised the majority of the characters are so shallow in their reasons for experimenting. Had one of their friends failed to resuscitate and the others were forced to continue the trips to bring him back, that would have been a stronger dynamic. The aspect of ghosts of the past coming back to haunt you is also a promising conflict for the arrogant anti-heroes content to play God, but only one of them seeks to atone for his shitty behavior.
Director Joel Schumacher (8mm) has made a lot of fun movies over the years and was at his creative peak throughout the mid-1980s and '90s. Here he throws his entire bag of tricks at the screen, including a gorgeous cast dressed in trendy fashions, surrounded by giant wind machines and placed inside stunningly colorful (occasionally black-lit) environments. This is not necessarily bad, and the operatic presentation walks a fine line that works well here, but would later backfire in the director's later films like Batman & Robin (1997). Schumacher keeps things on track, narrowly avoiding several plot holes by moving things at a brisk pace and maintaining a stylistic music video design with the help of ace cinematographer Jan De Bant (Die Hard). Flatliners features some similar moments to Schumacher's earlier films like The Lost Boys and St. Elmo's Fire, in part due to dynamic aerial photography or in other cases like familiar music cues courtesy of James Newton Howard (Falling Down).
The cast comes off as a twisted horror genre variation of The Brat Pack, but fortunately they deliver solid performances across the board and sell the whole med student angle surprisingly well. Kiefer Sutherland (Stand By Me) stars as Nelson, the leader of the pack who is confident enough to not be a dick to his friends and treats them with respect, unless you count that whole putting them in danger by running a death experiment and withholding information about the side effects. Julia Roberts (Sleeping with the Enemy) is actually quite good as Rachel, the most emotional of the group, not because she's a "pretty woman", but because her participation has an ulterior motive that grounds her in reality.
Challenging Nelson for both the leadership and the girl is Labraccio, played by the always-watchable Kevin Bacon (Tremors). There are enough quiet moments between the two male leads to make this feel like a real friendship being stressed by a love triangle and the film is stronger for it. William Baldwin (Backdraft) objectifies women as the ever-horny Hurley, a man obsessed with making sex tapes without his fiancée. Rounding out the group is Steckle (Oliver Platt, Lake Placid), the voice of reason who wants to support his friends, and yet his biggest risks remain rooted in academia.
Looking beyond the A-list headliners, there are three names in the supporting cast that deserve a quick mention. Joshua Rudoy (Harry and the Hendersons), who plays the haunting figure of Billy Mahoney, has little more to do than look either terrified or terrifying and handles both really well. Kimberly Scott (The Abyss) and Beth Grant (Donnie Darko) have limited screen time, but both leave lasting impressions as they are fantastic actors and always nice to see.
Flatliners remains a fun experience that works as both a medical thriller and, with its Gothic imagery, a genre film. The script deals with guilt, regret, atonement and redemption, themes missing from many of its horror brethren. The fact that I like the characters despite their cavalier attitudes when dealing with matters of life, death and other consequences is a real compliment to all involved. Schumacher frequently falls into the trap of not being able to deliver a decent ending to his movies – and indeed cheats here by dismissing potentially devastating medical side effects with a joke – but the ride he offers along the way is more satisfying than not, and this is one of his more rewarding efforts.
Video and Audio:
Flatliners was first released on Blu-ray by Sony in 2007 and later reissued by Mill Creek in 2014, who utilized the same acceptable but ultimately mediocre transfer. Now, Arrow Video steps up with a gorgeous new 4K restoration of the original camera negative, approved by cinematographer Jan de Bont. This transfer resurrects the 2.35:1 picture with brighter and sharper image clarity and filled with previously absent small-object detail, particularly in hair and fibers. Colors are well-saturated and frequently pop while black levels are bottomless. The 4K UHD disc features Dolby Vision and is HDR10 compatible.
There are two audio options, a DTS-HD MA 5.1 surround mix and a DTS-HD MA 2.0 stereo track. Both are winners, but I prefer the former with its directional sound cues. Music is prominent without being intrusive and dialogue is always clear and understandable. Optional English subtitles are included for anyone in need.
Special Features:
Film critics Bryan Reesman and Max Evry deliver an engaging and informative audio commentary filled with a steady stream of production stories, trivia and behind-the-scenes information. They discuss the themes and symbolism within the script and the creative execution from the director and various crew members. There are some nice tributes to the cast, including an early appreciation of the wonderful Beth Grant, although the commentators are fixated upon Julia Roberts' salary. Other topics include the striking cinematography and production design as well as how the film was shot like an action movie and the use of its Chicago locations. There are also comparisons and comments about the 2017 remake. This is a spirited discussion that never wavers and is definitely worth checking out.
The Conquest of Our Generation (2022, 19 minutes) features screenwriter Peter Filardi looking back on his inspiration and writing process and the speed of getting it produced. He discusses the themes, casting and the thrill of being invited on set. He has nothing but praise for the late Schumacher and the lessons he learned from this experience.
In Visions of Light (2022, 18 minutes), cinematographer Jan de Bont and chief lighting technician Edward Ayer talk about the aggressive lighting design and expression of themes and storytelling through color. They reveal tricks used for creating projections during the subway sequence and the multiple scenes of rippling light. Both agree it was a tight crew, with de Bont frequently serving as camera operator. There is also appreciation for the new 4K transfer.
First AD John Kretchmer reflects on his time on this film in the segment Hereafter (2022, 14 minutes). He begins with the story of how he got into the film business and explains what an AD does. He goes on to share his memories of Schumacher and de Bont and some of the difficult shots they achieved. Other topics include shooting in Chicago ahead of winter, his enthusiasm for the script and memories of how the director worked with his cast and crew to get exactly what he wanted. He admits it was a difficult shoot but is proud of the results.
Restoration (2022, 11 minutes) catches up with production designer Eugenio Zanetti and art director Larry Lundy as they share their inspirations from Greek myths. As they discuss the Chicago shoot, scenes of the locations today are intercut with shots from the film. There is also discussion of working the theme of redemption into the sets using objects wrapped in plastic sheeting as a sign of things being a work in progress.
Legendary composer James Newton Howard (Stir of Echoes, The Fugitive) and orchestrator Chris Boardman share their memories of this film in Atonement (2022, 12 minutes). Howard says scoring films came naturally to him and talks about his writing process building emotion through tone and themes. Boardman explains what an orchestrator does and cites some of his favorite cues.
In Dressing for Character (2022, 6 minutes) costume designer Susan Becker looks back on Schumacher's bold visuals and color palette and their desire to separate characters through costume, preferably with input from the actor.
The theatrical trailer has been included.
There is a surprisingly small photo gallery (13 images) consisting of publicity shots and production stills.
Grades:

Movie:




Video:
Audio:
Features:
Overall:
This page includes affiliate links where Horror DNA may receive a small commission at no extra cost to you.