For a Few Zombies More Movie Review
Written by Steve Pattee
A Crewless Productions Film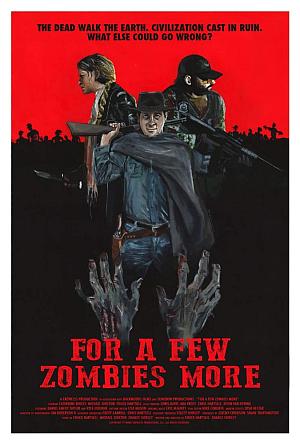 Directed by Chuck Hartsell and Chance Shirley
Written by Chuck Hartsell, Michael Shelton and Chance Shirley
2015, 96 minutes, Not Rated
Starring:
Catherine Kinsey as Girl with No Name
Michael Shelton as Lee / Clint
Chuck Hartsell as Chuck
Review:
I got my introduction to the wit of Chuck Hartsell and Chance Shirley in 2009 with their indie gem, Hide and Creep. Taking place in Thorsby (Home of the 1A State Powerlifting Champions 2001, 2002), Alabama, the film follows Chuck (played by Hartsell) as he reacts to a zombie outbreak. To say he does so with dry humor is a vast understatement.
I loved Hide and Creep when I first watched it, and it still enjoy it very much on rewatches, as it holds up. Great writing will do that.
Now, almost a decade later, Shirley and Hartsell return to Thorsby in For a Few Zombies More, a pseudo-sequel to Hide and Creep. This time, however, the story centers on the Girl with No Name as she traverses a zombie-infested Alabama, looking for the scientist that may have the solution to this mess. Chuck is a reluctant partner in her search, especially since the scientist is being held captive by a madman.
For a Few Zombies More isn't really a direct sequel to Hide and Creep. It's more of a follow-up filmed in an alternate universe. Some of the fantastic characters that you know and love and laugh at and with from the first film are found here, but they are…different. For example, Michael Shelton returns, but he's neither of the characters he portrayed in Hide and Creep. He's someone new and dangerous. On the other hand, Chuck is the same, hilarious movie fan as before.
While I'm a broken record on my feelings on how unbelievably tired the zombie genre is, I couldn't contain my excitement when I popped this into my player. Like I said, Hide and Creep still holds up, and I love Shirley's sophomore film, Interplanetary, even more. Needless to say my expectations were high, and there was no surprise when they were met. Hartsell and Shirley make a great team, and while zombies are a dead horse at this point, the two overcome that albatross with great characterization, laugh-out-loud comedy, and some nice twists for fans of the first movie. I'm not going to pretend it's an original story; it's not. The ground here has been covered multiple times over, but like almost anything else, if you put something old in talented hands, you're not going to be disappointed. And that's the case here.
Acting wise, Catherine Kinsey does well as the star of the movie. She doesn't have a lot of features under her belt (according to IMDB), and she's a little raw at times, but you can see the talent underneath and the movie benefits from her, especially when The Girl with No Name and Chuck are having a good back and forth. Speaking of whom, Hartsell knows his character Chuck well, and it shows. He's so natural in the role, I believe he's not acting but rather playing himself. For the most part, the rest of the cast is solid; and there are some surprises and store for long time fans.
I'm worried that For a Few Zombies More is going to get overlooked by horror fans because of the oversaturation of flesh eaters in the genre, and that would be a damn shame. Like its predecessor, the film has solid writing with great deliveries, humor, and a sweet gore scene that's rather impressive considering this looks to be a micro-budget film. Hartsell and Shirley have done it again, and if you like Hide and Creep or just horror comedies, you'll want to check this out. It's not out yet as of this writing (someone needs to distribute this), but there is a book version available now. While I haven't read it, it was written by Shirley, and if his scripts are any indication of his novel prose, this will be a delight.
This page includes affiliate links where Horror DNA may receive a small commission at no extra cost to you.