Frankenstein Blu-ray Review
Written by Giuseppe Infante
Blu-ray released by Alchemy
Written and directed by Bernard Rose
2015, 89 minutes, Not Rated
Blu-ray released on February 23rd, 2016
Starring:
Xavier Samuel as Adam/Monster
Danny Huston as Victor Frankenstein
Carrie-Anne Moss as Marie
Tony Todd as Eddie
Maya Erskine as Wanda
Review:
Director Bernard Rose's Frankenstein is a modern day reimagining of the classic gothic tale written by early 19th Century writer Mary Shelley. Unlike the original novel, which was published in 1818, this contemporary film adaption begins with the creature, named Adam by its creators, waking up in their laboratory. Contrasting with the film, in the novel Dr. Victor Frankenstein does not name his creation and it is referred to as "monster," "creature" or "it." Eventually, it becomes educated and seems to harbor the name Adam, as evidenced through dialogue with Victor; ultimately, it has no official name. Also differing from the novel is where the viewer is placed in the narrative, as the film embarks and unravels through Adam's eyes and experiences, rather than a chronology and exploration into Dr. Victor Frankenstein's being.
In the film, Adam (Xavier Samuel) is an oblivious infant in a twenty-something-year-old hunky male body. Dr. Victor Frankenstein (Danny Huston) and his wife, Marie (Carrie-Anne Moss), have bioengineered Adam in their laboratory, which is secretly and conveniently located in their basement. Shortly after Adam's conception, his skin begins to deteriorate akin to zombie flesh, with escalating physical and mental pain and suffering. The scientists decide to pull an Old Yeller and put Adam out of its misery. Of course, Adam survives and escapes, entering the sunny and colorful world outside the basement lab. From here, the adventure begins...
What makes this adaption of Frankenstein fascinating is Rose not only captures the multitude of themes erupting from the novel, but his altered direction and serious interpretation of the fragile, complex original text is unique yet spot on. Existence, nature, consciousness, revenge, love, exploration, alienation, deceit, compassion, communication, sacrifice and sexuality are some of the boundless themes and tropes captured beautifully by Rose. Containing substance, especially since a recent barrage of differing Frankenstein movies are absolute duds, makes Rose's stand on top of all the rest.
Another important aspect of the film's success is the exploration of the human condition through these characters, as they are not prototypical Hollywood clichés. There are several complex characters aside from Adam, Dr. Frankenstein and his wife. A blind homeless man named Eddie (played by the phenomenal Tony Todd), and Wanda (Maya Erskine), a hooker with a kind heart, befriend Adam during his journey through millennial Los Angeles. Police presence in the movie also adds social commentary, reverberating a message about violence, brutality and mistreatment of people.
Adding to the positive attributes in Frankenstein is the acting from Xavier Samuels, Carrie-Anne Moss and Tony Todd. These three are the stars here, although every actor is superlative. Moss nails the role of Marie, as her stellar acting complements the shifting feelings she generates from her conflicted character. Samuels as Adam captures the essence Mary Shelley intended the creature to bestow on her readers. Tony Todd is always a pleasure to see in films, and here is no different. His character Eddie is a blind, whiskey drinking homeless man who takes Adam, who he ironically calls "Monster," under his wing. The scenes between Todd, Wanda and Samuels are breathtaking; literally.
Although there is splendorous direction throughout Rose's film, there is plenty of blood and gore to walk hand-in-hand with the layers of human condition and symbolism. The visual effects are exceptional and assist in keeping Frankenstein cemented on the horror side of the fence (although 1994's Mary Shelley's Frankenstein is not terrible, it's still a damn drama). The skin and deterioration of Adam is visually striking, especially when it goes full frontal. Along with the marvelous effects team, the score helps maintain the tone and pacing through the 89-minute emotional rollercoaster.
This is The Modern[day] Prometheus at its finest, up there with the Boris Karloff 1931 version, Hammer Films' The Curse of Frankenstein, Andy Warhol's Frankenstein and Frankenstein: The True Story, amongst a few others. Expectations going into this were low, but the end result is special. Bernard Rose and his cast and crew have done an exceptional job at creating a unique adaption of Mary Shelley's Frankenstein, keeping true to the original themes while uncovering some new subject matter. This is not one to miss.
Video and Audio:
Frankenstein is presented in 1.78 with Dolby Digital TrueHD 5.1 audio. The score never overrides the script, which is extremely important when watching at night with people sleeping (don't want to wake the kiddies). The bright colors are vivid, especially in the well-lit laboratory and when crimson blood is shed. As viewers endure glimpses of Adam's face and body, and the practical effects are on display, the screen is glowing, lucid and hypnotizing.
Special Features:
There are no features other than three trailers (Frankenstein, Howl and Charlie's Farm). This is a major letdown, as an interview with Bernard Rose and/or the cast to give some in-depth insight into the film would be beneficial.
Lastly, apparently not all DVDs and Blu-rays have subtitles, which can be a pain in the ass for low volume night owls. This is the only bonus outside the phenomenal film and outstanding video/audio.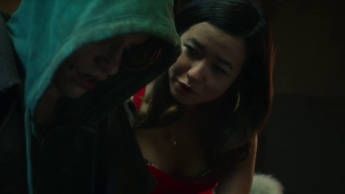 Grades:

Movie:




Video:
Audio:
Features:
Overall:
This page includes affiliate links where Horror DNA may receive a small commission at no extra cost to you.