Blood Shed Movie Review
Written by Charlotte Stear

Released by Moranic Productions
Directed by James Moran
Written by James Moran and Cat Davies
2017, 13 minutes, Not rated
Frightfest world premiere on 27th August 2017
Starring:
Shaun Dooley as Jack
Sally Phillips as Helen
Ludwig Sebastian McQueen-Roberts as Baby Ziggy
David Puckridge as Burglar 1
Cat Davies as Burglar 2
Review:
We thought it would never happen, some thought it wasn't even possible but here it is: Blood Shed, a horror film about the strange and questionable love between a man and his shed.
Blood Shed is a new short film brought to you by the minds behind Connie, the puppet horror short that won hearts at last year's FrightFest. Blood Shed made its premiere at this year's festival, and although it's low on run time, it's loaded with laughs and gore to satisfy in this very niche sub-genre you never knew you needed.
The film follows Jack (Shaun Dooley), a man obsessed with the shed he built, much to the annoyance of his wife Helen (Sally Phillips). Unfortunately for Jack this isn't a normal shed, it's an evil shed hell bent on blood. Despite the many deaths that occur, Jack is unrelenting in his love for his shed and won't tear it down as his wife wishes, culminating in the weirdest "it's me or the shed" stand off you'll ever see.
With an unashamedly ridiculous plot (and a pun filled name to boot), this film had to be campy and outrageous and that's just what Blood Shed is. Hilarious and shocking from start to finish, Blood Shed takes it to levels you don't expect. Its '80s slasher influences shine through so much, it wouldn't feel out of place as a segment in Creepshow. It uses a comic book style format and has lots of neon coloured backlighting for many of the scenes, but what's most important is that despite the nods to its influencers, it feels incredibly fresh and unique.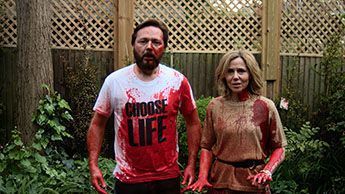 Blood Shed may look and sound good (of course there's an '80s vibe soundtrack going on here as well), but it is the hilariously dry script coupled with the fantastic performances of its leads, Dooley and Phillips that really make this a success. The two have an oddball chemistry that compliment the one liners they continually throw out during its 13 minute run time. It's funny and outlandish but you're going along for the ride, and you're buying it.
With Connie and Blood Shed now under their belt, Moran and Davies have proved they're a team that can deliver quality comedy horror shorts so we'll be eagerly waiting for a feature film with their names on it. After evil puppets and bloodthirsty sheds, we can't wait for what could be next.
This page includes affiliate links where Horror DNA may receive a small commission at no extra cost to you.