Ginger Snaps DVD Review
Written by Steve "Alien Redrum" Pattee
DVD released by TVA Films


Directed by John Fawcett
Written by Karon Walton
2000, Region 1 (NTSC), 108 minutes, Rated R
DVD released on February 1st, 2001

Starring:
Emily Perkins as Brigitte Fitzgerald
Katharine Isabelle as Ginger Fitzgerald
Kris Lemche as Sam
Mimi Rogers as Pamela Fitzgerald
Jesse Moss as Jason McCardy
Danielle Hampton as Trina Sinclair


Movie:
Ginger (Katharine Isabelle – Freddy Vs. Jason, the TV mini-series "Carrie") and Brigitte Fitzgerald (Emily Perkins – In Cold Blood, Stephen King's "IT") are sisters obsessed with death: Not so much death in general, but their own deaths. They spend their days arranging macabre mock suicides and taking pictures of the morbid displays for posterity and school projects.
Social outcasts, the girls spend their time in school either smoking and making fun of others or spending time in the guidance counselor's office for whatever twisted thing they did that particular day. It's during the former of the two pastimes that Brigitte — "B" — is overheard describing resident queen bee Trina's fake obituary and pays for it by getting clobbered on the lacrosse field by the other girl (Danielle Hampton).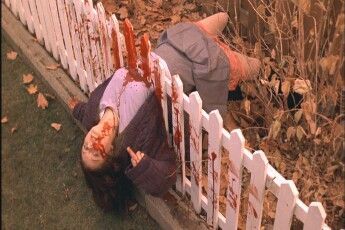 Vowing to get even — and against their mother's orders to stay inside — the sisters head off to Trina's house to arrange a phony death scene around her beloved dog. However, the girls never reach their destination, as Ginger is attacked by a mysterious animal halfway through the journey. After much struggling, the girls manage to get away, but Ginger is pretty torn up.
Now, because of whatever bit her, Ginger starts going through some incredible changes — puberty being the least of them. It is now up to B to find the cure to Ginger's problem.
Review:
I first saw Ginger Snaps more than a year ago, when I picked up Artisan's bare-bones release from a Blockbuster sale. Having enjoyed the movie — one of the best werewolf films I had seen in ages — I was quite upset with the pan-and-scan version I had purchased. Recently, I was scouring the net for DVD bargains when I ran into a deal I could not pass up. The Canadian DVD release of Ginger Snaps for 15 bucks! Shipped! I immediately placed my order. (More on the Canadian DVD later…)
Ginger Snaps works on a couple of different levels, the first being the story. I've mentioned in previous reviews that I enjoy the newer vampire movies that have been going against the traditional grain. Movies like Stakes and Blade (and its sequel Blade 2) have given us day-walking vampires, cures for vampirism and, overall, a different take on vampire lore. Snaps does this for the werewolf genre. In this movie, silver does not have an effect on the lycanthropes, they can be killed by something as simple as an automobile striking them and, most interestingly, they can be cured with an herb known as monk's hood. The changes are not as drastic as the day-walking vampire, but Snaps still manages to breathe some fresh air into the werewolf legend.
Next, Isabelle and Perkins are extremely believable as sisters. While neither is experienced enough to lead a movie on her own yet, together they are fantastic and you can see the budding talent in each. Going beyond dialogue, the young ladies use facial expressions and body language to get their point across as only siblings can. Never over-the-top, the girls are great to watch, especially the dinner conversations with their mother (Mimi Rogers – Lost in Space). Without the actresses' synergy, Ginger Snaps would have been another run-of-the-mill werewolf story. Isabelle and Perkins make what would have been a good movie, great.
Another great performance is turned in by Kris Lemche (eXistenZ, Knockaround Guys) as Sam, the anti-hero. The local drug dealer and greenhouse employee, Sam was critical to the search for a cure for Ginger. Lemche manages to make the pot peddler quite likable and intelligent — a welcome change from Hollywood's usual caricature of a pothead (see Brad Pitt in True Romance). I find it interesting that director John Fawcett used a drug dealer as both a hero and an intricate part of the movie, because pot smokers usually are used for cannon fodder, public service announcements or both.
The rest of the cast did admirable jobs, from Jesse Moss (a victim of Ginger's "affection") to John Bourgeois (the girls' father). However, it should come as no surprise that Mimi Rogers outshines the rest of the supporting cast. Her performance as the girls' out-of-touch mother was a borderline caricature, but Rogers pulled it off with believability. That said, the other actors certainly hold their own and the dialogue was never wooden or contrived.
The special effects are quite good. It is nice to see a film going back to the basics and using animatronics, as opposed to computer graphics. Relying on quick cuts and brief glimpses, you never see the wolf long enough to find it unbelievable. There are longer shots of it at the end of the movie, but it never looked hokey or fake. While I am a fan of CGI, it is important to use it only when necessary. Let's face it, Gollum from The Lord of the Rings looks damn good for CGI, but you can still tell it's CGI. Far too often, movies rely too much on CGI when, sometimes, animatronics is the way to go.
Video and Audio:
Presented in its original aspect ratio of 1.85:1, the anamorphic widescreen is intentionally soft and the colors are somewhat muted with an orangish hue — also intentional. The video is free from specks and artifacts. It's a great looking movie.
You have your choice of 5.1 Dolby Digital (English and French) and 2.0 Dolby Surround (English and French). Ginger Snaps sounds great, with a lot of use of the surround speakers. In the director's commentary, Fawcett explains he went more with a score instead of a soundtrack because he did not want Snaps to be the typical teen horror movie. It was a great move because the score is absolutely fantastic and really does set it apart. It also works because, by using a score over a soundtrack featuring the bubblegum-flavor-of-the-month, Snaps will not date itself with its music.
Special Features:
Audio Commentary by Director John Fawcett
Audio Commentary by Writer Karen Walton
Deleted Scenes with Separate Audio Commentary by Director & Writer
Featurette
Cast Auditions & Rehearsals
Creation of the Beast
Theatrical Trailer
T.V. Spots
Cast & Crew Biographies
Photo Gallery
Production Design Artwork
Both commentaries are highly enjoyable and well worth a listen. They are very informative without being technical, and I highly recommend budding writers listen to Walton's track.
The cast auditions and rehearsals were a rare treat. Rarely do special features include auditions, much less rehearsals, so this was a great behind-the-scenes feature.
"Creation of the Beast" is a fun five-minute featurette on the design of the werewolf. Although the audio is sometimes muffled and hard to hear, it's still worth a watch. The other featurette on the disc is your standard five-minute "fluff" piece containing interview sound bites and clips from the movie.
The rest of the features are your standard special edition material, but they are all worth watching. "Brigitte & Ginger's School Project" is especially cool, and I was very happy to find it on the features. The "School Project" is a collage of photos from the sisters' mock suicides. Generally, I am not one for photo galleries, but this was an exception.
TVA gets a gold star for digging deep and getting some great features for a relatively unknown movie.
Grades:

Movie:
Video:
Audio:
Features:
Overall:
Conclusion:
The Canadian disc has everything the U.S. disc does not, and with a decent script that tells a great story through terrific performances makes Ginger Snaps a must have.
This page includes affiliate links where Horror DNA may receive a small commission at no extra cost to you.