Gnaw DVD Review

Written by Daniel Benson

DVD released by 4Digital Media
Directed by Gregory Mandry
Written by Rob Weston and Max Waller
2008, Region 2 (PAL), 90 minutes, Rated 18 (UK)
DVD released on 21st February 2011

Starring:
Hiram Bleetman as Ed
Carrie Cohen as Mrs Obadiah
Nigel Croft-Adams as Jack
Sara Dylan as Lorrie
Gary Faulkner as The Slaughterman
Rachel Mitchem as Jill
Oliver Squires as Matt
Julia Vandoorne as Hannah
Jennifer Wren as Amy
Review:
Any character in a horror film should really know by now that if they go for a break in a remote location and their phone won't work, it'll more than likely end in tears. Still, a complete absence of mobile phone service is the last thing the group of two-dimensional twenty-somethings in Gnaw have to worry about. Gregory Mandry's directorial debut not only features a rather unsavoury bunch of Suffolk countryside cannibals, it also manages to cover almost every horror film cliché in its 90 minute run time.

A bunch of complete unlikeables takes a trip to Blackstock Farm for a spot of rest and relaxation.  Had they taken notice of the proliferation of missing persons posters in the vicinity, they might have considered a different destination. When they arrive the farmhouse is deserted, but the table is heaving with a sumptuous spread that they assume is for them and eagerly tuck into. There are a number of "meat" products in the feast, which taste incredible, no prizes for guessing where the meat comes from. The group continues to accept the hospitality of the empty house and break off to have bouts of spontaneous and unconvincing sex, while slightly spooky things happen. Eventually, during a power cut, they meet their host Mrs Obadiah who seems wholly unperturbed by how comfortable these people have made themselves in her house.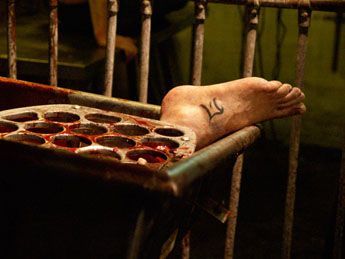 When morning breaks the gang splits up to go and enjoy the countryside in their individual ways (read: more sex) with disastrous results. Yes, you guessed it, Mrs Obadiah is just the public face of a cannibalistic family; her mute, oversized son does the majority of the butcher work.

It's not that Gnaw does anything particularly badly, there's just no ambition in anything it does do. The cast is largely forgettable and the screenplay's attempt to create a back story, involving a love triangle and pregnancy within the group, falls flat. I'm also convinced there's nothing particularly threatening about supposed cannibals from rural England. Take a redneck from the backwoods of the deep south of Texas, muttering through misshapen teeth, "You got a perty mouf, boy" and a slightly unkempt old woman from Suffolk asking, "Would you like a cup of tea, dear?" and there's no contest. The banjo-twanger will win every time.

So, with every scene playing out to the exact conclusion you expect, a cast that does nothing to boost the lacklustre script and a huge collection of seen-it-all-before set-pieces, will I be watching this film again any time soon? Gnaw thanks.
Video, Audio and Special Features:
Not graded as this was a screener, however the final DVD promises extras that include a making of documentary, a director's commentary and a trailer.
Grades:

 

Movie:
Video:
n/a

Audio:
n/a

Features:
n/a

Overall:
© 2011 Horror DNA.com. No use of this review is permitted without expressed permission from Horror DNA.com.