Gremlins 2: The New Batch Blu-ray Review
Written by Steve Pattee
Blu-ray released by Warner Brothers
Directed by Joe Dante
Written by Charlie Haas
1990, Region A, 106 minutes, Rated PG-13
Blu-ray released on May 8th, 2012

Starring:
Zach Galligan as Billy
Phoebe Cates as Kate
John Glover as Daniel Clamp
Robert Prosky as Grandpa Fred
Robert Picardo as Forster
Christopher Lee as Dr. Catheter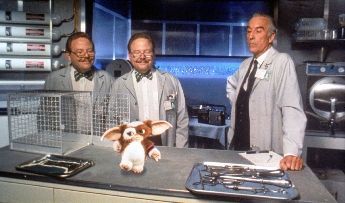 Review:
When we last left the Mogwai Gizmo, he was back in the safe hands of Wing (Keye Luke) after being returned due to the near destruction of the small town of Kingston Falls because of the complete and utter negligence of his owner Billy (Zach Galligan). All Billy had to do was follow three simple rules and the nightmare he and his girlfriend Kate (Phoebe Cates) and the rest of the town had gone through would have been avoided: don't expose it to bright light, don't get it wet and don't feed it after midnight. He managed to let all three happen, resulting in a rampage of evil gremlins led by Stripe, the most evil of all. Fortunately, Billy and Kate saved the day, Gizmo was returned and everyone lived happily ever after...until the sequel.
Gremlins 2: The New Batch finds the heroes from the first movie in New York, working at the same company — Billy as an illustrator and Kate as a tour guide for the building they work in, Clamp Enterprises. Through a series of incredible, unbelievable coincidences — ones I won't even bother going into as it will just lead to confusion — Billy, Kate and Gizmo are reunited and a new batch (get it?) of evil gremlins are cut lose in the building. This time the leader of the gang is Brain, a gremlin with exceptional intelligence due to some wacky lab science (again, no need to bother getting into) and he is double the trouble that Stripe was.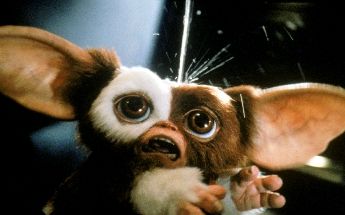 At first glance, I should hate everything about this movie. I don't like wacky humor. I don't like slapstick. I am not a fan of puns. Basically, if it involves the Zucker brothers or the Three Stooges, I'm not interested. And this is what Gremlins 2: The New Batch is all about. There is a very loose story only there to get you from one absurd scene to the next. But, man, on some crazy level, it does work.
The film isn't wacky for wacky's sake. It's a great satire on both notable people at the time (Clamp, the owner of Clamp Enterprises, seems to be modeled after Donald Trump and Ted Turner — a real estate mogul intent on modernizing everything, including colorizing old black and white films), as well as the ridiculous of Hollywood. The movie pokes fun at society and film, all the time being completely self-aware. There is a scene when the movie comes to a halt due to the gremlins' shenanigans, the lights come up and it's up to Hulk Hogan to get the film back on track. Yeah, things get a little surreal.
I'm surprised on how much I enjoyed Gremlins 2: The New Batch. I had not seen it in ages and I don't remember thinking that much of it when I first saw it over two decades ago. However, while it's completely and utterly different from its predecessor — this is strictly black comedy — it still manages to hold up incredibly well, if not a little better with time. The movie is definitely not as memorable as Gremlins, but it certainly has its moments and is well worth revisiting or seeing it for the first time. Plus it has Christopher Lee, who always brings something to the table.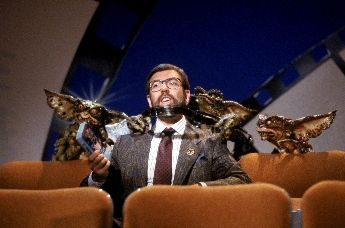 Video and Audio:
Surprisingly, Gremlins 2: The New Batch's 1080p presentation fares better than the Gremlins: 20th Anniversary Blu-ray. Colors are a more vibrant, with natural flesh tones and a slightly crisper image.
The DTS HD Master Audio 5.1 is just as good. Dialogue is always clean and clear and there is plenty of use of sides and rears, enveloping you in the onscreen craziness.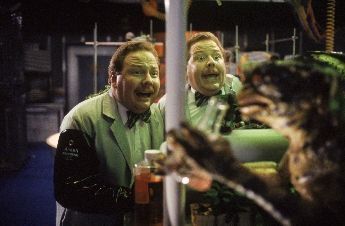 Special Features:
Over 20 Minutes of Footage Not Seen in Theaters
Behind-the-Scenes Documentary
Commentary by Director Joe Dante, Actor Zach Galligan, Writer Charlie Haas and Producer Michael Finnel
Gag Reel
Alternate Home Video Sequence
Theatrical Trailer
The 20 minutes of footage is a series of deleted scenes with optional commentary by Joe Dante. Interesting enough to give at least one go through.
At just under six minutes, the behind-the-scenes piece is a far cry from a "documentary", but is worth a watch nonetheless as it is as satirical as the film.
The commentary, while not quite as good as the one I gushed over in my Gremlins review, is still a good listen. Informative without being technical, Dante and company concentrate on the making of the film without being heavy handed on such things like "I really liked his acting here."
Rounding it all out is a six-minute gag reel, an alternate home video sequence and a trailer.
Grades:

Movie:
Video:
Audio:
Features:
Overall:
This page includes affiliate links where Horror DNA may receive a small commission at no extra cost to you.