Grindhouse 7 Beach Babes from Beyond DVD Review

Written by Sharon Davies

DVD released by 88 Films
Directed by David DeCoteau.
Written by Alexander Sachs.
1993, 75 Mins, Rated 18 (UK)
DVD Released on 11th February 2013.

Starring:
Joe Estevez as Uncle Bud
Don Swayze as Gork
Joey Travolta as Dr Veg
Burt Ward as Mr Bun
Jackie Stallone as Yanna
Linnea Quigley as Sally
Sarah Bellomo as Xena
Tamara Landry as Luna
Nicole Posey as Sola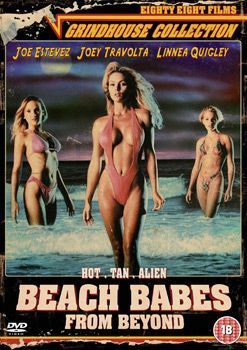 Review:
The Dictionary describes the word 'horror' as follows: "an overwhelming and painful feeling caused by something frightfully shocking, terrifying, or revolting."

In horror films I have always taken this to be a 'scary' platform generally including blood, gore, murder, stress and evil of some sort. This film is none of that, it's not scary or bloody in the slightest and how it has even been placed near the horror genre is beyond me. However, after staring into the nether regions of three female porn stars for 75 minutes PLUS the OTT deleted scenes I can confirm that the dictionary explanation did sort of apply to the overwhelming pain I felt having to sit through this, so I guess in a way I've answered my own question.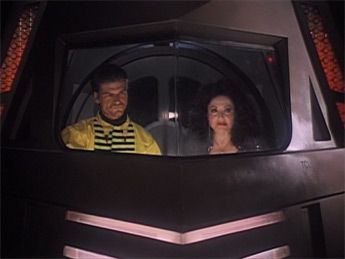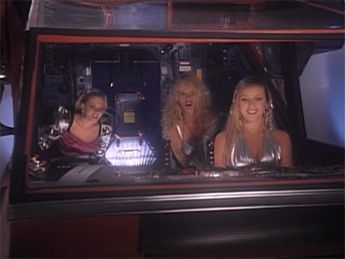 Three blonde and scantily clad 'aliens' (yeah right) decide to steal one of their fathers' spaceships in order to find some fun. They are looking for their ideal man and are happy to travel the galaxy in order to find him. Sola, having recently split up with her boyfriend Gonad (pause for laughter), is looking for a sensitive and artistic man, while her friends are looking for brains and brawn. After running out of fuel and then crash landing on an Earth beach I wonder if they'll find such Adonises?

Cue Dave and Jerry, who would love to meet their perfect woman even if it comes in the form of "alien space babes", so they can have a "close encounter of the 69th kind" (pause for your jaw to drop). The two and their friend are visiting their Uncle Bud who is having some money troubles, if only he could raise enough money to save his home, all he needs is £30k!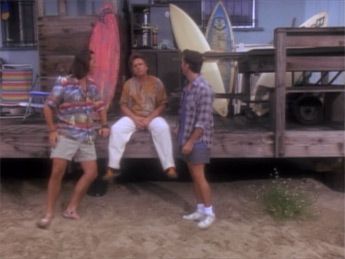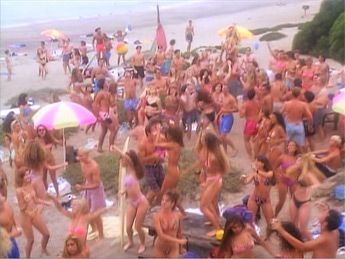 Of course the guys' and gals' futures collide and they seem to match perfectly. While partying, dancing and winking at each other they soon become better acquainted after tasting Bud's soy milkshake (which is apparently an aphrodisiac for the alien trio) and they unwind with some blue-light shagging scenes. Naturally.
As luck would have it the group then realise that there is a Bikini contest and the top prize is…wait for it… £30k. If only they had some gorgeous outgoing gals who could scoop the prize – hold on!!!!

Throw a pointless Cameo in the mix from Burt "Robin" Ward who I so wanted to shout "Holy Alien Beach Babes Batman" but no such luck, and a milkshake-making scientist who may have found the perfect mix to fix the girls' fuel dilemma and I'm sure you can work out the rest.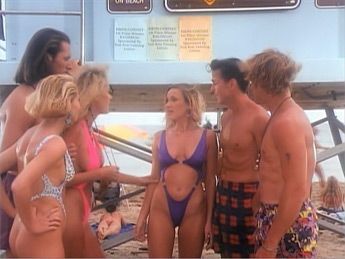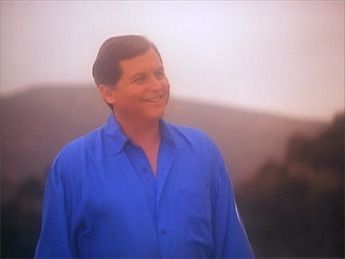 The main efforts to make the women into aliens are some silver outfits and the occasional tentacle style accessory; not exactly E.T and the special effects are as rare and as low-quality as the actors' acting skills.

I really am letting out a groan as I write this, the acting was cheesy, the storyline was vomit-worthy and THERE WAS NO HORROR! Gutted.

If you're a 15 year old boy who wants to get his rocks off to this mild porn-ish movie then you may just appreciate parts of it I simply couldn't. But for most people with a brain I had to watch something intellectual after this to try and jumpstart my thought processes. I also had to wash out my eyes to erase the sight of 100 girls' arses.
Video and Audio:
Being a low budget Nineties film the video quality is what you would expect, it has a soft focus to most shots but everything is clear and the colour is good. Of course with the majority of the shots being on the sunny beach you would expect a good lighting throughout. Whenever a booty call scene begins the focus gets even softer and the blue lighting is used to excess. I wonder if you have a perfect blue light to accentuate a nipple? If so that was definitely used here.

The music is cheesy and generally used to incite more ridiculous and over the top beach dancing. There is also the usual Eighties electro overlays. Did anyone ever see that episode of Friends where Ross plays crazy music on his keyboard in Central Perk? Yeah, I think the composer may have drawn inspiration from that on this film.
Special Features:
Four options here:

Extended scenes: this does what it says on the tin, this holds a number of low quality extra scenes which were shot but not added to the final cut. Lots of women completely naked writhing around with cheesy porn music over it. Guys, you'll be delighted, me…not so much.
Original Videozone: Low quality videozone extra which discussing upcoming projects and other similar erotic movies, plus a behind the scenes look at the movie and its making. It runs just over 15 minutes in total.

Full moon Trailer Park: 10 trailers comprising of: Puppet Master X Axis Rising, Puppet Master, Dr Alien, Pupper Master 2, Tourist Trap, Zombies Vs Strippers, Reel Evil, Puppet Master 3, Castle Freak, Save Girls from Beyond Infinity.

Original Trailer: A preview of the film which shoots the following actors into the mix: Stallone, Travolta, Estevez and Swayze!

I hear a gasp from you, but NO they don't mean the actors you and I immediately think of, they mean the following misfits: Jackie Stallone, Joey Travolta, Joe Estevez and Don Swayze. It also asks the question "what would happen if aliens landed in the middle of a summer beach party" – their answer seems to be "shag and drink."
Grades:

Movie:


Video:
Audio:
Features:
Overall:
This page includes affiliate links where Horror DNA may receive a small commission at no extra cost to you.