Gut Movie Review
Written by Karin Crighton

Written and directed by Elias (That's one name. Like Cher.)
2012, 91 minutes, Not Rated
Released on Video on Demand on October 25th, 2012

Starring:
Jason Vail as Tom
Nicholas Wilder as Dan
Sarah Schoofs as Lily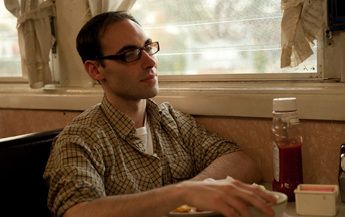 Review:
The most interesting thing that happened during Gut was when the projectionist bumped the reel and I thought the movie theater was under attack. Sadly, it was not and I was able to see all of this movie uninterrupted.

Sweet God, where to begin.

Brief synopsis: Tom (Jason Vail) is super bored with life. So bored he can't get off with his hot wife Lily (Sarah Schoofs). So bored he's thinking of leaving the city and getting out to the suburbs, because we all know that's how you fix boredom. So his lonely, and seemingly only friend Dan (Nicholas Wilder), invites him over for a movie night to reminisce on how they spent their teenage years holed up in Dan's basement watching horror films.

But the film Dan has in mind isn't exactly the typical horror movie. Because it's not a movie. It's a real, horrifically gruesome murder on camera. And the filmmaker knows where Dan lives.

Sounds exciting, right? Sorry to fool you.

The acting's mediocre, and that's putting it kindly. I can't tell if the actors didn't do their homework or they just didn't want to relate to these pathetically sad characters, but whatever the cause, it was painful to watch them skim along the surface of these lines. You could drive a bus through the pauses in their conversation and some of the delivery had me groaning. I saw choices were made, but the commitment to specificity and authenticity just wasn't there.

Speaking of commitment, where was the continuity monitor when they did the close ups of where the killer tied the victim's hands? It was all over the place; off to the side, up over their heads, down by their hips...we're shown identical murder videos that lay out all of the victims in the same position. Someone dropped the ball big time. I'm also bored enough to pay attention to that detail: not a good sign.

Let's take a moment to discuss writing. Stories need an end, right? Is this a new thing where they just stop the camera? Because that's what it felt like. And if you cast two waitress that look to be no more than ten years apart in age, you really can't have the 18-year-old implying the 28-year-old is a withered hag. It's okay to do rewrites for the right cast, people. It's a screenplay, not Shakespeare.  

Wilder's costuming is so overt you feel talked down to: "Dan is a NERD! Get it? Get it!?" Tom's wife has barely any lines and oddly contradicting behaviors, probably a fault of the script and not Ms. Schroofs. Why on earth does she mention their torrid sex life in front of their 8-year-old daughter? Why does Jason Vail have to be taking off his pants in every other scene? And dear God, someone please put some makeup on the men; they look so much like death under those lights from the start it's hard to tell when they finally lose their minds.

I could go on, but I don't think I need to. You get the point.

I have an idea where Elias was going. A strained friendship poised to break unevenly. A man bored with a mundane suburban life. A dangerous desire for both to find something to make them feel alive and connected again. Tom reminds me of a modern day Hamlet, knowing his end is coming but unable to face what he needs to do. Dan makes me think of Richard III's devious use of his weakness to gain trust only to backstab his friends. But, like I said, this ain't Shakespeare.

This could have been an exploration of the disturbing trend of films sexualizing murder, or the misogyny that develops when women come between male friends, or even how we will all find a time when we've outgrown our lives and it's both painful and necessary to start anew. But it's not. At all.

Sigh. I'm going to go watch Sir Patrick Stewart in Macbeth to cheer myself up.
Video, Audio and Special Features:

Video, audio and special features will not be graded as this was a screener.
Grades:

 



Movie:
This page includes affiliate links where Horror DNA may receive a small commission at no extra cost to you.