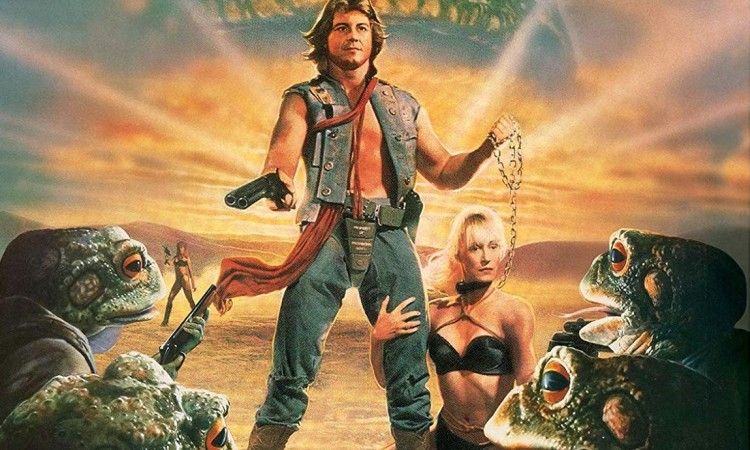 Hell Comes to Frogtown Blu-ray Review
Written by Robert Gold
Blu-ray released by Vinegar Syndrome
Directed by R.J. Kizer and Donald G. Jackson
Written by Randall Frakes
1988, 87 minutes, Rated R
Released on August 27th, 2019
Starring:
Roddy Piper as Sam Hell
Sandahl Bergman as Spangle
Cec Cerrell as Centinella
William Smith as Capt. Devlin
Rory Calhoun as Looney Tunes
Nicholas Worth as Bull
Kristi Somers as Arabella
Review:
In the not-too-distant future, ten years after a nuclear war has reduced the human race by sixty-eight percent and left most men sterile, women run the government and are determined to repopulate the planet. Enter prisoner Sam Hell, a man so virile he only has to look at a woman to get her pregnant. Hell is tasked with the duty of rescuing a group of fertile young women being held captive by hideous mutant frog-men on a reservation known as Frogtown. If he can save the ladies and get them pregnant, he will have his record cleared and be left to his own devices. Joining him on his quest are the beautiful government agent Nurse Spangle and lethal lady and gun enthusiast Centinella. Getting into Frogtown is relatively easy, but once inside Hell is faced with a whole new world of problems as he comes face to face with the evil frog-man Commander Toaty.
Hell Comes to Frogtown is a B-movie determined to entertain and it does so in spades. The script is made of pure exploitation gold, with our strapping hero sent on a mission to save the human race with his penis. There are monsters, stunts, gun fights, fist fights, nudity, car chases, explosions and plenty of quotable dialogue to see you through this quirky adventure. What sets this film apart from other late '80s action schlock-fests is its willingness to get a little bizarre. Making your villains a race of angry mutant frog-men is a novel idea that sets the tone for the picture from the minute you hear the title.
Director Donald G. Jackson (Roller Blade) dives into the material, determined to please the drive-in crowd. The story is played straight and the plot follows the familiar formula of the reluctant hero's mission to save the planet. Randall Frakes (Twisted Fate) delivers a lively script that is a hybrid of post-apocalyptic sci-fi weirdness, cynical humor, and horror. Jackson does a fine job but pulls his punches when it comes to delivering some of the more risqué elements like nudity and bloodshed, but there is enough to earn the film an R rating. There was apparently an abundance of second-unit photography on this shoot, enough to earn R.J. Kizer a co-director credit. Kizer is an accomplished sound editor who previously directed the additional US footage for Godzilla 1985.
This movie marks the big-screen debut of wrestling superstar "Rowdy" Roddy Piper (They Live) as the heroic Sam Hell. His acting isn't always rock solid, but the role feels tailor-made to his talents and he carries the picture with ease. He is great in a fight, clever with a quip and not afraid to show his sensitive side with the ladies. Sandahl Bergman (Conan the Barbarian) co-stars as Spangle, the woman in charge of the mission who keeps Hell on a tight leash. He wears an explosive chastity belt that will detonate if he strays too far from her side or tampers with it. Bergman and Piper work well together and watching their relationship develop over the course of the film feels natural.
The supporting cast features a trio of respectable character actors, including Rory Calhoun (Motel Hell) as Hell's longtime friend Looney Tunes, a tough older man who will cover your back in a fight. William Smith (Red Dawn) delivers a flinty menace as Captain Devlin, the cop determined to make Hell pay for his sexual exploits – which are explained in an alternate scene included on this disc. A masked Nicholas Worth (Darkman) plays the dangerous frog henchman Bull. Though you never see his face, his voice will be recognizable to genre fans. The creature effects are the work of Steve Wang (Predator) and they look pretty cool as far as giant frog-men go.
Hell Comes to Frogtown knows what kind of movie it is and never tries to be anything different. It is a goofy genre movie that takes audiences for a ride. The filmmakers never take themselves too seriously, but never pause to wink at the camera. The performances are sincere, which magnifies the camp value. I can't say the movie is particularly scary – nor does it try to be, but if you are afraid of frogs you are going to be in hell.
Video and Audio:
The original camera negative has received a 4K scan and full restoration with great results. Picture quality is crisp and clean without any signs of scratches or other imperfections. Presented in the 1.85:1 aspect ratio, colors pop and flesh tones appear natural throughout. Black levels are deep and there is plenty of small-object detail.
A newly remastered DTS-HD MA 2.0 stereo mix opens things up a bit in terms of music and dialogue levels. The original mono recording is also available in a DTS-HD MA 1.0 track for purists. The stereo track carries a bit more punch during the finale, but both options work.
Optional English subtitles are included for anyone in need.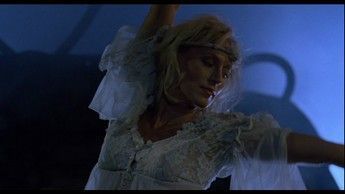 Special Features:
Hell Comes to Frogtown has had a few home-video releases over the years, including an Anchor Bay DVD in 2001 and more recently a UK Blu-ray from Arrow Video in 2016. Vinegar Syndrome combines the extras from both of those editions and includes some new material too.
Up first is a vintage audio commentary with director Donald G. Jackson and writer Randall Frakes. They cover a lot of territory discussing how the project came together, including the writing process, Jackson's vision for the film, studio interference, casting decisions and location shooting.
Randall Frakes sits down for the newly-recorded interview Mean and Green (56 minutes) in which he reflects on his days working for Roger Corman before writing/producing this picture. He shares an interesting story connecting James Cameron to the project that is really worth checking out. Other topics include casting, assembling the crew, budgetary restrictions and his thoughts on the finished film. There is some discussion of the two sequels he was not a part of and also a once-discussed TV series.
In Grappling with Green Gargantuans (22 minutes), star Roddy Piper offers an honest, thoughtful look back at his work on the film. He's not a huge fan of his performance and admits to not getting along with the director. There are kind words for his co-stars, memories of the challenging shooting conditions and a funny story of his wife learning more about what the movie was about.
Actor Brian Frank talks about bringing his character Commander Toaty to life in the segment Amphibian Armageddon (14 minutes). He talks about how he got the part and what it was like working with the make-up and goes on to share additional production stories.
Creature Feature Creator (15 minutes) catches up with special effects artist Steve Wang, who discusses his work on the film. He remembers the shoot being smooth without a lot of drama or difficulty. He shows off a prop frog mask and shares some entertaining production stories too.
An alternate scene (3 minutes) cut from a low-quality VHS workprint offers a slightly different look at Sam Hell's introduction with some additional dialogue that draws a tighter connection between him and his captor.
The original theatrical trailer has been included.
Grades:

Movie:


Video:
Audio:
Features:
Overall:
This page includes affiliate links where Horror DNA may receive a small commission at no extra cost to you.