Hellmaster Blu-ray Review
Written by Robert Gold
Blu-ray released by Vinegar Syndrome
Written and directed by Douglas Schulze
1992, 96 minutes, Not Rated
Released on July 30th, 2019
Starring:
John Saxon as Professor Jones
David Emgee as Robert
Amy Raasch as Shelly O'Deane
Edward Stevens as Drake Destry
Robert Dole as Professor Damon
Jeff Rector as Jesse Jameson
Sarah Barkoff as Little Girl
Eric Kingston as Bobby Jones
Review:
Twenty years ago at the Kant Institute of Technology, Professor Jones conducted a series of mind-altering experiments on students and members of the homeless community, hoping to unlock the secrets of mental telepathy. There were dangerous side effects that left the subjects transformed into violent, disfigured mutants. A reporter exposed Jones' work and the professor was forced out, leaving his work unfinished. Now, believing enough time has passed, Jones returns to campus to begin his experiments once again. His mutant cult followers do his bidding and stalk the school looking for potential specimens. A small group of students resist his efforts and try to find a way to escape, but the professor is hellbent upon completing his work. Can they find a weakness and avoid being turned into mutant slaves or is their semester already over?
Hellmaster (aka Them) is a low-budget horror film shot in Pontiac, Michigan, in 1989 and released in 1992. Written and directed by Douglas Schulze (Dark Fields), the plot centers on a mad scientist looking for revenge against those who derailed his work many years ago. The story is simple and works best when it focuses on this central frame. Schulze runs into trouble with an abundance of subplots that clutter the story – at times to a full stop. He has a good eye for composition and is fortunate to work alongside cinematographer Michael Goi (American Horror Story), who injects the film with some great visuals, but the end product is a victim of sluggish editing and some questionable acting.
Veteran character actor John Saxon (A Nightmare on Elm Street) lends the production some street cred playing the role of Professor Jones. He chews a lot of scenery and delivers some clunky dialogue but is always fun to watch and contributes some gravitas to the film. Genre fans will also find joy in seeing David Emgee (Dawn of the Dead) appearing as the dogged reporter trying to expose Jones' crimes. Emgee and Saxon do appear onscreen together and their scenes are a highlight to a sometimes scattered story. The supporting cast is composed of a lot of first-time actors, so performances are often wooden, but there are no real stinkers in the bunch.
The mutants have an interesting look, designed by special make-up effects artist Jeff Wehenkel (Mosquito). The lead creature – Razor Face – bears a passing resemblance to Pinhead from the Hellraiser franchise. There is some decent blood and occasional goop that runs out of the monsters' faces. The mutants have distinct personalities and receive a fair amount of screen time in the second half of the picture.
Hellmaster was originally released under the title Them and performed moderately well, but director Schulze went back and recut the picture and released it on video under the new title with a reduction in subplots, some alternate footage and a slightly faster pace. This Blu-ray release contains both versions for completists. I can easily recommend this to fans of low-budget regional horror, as the filmmakers do their best to entertain.
Video and Audio:
The film's original camera negative has received a 4K scan and full restoration and the results are mind-blowing when compared to the earlier VHS release. Presented in the 1.85:1 aspect ratio, colors are vibrant, black levels are rich and there is plenty of small-object detail.
The DTS-HD MA 2.0 faithfully reproduces the film's mono recordings. Music and effects cues are well-balanced and never intrusive and dialogue levels are clean and understandable.
Optional English subtitles are included for anyone in need.
Special Features:
There are two versions of the film on this disc, the original Them (96 minutes) and the director's edit Hellmaster (91 minutes). Each title receives its own audio commentary from the director, who shares his intentions with the original story and how things changed by the time they got around to filming. He reveals the budget and discusses shooting in an active mental hospital as their primary location. There are also some entertaining John Saxon stories.
On the second commentary Schulze is joined by producer Kurt Mayry and they share several production stories and point out some of the new material. Other topics of discussion include casting, lighting, the unnecessarily convoluted script and they talk about the terrible distribution deal they received. Both tracks are well worth a listen.
Cinematographer Michael Goi (American Horror Story) is the subject of the newly-recorded interview Creating Reality (26 minutes) in which he reflects on getting into camera work and the appeal of low-budget horror. He discusses the balance of compromise and style when lighting and reveals his influences on the look of the picture. He has kind words for the crew and is pleased that the film is receiving a new release.
A conceptual art gallery of early drawings of the monsters and designs for poster art plays as a slideshow (2 minutes) over theme music.
A behind-the-scenes still gallery (2 minutes) is a slideshow of production photographs taken on set in color and black-and-white.
Archival location featurette Clinton Valley Center (4 minutes) contains silent VHS video set to an electronic score that tours the mental hospital campus looking at the many buildings that make up the facility.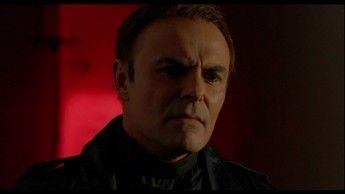 Grades:

Movie:


Video:
Audio:
Features:
Overall:
This page includes affiliate links where Horror DNA may receive a small commission at no extra cost to you.