H.G. Wells' Invisible Man – The Original Series: Season 1 DVD Review
Written by Steve Pattee
DVD released by Dark Sky Films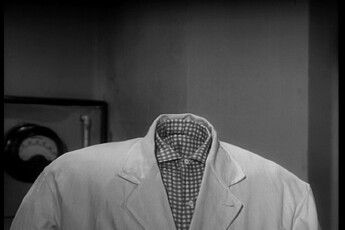 No, it's me. Peter Brady. The invisible man! – Dr. Peter Brady
Directed by Pennington Richards, Peter Maxwell and Ralph Smart
Characters based on the novel by H.G. Wells
1958 - 1959, Region 1 (NTSC), 330 minutes, Not rated
Starring:
Tim Turner as Dr. Peter Brady
Deborah Watling as Sally Brady
Lisa Daniely as Diane Brady
Earnest Clark as Sir Charles Anderson
Movie:
Dr. Peter Brady, brilliant scientist, is working on a secret experiment, when something goes horribly wrong.
After an accident in the lab, Brady becomes invisible!
Now Brady must spend his time trying to find a way to become visible again — while doing jobs for the British Secret Service.
Because, really, what better agent is there than an invisible one?
Review:
To be honest, before Dark Sky Films sent me H.G. Wells' Invisible Man, I did not know there was ever a TV series — so I did not know what to expect.
What I found was a terrific little gem of a show that I know, if I were alive during its run, I would have been hooked on during its original airing in 1958.
The interesting thing about Invisible Man is they did a lot with the special effects, considering the time and the media. In addition to the expected floating items and doors swinging open and closed, Invisible Man does well with things such as a driverless car and when Brady removes his hat and shows a bodiless shape under his bandages. Hell, on some level, that latter is pretty damn creepy.
Another good thing about the show is the episodes are standalone. With the exception of a very few TV shows, I'm a fan of "monster of the week" type shows. Or, in this case, "mission of the week." Except for the fact that Brady is trying to become visible, there are no underlying storylines mussing up the enjoyment of the show. Every episode is a new one. And, many times, there is an attractive woman in need of Brady's services. Makes me wish I were an invisible man.
Invisible Man is a pretty damn good series that obviously did the most with what it had. While most of the effects are dated, there are still some that hold up even now.
Video and Audio:
Presented in its original aspect ratio of 4:3, Invisible Man is not clear from specks. However, aside from the print damage, Dark Sky did a great job cleaning it up. The picture is sharp, the whites are bright and the blacks are suitably dark.
While a 5.1 soundtrack is offered, I listened to the 2.0 track and found it more than adequate. There was no sign of those Rice Krispy elves and the dialogue was always easily understood.
There were some occasions when the dialogue was hollow, but I chalk that up to the original soundstage recording, and not the restoration.
Special Features:
Like Dr. Brady, the special features are nowhere to be found.
| | |
| --- | --- |
| Grades: | |
| Movie: | |
| Video: | |
| Audio: | |
| Features: | |
| Overall: | |
Conclusion:
The Invisible Man has the goods to make both sci-fi and thriller fans happy. However, unless you were a big fan of the series, I do recommend you give it a rent before you buy.
This page includes affiliate links where Horror DNA may receive a small commission at no extra cost to you.