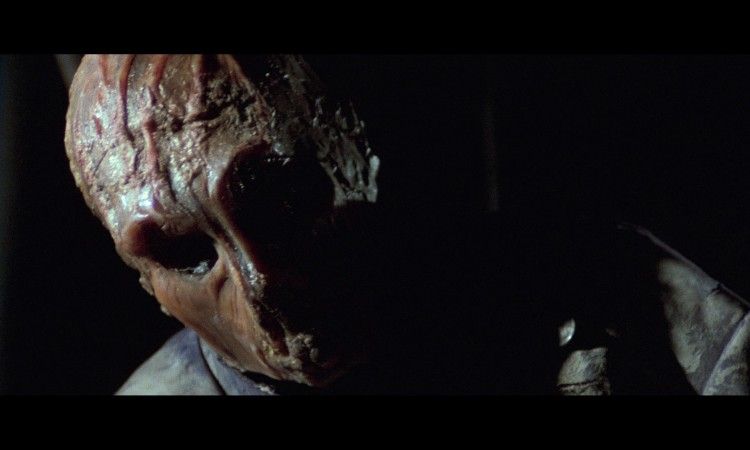 House by the Cemetery Blu-ray Review
Written by Robert Gold
Blu-ray released by Blue Underground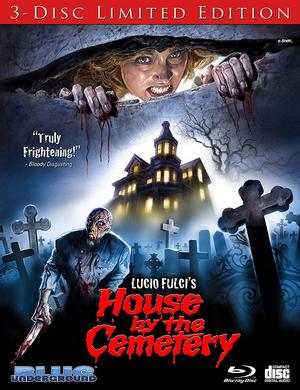 Directed by Lucio Fulci
Written by Dardano Sacchetti, Giorgio Mariuzzo and Lucio Fulci
1981, 86 minutes, Not Rated
Released on January 21st, 2020
Starring:
Katherine MacColl as Lucy Boyle
Paolo Malco as Dr. Norman Boyle
Carlo De Mejo as Mr. Wheatley
Dagmar Lassander as Laura Gittleson
Giovanni Frezza as Bob
Silvia Collatina as Mae
Ania Pieroni as Ann
Review:
Professor Norman Boyle moves his wife Lucy and young son Bob out of their cramped New York apartment into a spacious home in New England. Norman is continuing the research of a fellow academic who recently killed himself while studying the history of the mysterious Dr. Freudstein. The Boyles have some difficulty settling in, hearing strange noises during the night, possibly coming from within the locked basement. A quick inspection finds nothing but some angry bats. While cleaning house, Lucy discovers Freudstein's tomb in the floor of the main room covered by a rug. Strange things continue to happen and young Bob befriends a little girl with psychic abilities who warns him not to stay in the house. Soon, people start disappearing and the haunting activity grows more intense as something in the basement is getting restless.
Italian Master of Horror Lucio Fulci (The New York Ripper) began his American set "Gates of Hell" trilogy with City of the Living Dead (1980) and The Beyond (1981), and concludes it with House by the Cemetery (1981). This series of films is connected thematically and the third installment is more of a haunted house story than a zombie movie, offering a more traditional narrative. The plot unfolds as something of a mystery as Norman traces the fate of his former colleague and studies the man's research into the strange case of Dr. Freudstein. Although the script gets a bit muddled, there are a number of effectively creepy sequences. One of Fulci's strengths as a director is his ability to create a strong sense of dread. Working closely with cinematographer Sergio Salvati (The Black Cat), he captures the Gothic horror atmosphere and fills his "old dark house" story with dramatic lighting, interesting camera angles and plenty of menacing shadows.
Catriona MacColl (aka Katherine MacColl) stars in all three films in the series albeit as different characters, this time playing the emotionally fragile Lucy Boyle. Despite spending most of her time in the house and being a bit unbalanced, she is not the main target of the bizarre activity. Her son sees ghosts, her babysitter cleans up blood trails in the kitchen – which Lucy clearly witnesses but is not alarmed by the sight – and her husband is growing obsessed with his research. When off her meds, Lucy is a basket case, but quickly recovers in time to take care of her son.
Paolo Malco (Escape from the Bronx) plays Dr. Norman Boyle, dedicated academic and loving family man. His character is not very fleshed out, as he serves as generic protagonist reacting to weird stuff happening around him. Malco's performance suffers from the English dubbing, but he does a fine job otherwise. The supporting cast is made up of familiar faces, including Dagmar Lassander (Iguana with the Tongue of Fire) as doomed realtor Laura Gittleson, Carlo De Mejo (Manhattan Baby) as Mr. Wheatley and Ania Pieroni (Tenebrae) as Ann the babysitter.
Like any good Fulci movie, House by the Cemetery includes a generous helping of graphic violence. There are decapitations, multiple stabbings, an array of dismembered body parts and also a throat ripping for good measure. Mixed within all of the bloodshed are overtones of Henry James and H.P. Lovecraft, making for some unsettling moments. There is a lot to like in this picture and it comes easily recommended, especially to fans of Italian horror fare.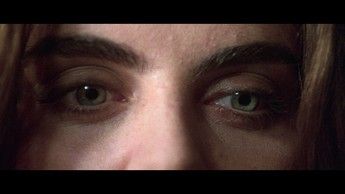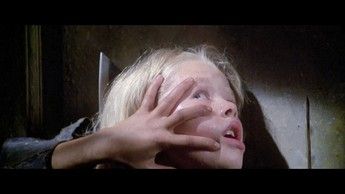 Video and Audio:
Presented in the 2.35:1 aspect ratio, the original uncensored camera negative receives a gorgeous new 4K scan and restoration. The image is sharper than that found on the previous Blu-ray release (2011), now featuring bolder colors and deeper black levels. The transfer brings additional detail to light and is the best this film has ever looked.
There are three audio tracks on this release; an English DTS-HD MA 1.0 and an Italian DTS-HD MA 1.0 preserving the original mono recording and a newly expanded English DTS-HD MA 5.1 surround mix. This 5.1 track is a pleasing choice as music and sound effects cues benefit from the breathing room without stepping on dialogue levels.
Optional English, French and Spanish subtitles are included for anyone in need.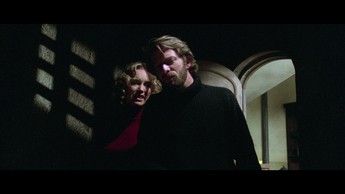 Special Features:
Disc 1:
In his audio commentary, author/film historian Troy Howarth provides a look back at Fulci's filmography and the man's directorial and storytelling style. He goes on to discuss the various influences on the story and changes to the script. He provides biographical information on cast members and discusses the writing process and changes made to the original script. Other topics include the masterful use of widescreen composition and the English dubbed soundtrack.
The original U.S. and international trailers are included along with a TV spot.
A deleted scene titled "Bat Attack Aftermath" (1 minute) is a brief scene extension without audio.
The first of two still galleries contains 74 images of international poster art, lobby cards, promotional shots and video artwork. The second gallery offers a smaller selection of stills but plays as a slideshow (2 minutes) set to music from the film.
Disc 2:
Meet the Boyles (2011, 14 minutes) features interviews with stars Catriona MacColl and Paolo Malco, who share their memories of Lucio Fulci as a director. They share their thoughts on the story and the ending, and about working with special effects and the film's legacy. This segment is in both English and Italian and includes English subtitles.
Former child actors Giovanni Frezza and Silvia Collatina remember their time on the picture in Children of the Night (2011, 12 minutes). They have differing opinions on Fulci's reputation of being temperamental and demanding, but view the experience as positive. They go on to discuss the lasting impact the film has made on audiences and its enduring appeal.
In Tales of Laura Gittleson (2011, 9 minutes), co-star Dagmar Lassander talks about her early work and getting into the industry. She insists Fulci was a lot nicer than she expected and shares a few interesting stories, including her recent interactions with fans.
Actor Carlo De Mejo reflects on his career in horror movies in My Time with Terror (2011, 9 minutes). He remembers the production well and has some interesting things to say about Fulci's style and insists he was always a pleasure to work with despite his reputation. He also offers thoughts on the staying power of the films he made in Italy and appreciates the directors he worked with.
A Haunted House Story (2011, 14 minutes) finds co-writers Dardano Sacchetti and Elisa Briganti revealing the inspiration behind the story and crafting it to fit Fulci's style of filmmaking. They detail the writing process and reflect on themes and common fears and the importance of leaving some ambiguity to the tale. They conclude with accounts of the film's reception in Italy. This interview is in Italian with English subtitles.
To Build a Better Death Trap (2011, 22 minutes) catches up with cinematographer Sergio Salvati, special make-up effects artists Maurizio Trani and Gino De Rossi and actor Giovanni De Nava (Dr. Freudstein). The group discusses the vibe on set and Fulci's directing style. Other topics include designing specific f/x gags, including the knife through the mouth, the mechanical bats and bringing the villain to life.
Co-writer Giorgio Mariuzzo sits down for the interview segment House Quake (2019, 15 minutes), in which he shares some amusing anecdotes about Fulci. He reveals that he worked independently of the other writers focusing primarily on the characters. He goes on to admit he isn't much of a horror fan and doesn't like to be on set during production.
On May 10, 2014, actress Catriona MacCall participated in a Q&A (30 minutes) at the Spaghetti Cinema Festival in Luton, UK, moderated by a soft-spoken Calum Waddell. She shares her memories of working in Italian genre movies and the recurring themes found in the pictures she made with Fulci. She is appreciative of how he helped shape her career and is pleased with the cult following.
In the newly-filmed video appreciation Calling Dr. Freudstein (2019, 20 minutes) author/film historian Stephen Thrower takes an insightful look back on this film, starting with its literary and cinematic influences. He continues with his thoughts on Fulci's directing style and his use of gore to shock audiences. The exteriors of this film were shot in the US, and we get a look at the locations then and now. He concludes with notes on the picture's release and legacy.
Disc 3:
The House by the Cemetery original motion picture soundtrack CD by Walter Rizzati featuring 31 remastered tracks is also included.
The discs come packaged with a collectable booklet (20 pages) with a thoughtful new essay by Michael Gingold.
Grades:

Movie:


Video:
Audio:
Features:
Overall:
This page includes affiliate links where Horror DNA may receive a small commission at no extra cost to you.