House of the Witchdoctor Movie Review
Written by John Colianni

DVD released by Breaking Glass Pictures
Written and directed by Devon Mikolas
2013, 87 minutes, Not Rated
DVD released on September 16th, 2014
Starring:
Bill Moseley as Peter Van Hooten
Leslie Easterbrook as Irene Van Hooten
Allan Kayser as Cliff Rifton
Callie Stephens as Leslie
David Willis as Buzz Schenk
Review:
Horror is an interesting creature when it comes to cinema. Any other emotion generated by other genres seems natural. When people get together, it's usually to share laughs and good times or cry it out and be there during the tough times. There are very rare occasions where people subject themselves to being scared or disturbed. If I were to ask the vast majority if they look forward to being shown the gore and the macabre on a regular basis, they'd probably look at me like I am insane. Now frame the most despicable horrors that the world has to offer into a 90-minute feature and it's something that's more palpable for most people. Knowing that there is an ending to the madness that they're seeing and that they aren't the ones in that situation makes the audience able to digest horror movies for what they are and go about their day unfazed.
Much of this feeling is encompassed in Devon Mikolas' House of the Witchdoctor. Starting the film, ex-con Cliff has just been released from prison and has reunited with his former sidekick Buzz and the two immediately begin to wreak havoc, killing to score drugs. Enter Leslie Van Hooten, who is headed back to her secluded home with her friends to mourn the anniversary of her boyfriend's murder. With her parents Peter and Irene away, the group settles in to relax and reminisce, that is until Cliff and Buzz show up to continue their raping and murderous rampage. With the body count rising, Cliff and Buzz realize that they aren't the only ones out for blood and sacrifice this night, and they soon realize they may have broken into the wrong home. And it may cost them their lives.
I was excited to know that Bill Moseley (The Devil's Rejects, House of 1000 Corpses) makes an appearance in this film as the father of Leslie. Alongside Leslie Easterbrook, they steal the show when it comes to their roles. Unfortunately, they are the best part of the film. The main antagonists Cliff and Buzz, played by Allan Kayser and David Willis, just aren't that believable. Most of the acting and dialogue seems forced and borders on annoying. And while I discussed above how viewing the horrific things life has to offer is very much a part of the horror cinema culture, even the scenes where Leslie's friends are being raped and tortured are the more flat parts of the film. Fast forward to the climax of House of the Witchdoctor and things become more entertaining and fun, with an ending that ties up any loose ends and finishes relatively strong. Special effects are decent gore is realistic which made me feel like I wasn't being ripped off. That's always a plus.
House of the Witchdoctor isn't the most amazing horror film that you'll see this year but it was fun seeing Bill Moseley and Leslie Easterbrook in something that didn't have them playing complete maniacs. The acting could have been better and dialogue isn't anything to shake a stick at but at the end of the day, the plot is what really saves the movie from itself. Knowing that there is something crazier than a couple of middle aged, drugged up rapists coming at the end is well worth the wait. Anticipation is half of a good horror movie. It's just a bummer that House of the Witchdoctor was missing that part.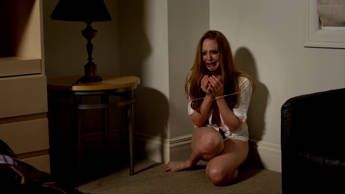 This page includes affiliate links where Horror DNA may receive a small commission at no extra cost to you.