How to Seduce a Virgin DVD Review

Written by Jayson Kennedy

DVD released by Mondo Macabro
Directed by Jess Franco
Written by Jess Franco, Alain Petit
1974, 87 minutes, Not Rated
DVD released on October 08th, 2013

Starring:
Alice Arno as Martine Bressac
Robert Woods as Charles Bressac
Tania Busselier as Cécile
Lina Romay as Adèle
Howard Vernon as Mathias
Review:
Recently released from an asylum after going Lorena Bobbit years prior, Martine (Alice Arno) and her hubby Charles (Robert Woods) resort back to their perversely murderous habits as they set their sights upon a young virgin (Cécile, Tania Busselier) in their beautiful coastal town. After luring the not-so-innocent girl away from her vacationing parents, the pair take to systematically seducing the girl in their idyllic countryside villa. Although, Martine's hobby of crafting horrific statues of past sexual conquests just might eventually come back to haunt her...

At the risk of bewildering Jess Franco's ardent fanbase, his How to Seduce a Virgin (Plaisir à trois) is really just a thinly-veiled excuse to string along rather tame and sometimes ugly softcore scenes of heavy petting and body thrusting. Sure, there's allusions to Marquis de Sade's writing, usual for Franco of this era, but it's tough to see much real artistic merit in what amounts to a quick skin flick. It's more a single-serve piece of Franco's broad oeuvre, with an amazing twelve completed films in 1973 alone, that's of little interest when viewed alone, especially if one is new to the director's work.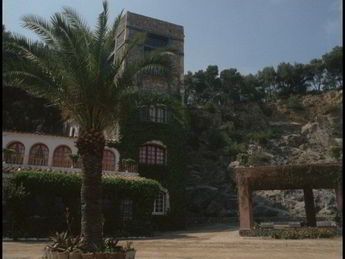 Shot briskly back-to-back with Countess Perverse (La comtesse perverse), Franco hurriedly speeds through hardly-there exposition concerning Martine's mental state and entrapment of the girl just to get to the next long-winded nudie sequence. Franco's infamously lingering lens then impatiently zooms and pans across writhing flesh while always avoiding that last step into hardcore territory. Longtime Franco veteran Howard Vernon thanklessly appears as Martine's chauffeur while Jess's longtime muse, Lina Romay, plays a wide-eyed mute that, while child-like, displays no hesitation getting whipped in the buff or awkwardly caressing female genitalia that's not her own.

Francophiles might get a kick out of seeing the director extract every last drop from the de Sade stone while everyone else will wonder what's the point. The director himself might even acknowledge the very workmen-like circumstances to which How to Seduce a Virgin, and many other examples of his work, were fashioned. The final twist is neither too exciting or original to justify the prior eighty minutes of dated titillation that might excite your grandpa.
Video and Audio:
Mondo Macabro's progressive, 1.33:1 full frame transfer direct from the original negative represents a handsome presentation. Restoration work looks minimal as the material was probably hardly touched over the years. Colors are natural and there's no trace of heavy digital manipulation.

The monaural French audio track, complete with removable white English subtitles, sounds fine if a bit limited given the source with the occasionally breezy score being a highlight.
Special Features:
The DVD's few supplements do a fine job of at least trying to place How to Seduce a Virgin into historical perspective with a short essay about the film, an informative twenty-minute interview with critic and author Stephen Thrower, and a subtitled eleven-minute interview with writer Alain Petit.
Grades:

Movie:


Video:
Audio:
Features:
Overall:
This page includes affiliate links where Horror DNA may receive a small commission at no extra cost to you.