Hunter Hunter Blu-ray Review
Written by Robert Gold
Blu-ray released by Scream Factory
Written and directed by Shawn Linden
2020, 93 minutes, Not Rated
Released on June 22nd, 2021
Starring:
Camille Sullivan as Anne
Devon Sawa as Jo
Summer H. Howell as Renee
Nick Stahl as Lou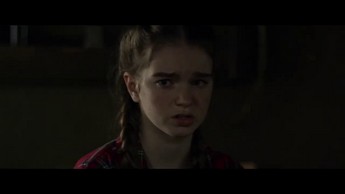 Review:
Joseph and Anne live a quiet life in a rustic cabin deep in the wilderness with their teenage daughter Renee. They are trappers and Jo is teaching Renee how to hunt responsibly. The family is enduring hard times, as the fur market is on the decline and it is getting harder to pay bills and afford food. Renee is homeschooled, but Anne isn't the best teacher and believes it is time for them to move closer to the city so their daughter can meet friends and have a proper education. Jo is painfully stubborn and refuses to let any outsider help with their problems. Their immediate threat is the return of a lone wolf that is hunting the area. Jo sets out to find the wolf but discovers a much greater danger when he comes across a grisly scene in a clearing deep in the woods. With Jo out of radio contact, Anne grows worried as their food supply continues to dwindle. Everything is about to change when an injured stranger appears during the night and Anne brings him inside to take care of him, a decision she quickly regrets.
Hunter Hunter is a deliberately paced thriller that begins as a tale of economic plight and foolish pride as a man struggles to provide for his family. Upon learning that the wolf has returned, Anne wants to report it to the police so they can help catch it. Jo flatly refuses, saying they will solve their own problems. This is a hard life, but he insists nothing will push them out. When Jo happens upon a crime scene in the woods, he doesn't tell anyone; instead, he sees this as a personal challenge to test his hunting skills. This selfish decision to pursue the threat alone puts everyone in jeopardy.
The family is stuck in a difficult situation, but it is Anne who seems to suffer the most. Her dreams of a better life are stifled as she tries her best to raise their daughter but is frequently reminded of how lacking the girl's basic education is. When the stranger arrives, Anne says he doesn't have any ID, only to have to explain what an ID is to the girl. To be fair, Jo is teaching her practical skills and when Anne brings home some wildlife to eat, Renee teaches her how to skin and dress an animal as her father showed her. The wolf is indeed a real threat as it turns up along the riverbank while the women are washing clothes. Anne manages to scare it away, but it is clearly interested in them now and Jo is nowhere to be found.
Anne may live in her husband's shadow, but she is the true protagonist with the strongest character arc. She is the one who drives to town to sell the furs and pick up groceries. She makes the decision to report the wolf to the ranger station, only to learn they cannot help her, as the family lives outside their jurisdiction. And most unfortunately it is Anne who insists they bring the wounded stranger into their house. Camille Sullivan (The Butterfly Effect) fills the role with determination and growing dread as the nightmare unfolds. One of her best scenes is a quiet moment alone in the woods with a large rabbit.
Devon Sawa (The Exorcism of Molly Hartley) co-stars as the ultra-stubborn Jo, whose pride blinds him to the very real danger closing in on his family. Sawa manages to keep audiences on Jo's side as he tracks the elusive predator through a challenging landscape. Summer H. Howell (Curse of Chucky) plays daughter Renee, an innocent teen who wants to help her parents by being responsible and proactive. Howell is likable and shares great chemistry with both Sawa and Sullivan, making this feel like a real family. When Nick Stahl (Disturbing Behavior) turns up in the third act as Lou, the wounded stranger, it is not immediately clear if he is simply an unfortunate traveler or something more menacing.
Writer/director Shawn Linden (The Good Lie) takes his time setting up this dark fairy tale giving the elements room to breathe. He lets the family's isolation and vulnerability sink in leaving them to solve their own problems as Jo insists. The surrounding woods are endless and terrifying as Anne retrieves buckets of water and makes the long trek back to the house. With the introduction of the wolf and also the mystery of the killing ground, Linden turns the screws, ramping up the suspense to a surprisingly grim finale. Hunter Hunter is a haunting tale that quietly gets under your skin and doesn't let up.
Video and Audio:
Presented in the 2.39:1 aspect ratio, picture quality is rock solid and filled with plenty of small-object detail. Colors are rich and well-saturated, paired with impressively deep black levels. Flesh tones appear natural throughout.
A DTS-HD MA 5.1 brings the wilderness to life with activity in the rear channels. Dialogue levels are clean and always understandable, and music cues are prominent without being intrusive. A DTS-HD MA 2.0 stereo mix is also provided, as well as an audio descriptive track.
Optional English and Spanish subtitles are included for anyone in need.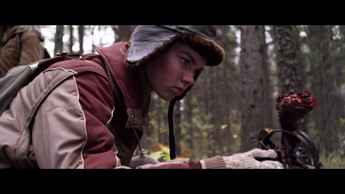 Special Features:
The theatrical trailer is included but should likely be watched only after viewing the film.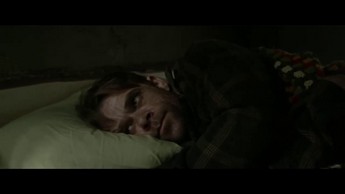 Grades:

Movie:




Video:
Audio:
Features:
Overall:
This page includes affiliate links where Horror DNA may receive a small commission at no extra cost to you.