Hunting Humans DVD Review
Written by Steve Pattee
DVD released by MTI Home Video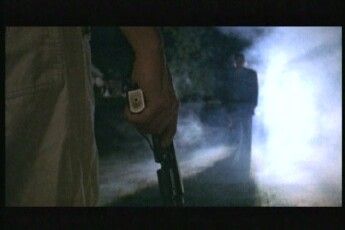 Written and directed by Kevin Kangas
2002, Region 1 (NTSC), 89 Minutes, Rated R
DVD released on July 22nd, 2003
Starring:
Rick Ganz as Aric Blue
Bubby Lewis as Marv
Lisa Michele as Barb
Trent as Frank Cooper
Movie:
Aric Blue (Rick Ganz) is very good at the things he does. Successful mortgage broker by day, Aric is popular with both clients and co-workers. He is so popular, everyone around him vies for his attention. Including a serial killer.
Scratch that. Make it another serial killer. While Aric arranges loans during the day, he has a hobby that keeps him quite busy at night. Hunting humans.
When stalking his prey, Aric studies their patterns until he knows their every move. Then he makes his.
Things seem to be going well until one night Aric arrives at the location of his latest victim — only to find him already dead. A note says, simply, "I've got your pattern."
Now Aric wants to know who is hunting him. And why.
Review:
I've been on a mission.
Ever since Eric Strauss's review of Harvesters, I've been trying to find my own low-budget diamond in a sea of coal. So I spent precious time — and even more precious money — on such false leads as Midnight Mass and Sasquatch. I was at my wits end. I was about to give up. But then I went back to the beginning.
One day I was perusing Timewarp's site, looking for information on upcoming movies. Okay, that's a lie. I was checking out the women. From TimeWarp's site, I went to Darla Albornoz's website. I enjoyed her role in Vampire Sisters and I wanted to see if she had any upcoming projects. One of them is Marauder Films' Fear of Clowns. Since I can't turn down a good clown horror movie, I jumped to Marauder's Web site. Alas, Clowns hasn't been released yet, but another of the studio's productions was. Hunting Humans. Intrigued by the plot, I decided to give the movie a look. hasn't been released yet, but another of the studio's productions was.

Filmed around Baltimore and Annapolis, Maryland, using a method known as guerrilla filmmaking — movies made on little or no budget and often without shooting permits — Hunting Humans showed a lot of places I am familiar with. From shots of Aric cruising Fell's Point in Baltimore to circling the Annapolis mall, Humans was filmed in my backyard. Already, it was a strong start.
The immediate noticeable thing in Humans is that it is narrated. There is little verbal interaction between the actors, as most of the dialogue is Aric's narration. At first, I was a little taken aback by this approach, as I had never seen it used — at least not for most of a movie.
But it works.
The key is Rick Ganz. Ganz is talented enough to pull it off. The narration is never boring and his voice is never annoying — either through the dreaded monotone or bad acting — and his vocalized emotions are just detached enough to sound like a sociopath. Writer/director Kevin Kangas was fortunate to have an actor with Ganz's chops to pull this off. Also, Kangas never made the movie hokey by having Ganz look at the camera. It is obvious who Aric is talking to and there is no need for him to look directly at the viewer. Using this technique, Kangas danced a fine line between cheese and believable, and he managed to pull off a fine cha-cha.
Ganz delivers a great performance for two reasons. The first is, not only does he narrate the majority of the movie — no small feat — but he's also in nearly every scene. The second, and more importantly, is this is his first lead. According to IMDB, Ganz was in one other movie, 1995's Life 101, where he played a "Ryan Hall Dormmate." He has pulled off the transition from extra to lead and it is obvious he has a future in film.
In addition to Ganz, another standout in Humans is Bubby Lewis as private investigator Marv Adams. While Lewis did not get a lot of screen time, he was good enough to make an impression during the time he had — more than Aric's co-workers at the mortgage company. Lewis has a charisma common among your better actors, and he and Aric play off each other well.
The rest of the cast is standard B-movie fare and suffer from the standard B-movie problems like stumbling over lines or good old-fashioned bad acting. The exception is the cameo by one of Horror DNA's favorite directors, Joe Ripple. The real-life Baltimore detective is more than capable of handling his role as, well, a detective.
Kangas has entered moviemaking not with a bang, but an explosion. Some of his visuals make me wonder if — given time to develop — he will have a unique style that will make his movies immediately recognizable, like Martin Scorsese's or Michael Mann's. For now, however, he has written a mean, smart, original script with Humans and has done an admirable job directing it as well. Far too often, writer/directors fail at one or the other. Kevin Smith, for example, can write a heck of a script, but lacks directing skills. Kangas managed to succeed at both. After experiencing Kangas' great writing and novel approach to filming, I cannot wait to see what he can do with a bigger budget.
Video and Audio:
Presented in 1.66:1 widescreen, Humans has more grain than Kansas. Suffering from pixelization as well, the movie is far from crisp and clear. Luckily for the movie, however, that actually helps. Watching Humans was like watching one of those crime re-enactments like you see on "America's Most Wanted" or "Unsolved Mysteries". For the type of movie Humans is, the grain adds to the realism.
Hunting Humans is presented with 2.0 Dolby stereo. The score by Evan Evans is exceptional, especially considering the budget. However, there are many times in the movie when the music overtakes the dialogue. The narration is always clear, but I often found myself straining to hear what the onscreen actors were saying.
Spanish subtitles are available.
Special Features:
Audio commentary by Kevin Kangas and Rick Ganz
"Beneath the Glassy Surface" – 50 minute making of featurette.
Outtakes
Photo Gallery
Bios
Trailers: Hunting Humans and Maniacts
First and foremost, the commentary is a must-listen. Kangas and Ganz, longtime friends, have great synergy and they provide a lot of information on the filming of the movie, not just fluff — including why they specifically did not thank Annapolis mall security in the closing credits of the film.
"Beneath the Glassy Surface" is just over 50 minutes long and includes interviews and behind the scenes material. Like the warning before the featurette says, do not watch this before you watch the movie, but make sure you check it out afterward because it complements the movie nicely.
The outtakes are worth at least one viewing.
Grades:

Movie:




Video:
Audio:
Features:
Overall:
Conclusion:
So, was Hunting Humans my long awaited, long-awaited discovery? Without a doubt. After almost a year of digging, I unearthed my B-movie gem. Hunting Humans is an amazing first effort — and a damn good movie.
This page includes affiliate links where Horror DNA may receive a small commission at no extra cost to you.