iCrime Movie Review
Written by Charlotte Stear

DVD released by Vicious Circle Films

Written and directed by Bears Fonté
2011, 111 minutes, Not Rated
DVD released on September 27th, 2011

Starring:
Sara Fletcher as Carrie Kevin
Travis Brorsen as Zeffer
Kelly Noonan as Stefy Sinclaire
Leah McKendrick as Jordan Rivers
Christie Burson as Raychel93
Alex Petrovitch as Aphid818
Bradley Fletcher as GavinofScotland
Griff Furst as Parker
Review:
Set in LA, iCrime depicts the seedy underbelly of Hollywood and the lengths people will go to become a star. It's not so much a horror film as a cautionary tale of who to trust in a city where nothing is as it seems, but there are some dark messages here that lead to some cruel twists.

The film follows Carrie (Sara Fletcher), who has recently moved to LA to live with her supermodel cousin, Stefy Sinclaire (Kelly Noonan). Although Carrie is not an aspiring actress like all the others around her, she gets wrapped up in the celebrity world as she tries to protect her cousin from LA's influences. To stop a celebrity website publishing footage of Stefy, Carrie tries to uncover an even bigger story, one that deals with online celebrity Jordan Rivers (Leah McKendrick). Jordan is kidnapped from her bedroom while online, which devastates the cyberworld of her adoring fans. Carrie believes it's all a hoax and along with some new friends, plans to get to the bottom of it. But at what cost will she gain the truth, and will she be able to handle what she uncovers?

It's a bit of a puzzle this one because it is a rather cool film and has some unique touches, but there are too many things that stop it from being something I would deem a particularly good independent movie. For one, it is far too long. Right at the beginning you can tell it's quirky and there's something different about it that is really promising, but then it tends to wander off from the story and it takes too long getting to the point. It's this early section of the film that is pretty essential and I fear many people may not see the potential to stick it out to the end as it takes far too long to get to where it needs to be. It needs about 25 minutes cutting from it which would give it a better pace to really suit the crazy storyline.

When we finally get to the climatic ending, it does well to keep us guessing, however it cheapens it slightly by highlighting every reveal in a montage style afterwards, it's the equivalent of a neon sign saying, "Hey look how clever we've been!" It's unnecessary and takes away from that cool initial realisation of what has really been going on.

But what I did love was the casting, it's very strong — especially the lead Sara Fletcher. She brings a hardened, yet naïve element to the screen that represents a lot of people seeking a new life in Hollywood. Along with the great cast is a superb soundtrack, the pop-rock sounds really fits the sunny, aspirational start to the film.

With this being writer and director Bears Fonté's debut feature, I have to say it's very promising. It's a very relevant storyline that will speak to a lot of people and I really loved the interesting camera shots and split screens. He also used technology to its full advantage so that communication between characters was instant onscreen. If I look past all the slightly disappointing elements, this is essentially a cool film, but sadly it's hard not to dwell on those things. But I'm looking to the future, and this is a really good starting point. Keep it up.
Video, Audio and Special Features:

Video, audio and special features will not be graded as this was a screener.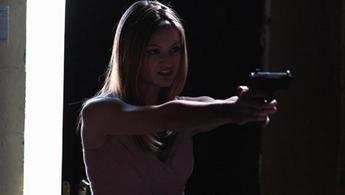 Grades:

 



Movie:
Video:
n/a
Audio:
n/a
Features:
n/a
Overall:
This page includes affiliate links where Horror DNA may receive a small commission at no extra cost to you.