Interplanetary DVD Review
Written by Steve Pattee
DVD released by Shock-O-Rama Cinema | Official Site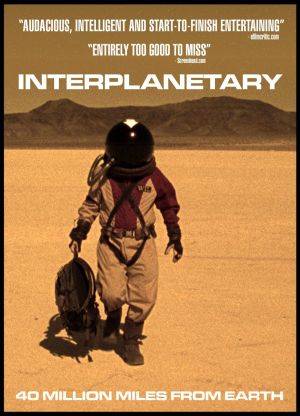 Lisa, someone just BLEEPing blew Michelle way the BLEEP up. And now he's reloading his BLEEPing rocket launcher, so would you please open the BLEEPing air lock! – Steve
Written and directed by Chance Shirley
2008, 83 minutes, Not Rated
DVD released on March 15th, 2011
Starring:
Melissa Bush as Lisa
Mia Frost as Beth
Sanford Hardy as Thompson
Chuck Hartsell as Wil
Kyle Holman as Jackson
Sylvester Little, Jr. as Jones
Lisa Mason as Lori
Amanda Myers as Michelle
Scott Ross as Stark
Michael Shelton as Steve
Kevin Van Hyning as Kevin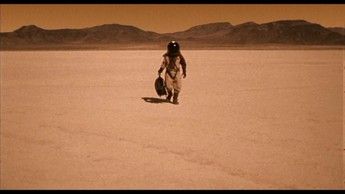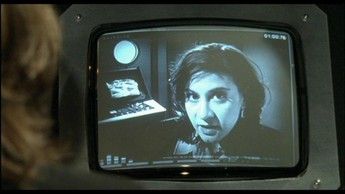 Review:
Just over four years ago, I reviewed the zombie comedy Hide and Creep, the first film from Crewless Productions. Hide and Creep was obviously low-budget, but the script was great and the acting solid, making it one hell of an enjoyable movie. So when Chance Shirley, the writer/director of Creep, shot me an email asking if I'd be interested in a screener of his new film, Interplanetary, I jumped at the opportunity. If Interplanetary was even half as good as Hide and Creep, I would be in for a treat. Hot damn if I didn't get more than I expected.
Up on Mars, on Mars Base 2, there are some strange goings-on. The team of scientists working on the base are supposed to be alone, but after they start getting killed by people who aren't supposed to be on the planet — wearing uniforms very similar to their own, no less — they obviously have a problem on their hands. It doesn't help that the big boss is on her way to Earth to fire them all, due to Wil's unauthorized news broadcast claiming he found the remains of an alien, and is planning on selling it to the highest bidder. And to make matters worse, there is an alien running amok inside their base trying to kill them. Yeah, they are pretty much fucked.
The first thing I noticed about Interplanetary is how big it felt. It's obviously a low-budget film, but Shirley and company have come a long way in both filmmaking skill and production design since Hide and Creep. In his email he said, "…since modern technology has made it cheaper and easier for filmmakers to put their ideas on the screen, I thought it'd be a good idea to shoot a movie with technology from the 1980s. That means Super 16mm film, practical effects, and lots of lumber, nails, and paint. This definitely wasn't the fastest way to make a movie, but I think the hand-made approach does give Interplanetary a character all its own." The work put in has paid off. The interior sets, while lacking glamour, certainly do give the film character. The exterior shots equally have a personality of their own because I'm confounded where they found a place in Alabama to look like Mars (or at least a close enough representation). The work put into the locations shows, and adds a depth to the movie not often found in micro-budget films.
But the sets wouldn't mean squat if there wasn't a cast to back it up, and Interplanetary most definitely has a great one. Mars Base 2 is more than a base, it's a work environment, complete with middle management. Melissa Bush (who played Barbara in Hide and Creep) stars as the base's boss, Lisa, and she absolutely nails the clueless manager, who only knows how to make a decision if it's in the policy manual. While Bush held her own in Creep, she stands out here, so well that I hated her character because of how well she nailed it — we've all had a boss like her, and we've all detested her.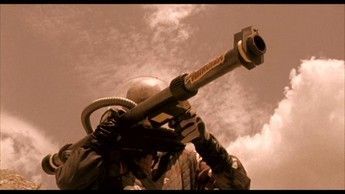 There are also a few other familiar faces from Hide and Creep. In addition to Chuck Hartsell (who has a much smaller, but pivotal role here as Wil), Kyle Holman (who is barely recognizable without his rockin' mullet) and Michael Shelton return here as key players. Holman and Shelton both did a fantastic job in Creep, and don't miss a beat in Interplanetary. Holman's hilarious as Jackson, the cook who takes charge when it hits the fan. He's the guy who has no time for bureaucracy bullshit, and does what he has to try to keep people alive. Shelton's Steve is the laid back everyman who goes with the flow, but teams up with Jackson because he knows he has a better chance of survival with him. I was pleased to see these two again, as they work extremely well together and raise the scenes they are in up a notch.
Kevin Van Hyning plays the wormy sycophant, Kevin, to a T. Spending most of his time kissing up to Lisa, partially due to a crush on her, partially because he's a big brownnose, he's that guy in the office whose teeth you want to knock out every time you see him. It's always a pleasure when Jackson puts him in his place — and he does so often.
The characters wouldn't be anything, though, without a script and, like Hide and Creep, this is where Interplanetary really delivers. Part Alien, part Office Space and all good, Chance Shirley's dialogue, coupled with the lackadaisical, nonchalant delivery of the actors — even in times of crisis — make Interplanetary both highly quotable and incredibly re-watchable, like a great comedy should be.
Even though it doesn't have the awesome lesbian zombies like Shirley's first film, Interplanetary is an impressive sophomore film from the Crewless team. Not only does it all around look better (there seems to be much more coverage here than their previous effort), it moves faster and the script is tighter. Four years is a long time between films, but it was well worth the wait. Here's to hoping we won't have to wait as long for Shirley's next feature (and, more importantly, someone is smart enough to pick it up for distribution) because if his first two are any indication of what he's capable of, he's got a stellar future in front of him.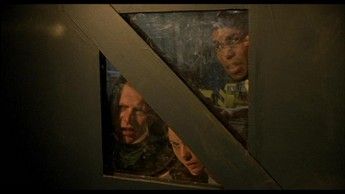 Video and Audio:
The 1.78:1 anamorphic presentation is a bit soft and there's the slightest hint of color bleeding in some parts of the film. There is also some print damage speckled throughout, but this may be the director's intent as he states in the commentary that it was going to be a low-budget Roger Corman-esque picture. However, while they don't pop, the colors are natural and the blacks are quite solid.

There are no complaints with the Dolby Digital 2.0 audio. 5.1 would have been nice, but the majority of the film is dialog driven so 2.0 gets it done.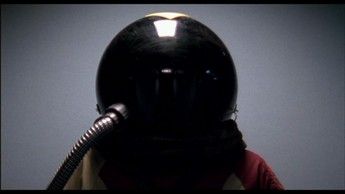 Special Features:
Commentary by Director Chance Shirley
Shock-O-Rama Trailer Vault
Sadly, very little is offered in the form of special features. Aside from some trailers, the only other feature is a commentary with writer / director Chance Shirley and producers Stacy Shirley and John White. Fortunately, the commentary is chock full of behind-the-scenes info. Chance is his biggest critic and he goes into detail on missed opportunities, creative things they did to make a shot work and what he would do different in the future.
On Interplanetary's official site, Crewless Productions has announced four more commentaries will soon be available to download as of this writing.
Grades:

Movie:




Video:
Audio:
Features:
Overall:
This page includes affiliate links where Horror DNA may receive a small commission at no extra cost to you.