Invaluable: The True Story of an Epic Artist Blu-ray Review
Written by Robert Gold
Blu-ray released by Synapse Films
Directed by Ryan Meade
2014, 103 minutes, Not Rated
Released on August 1st, 2023
Starring:
Tom Sullivan
Josh Becker
Bruce Campbell
Rob Tapert
Ellen Sandweiss
Theresa Tilly
Betsy Baker
Hal Delrich
Review:
The Evil Dead is a beloved horror flick in which Kandarian demons spring forth from the Book of the Dead and wreak havoc on a group of friends in a secluded cabin in the woods. Horror fans know the names of director Sam Raimi, producer Rob Tapert and star/icon Bruce Campbell, as well as the stories of the grueling shooting conditions during a Tennessee winter. The film yielded two sequels, a television show and a handful of video game adaptations. Books have been written about making the film and Bruce has penned a couple of New York Times bestsellers. But what do you know about Tom Sullivan? Casual viewers are likely unfamiliar with the man who designed the infamous Book of the Dead and created the numerous special make-up and stop-motion effects.
Invaluable: The True Story of an Epic Artist is a documentary focusing on Sullivan from director Ryan Meade, inviting viewers to join him for a retrospective look at the life and career of the artist. This thoughtful film collects interviews with Sullivan himself, as well as many of his friends and Evil Dead family. We start typically enough with the subject's childhood and early Super8 short films. It is in high school where he meets Raimi, Tapert and Campbell, fast friends with a similar love of filmmaking. Before long, they embark on a career making endeavor into feature filmmaking.
The heart of the documentary surrounds the making of The Evil Dead with cast and crew interviews and behind-the-scenes photos and footage. This is coupled with Meade leading Sullivan to the original filming locations forty years later. Interviewees include Bruce Campbell, crew members Josh Becker and Scott Spiegel, producer Rob Tapert, cinematographer Tim Philo and cast members Ellen Sandweiss, Theresa Tilly, Betsy Baker, Hal Delrich and Ted Raimi, among others.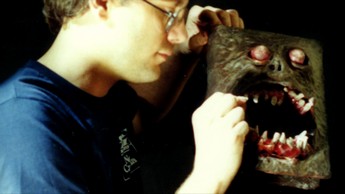 Sullivan resumed his duties of stop-motion animation for Evil Dead II and provides a behind-the-scenes look at his efforts with photos and video. He has found success with his artwork for not only the Evil Dead films but also his work for comic books and games. Sullivan is a truly interesting guy and shares his story of ups and downs without reservation, including the tragic loss of his wife and later a horrific car accident in which he sustained long-lasting head injuries.
Invaluable: The True Story of an Epic Artist includes some touching moments, like hearing Sullivan's mother recounting her first time seeing Evil Dead. Fellow make-up artists, including Tom Savini, pop in to sing his praises and a fair amount of the material is shot at various horror conventions where the artist is surrounded by friends and fans alike. Sullivan is always willing to answer questions and show off his collection of props with a friendly, inviting demeanor. He is by all accounts a great guy and after watching this documentary, you will want to stop by his convention table and shake his hand.
Video and Audio:
Presented in the 1.78:1 aspect ratio, picture quality is razor-sharp with plenty of detail. Colors pop and contrast levels are solid without any compression issues.
An LPCM 2.0 channel stereo audio track gets the job done with interviews occasionally battling convention noise, but on the whole dialogue is clean and always understandable.
Special Features:
This release is loaded with bonus content, starting with the feature-length documentary, Other Men's Careers (77 minutes), spotlighting the career of filmmaker Josh Becker (Running Time). Director Ryan Meade turns his lens on another Evil Dead alum with interviews from many friends and co-workers, including Bruce Campbell, Rob Tapert, Lucy Lawless, Ted Raimi, Gary Jones, composer Joe LoDuca, Tom Sullivan and Becker himself. The best interview is with screenwriter Sheldon Lettich (Rambo III), who appears genuinely frustrated by Becker's work ethic and pulls no punches when asked if he even likes the guy.
Two trailers are included.
There are two short films, Bong Fly (2013, 19 minutes), featuring Hal Delrich, and Cosmos Locos (30 minutes) with Tom Sullivan and Josh Becker.
Bong Fly Behind-the-Scenes featurette is self-explanatory.
Mega Master Bong Fly trailer
A vintage public access TV interview with Tom Sullivan hits all the right notes with the hosts of WHBS' In the Spotlight show (1989, 50 minutes) in which we get a standard set of questions followed by a bit of show-and-tell featuring original props from The Evil Dead.
We also get some segments from an extended interview with Josh Becker (7 minutes).
Tim Philo Unedited Interview from Invaluable (48 minutes), conducted by Tom Sullivan, is informative and is a welcome addition. Interestingly, we see Philo shooting the interview himself with Sullivan speaking to him on the phone.
A collection of short bonus clips include: Turkey of Chicken (1 minute) with Bruce Campbell, Boobie (1 minute) with Ellen Sandweiss and Cry of Cthulhu (2 minutes) with Sullivan.
Snap Shots is a photo gallery slideshow (4 minutes).
Grades:

Movie:


Video:
Audio:
Features:
Overall:
This page includes affiliate links where Horror DNA may receive a small commission at no extra cost to you.