Island of Death DVD Review
Written by Sarah James
DVD released by Arrow Video
Written and Directed by Nico Masterakis
1977, Region 2 (PAL), 108 minutes, Rated 18 (UK)
DVD released on 21st March 2010
Starring:
Robert Behling as Christopher
Jane Lyle as Celia
Jessica Dublin as Patricia
Gerard Gonalons as Foster
Jannice McConnell as Leslie
Nikos Tsachiridis as The Shepherd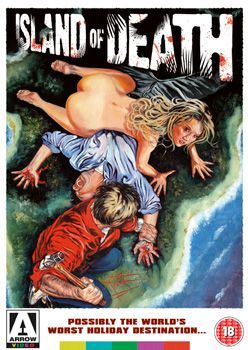 Review:
Holidays are a time to get away from the stresses and strains of real life and relax in a pretty sun soaked clime. Island of Death opens with just such a scene, as young London couple Celia and Christopher arrive on the Greek island of Mikonos. The architecture and winding streets are reminiscent of Don't Look Now, with the nooks and crannies and twists and turns that are just begging for someone to run around them in a blind panic later in the film. On the BBFC's Video Nasty list for its potential to corrupt the mind of the viewer, it doesn't take long to see why, as the couple have sex in a phone booth while talking to Christopher's mother. Later that night they make their first killing.
On their first morning at the holiday villa, Celia rebuffs Christopher's sexual advances. All that traveling and murder have clearly worn the poor girl out. Frustrated, he goes for a walk and encounters an innocent goat. I'm sure you can see where this is going. Later, Celia goes out herself and, apparently rested, seduces a local decorator while watched by Christopher through the lens of his camera. After the deed Celia and Chris nail the native labourer to the ground by his hands then pour white paint down his throat while he is semi-conscious. An ingenious, stomach churning scene it is too, as they laugh wildly and take pictures of the body.
They make their way through the island, first seducing then killing, adulterers, gay people and drug addicts. Basically anyone they see as deviant. Christopher in particular sees himself as a bit of an avenging angel, which is ironic considering their own relaxed sexual morals. The film then climaxes in a scene of revenge that is completely unexpected.
Both the sex and violence in the film are pornographic in their styling. Scenes are broken up in to gratuitous black and white snapshots that wouldn't look out of place in a porn magazine (so I've heard). Not five minutes goes by without someone getting it on, with a bit of bestiality and rape thrown in for good measure. Their use of photography in their crimes accentuated this even more, making them able to literally lust over their exploits in the comfort of their own rooms, over and over again.
When viewed through 21st century eyes and with modern sensibilities, it's hard to understand why it was included in the nasties list as it's not particularly difficult to watch. That may either be because I'm not corruptible or I've already been corrupted. Either way, Island of Death is a wonderfully vicious and unflinching little film, make no mistake, just not one for all the family.
Video and Audio:
The soft focus lens makes it look like a holiday advertisement for the Greek Island. Available in Dolby Digital 2.0 stereo and 5.1 surround sound.
Special Features:
Included is a brand new audio commentary with director Nico Mastorakis and author and critic Calum Waddell. There's a Q&A with director Nico Mastorakis as well as an interview with the man, the original trailer and a feature The Music of Island of Death. Also brand new is a 2010 re-recording of "Destination Understanding" from Island of Death. The packaging includes a double-sided fold-out poster and a collector's booklet featuring brand new writing on the film by critic David Hayles.
Grades:

Movie:
Video:
Audio:
Features:
Overall: