Jacqueline Hyde DVD Review
Written by Steve Pattee
DVD released by Warner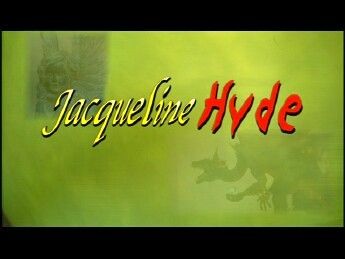 Written and directed by Rolfe Kanefsky
2005, Region 1 (NTSC), 94 minutes, Unrated
DVD released on October 18th, 2005
Starring:
Gabriella Hall as Jackie Hyde
Blythe Metz as Jacqueline Hyde
Jeremy Ordaz
Rebekah Ellis
James Ferris
Movie:
Jackie is little overweight, a little lonely and a lot insecure. She seems to hit bottom when she is fired from her telemarketing job, but, as luck would have it, as she is getting fired, she gets a call from a lawyer informing her she has inherited her grandfather's mansion. And when I say "as she is getting fired," I mean it. The phone literally rings in her boss's office as he is firing her.
Jackie heads off to her new digs with a promising outlook on her new life, but after failing to get picked up in a strip bar — yes, she got ignored in a strip bar — and watching the neighbors across the street having sex, Jackie is depressed as ever.
One night, after exploring the old mansion, she finds a refrigerator stocked with vials of a strange red liquid. Without realizing it, she inadvertently spills some of the liquid into her glass of red wine. After downing the wine, she takes one last look at her neighbor across the street, wishes aloud she were as attractive as her, and goes to bed.
The next day, Jackie awakes to find she is not alone. There is a strange man in her bed, and she does not know how he got there. He seems to feel right at ease, considering someone led him there the night before, and he even describes to Jackie who it is. Apparently, Jackie's next door neighbor, the very same Jackie was wishing she looked like the night before, is the woman who led the man to Jackie's bed.
Well, to make a long story short, this crazy elixir that is stockpiled in the fridge downstairs is seemingly Jackie's ticket to happiness. Because with this red potion, Jackie can be whoever she wants. Man or woman.
And she is going to make up for all of those nights she slept alone.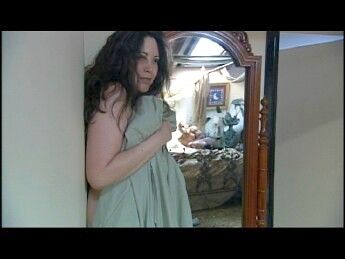 Review:
If you are looking for horror, don't look here. Suspense? No. Drama? Uh-uh. Comedy? Sometimes unintentional, but for the most part, no. Thriller and romance? No and no.
If, however, you are looking for some old-school "Skinamax," this is the one for you because, sadly, the sex scenes are all this movie has to offer. Fortunately, there are a lot of them.
Like most breast-inspired movies, the writing is bad. There are some moments of decent dialogue, but Jackie spends quite a bit of time talking to herself for the viewer's benefit. So much that it gets tiresome and just screams lazy writing. There is a scene of her actually talking into a recorder, but that doesn't even come close to justifying the other self-conversations.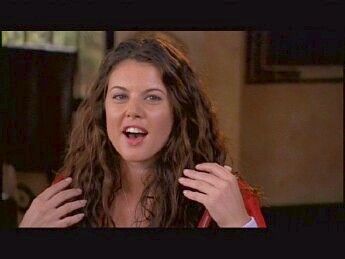 Unlike most breast-inspired movies, the acting is not bad. There are no standouts, but that's okay because that also means there are no bad standouts. In addition, if you see a woman, chances are she will be naked by the next scene. Now that I think about it, there is some suspense in this movie. The time between the first appearance of a hottie and the time you see her naked keeps you guessing.
Jacqueline Hyde is not a good movie by any stretch of the imagination, but it does manage to be enjoyable because of what it is. You guys out there will like it, and some of you ladies, too. And between the amount of boob shots, the times Jacqueline (Jackie's "main" alter-ego) masturbates and the numerous times Jackie spends talking to herself, you could make one hell of a drinking game out of it.
Good times.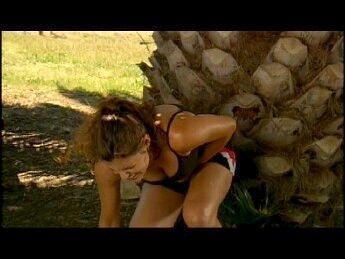 Video and Audio:
While the presentation is 16:9, Hyde suffers from the same downfalls of its low-budget brethren. The brighter/day scenes look fine, but the darker scenes are grain city and the blacks look like grays.
Hyde's offered 5.1 surround gets the job done. It doesn't stand out, but there were no noticeable pops or hisses.
A Dolby 2.0 soundtrack is also available.
Special Features:
There is a director, producer and cast commentary offered, but I stopped listening to it the first time the director made a comparison of Hyde to Hitchcock. That was about 10 minutes in.
The documentary "Nothing to Hyde" runs about 22 minutes and should have been edited down to about five. There are some interesting bits of information found within the documentary, such as screen tests, but there is so much filler, you should keep your remote handy.
There are about 20 minutes of deleted scenes offered that are a fun watch if you want to check out more nudity.
Also included are filmographies and a still gallery.
| | |
| --- | --- |
| Grades: | |
| Movie: | – As a film it's a one star movie, but as schlock, it's about what you'd expect. |
| Video: | |
| Audio: | |
| Features: | |
| Overall: | – The 16-year-olds out there will dig it. |
Conclusion:
I'm the first to enjoy a good, or bad, B-movie, but Hyde takes itself just a little too seriously for what it is.
(Equipment includes a Mitsubishi WS-48613 48" HDTV, Sony DVP-NS50P DVD player and Onkyo HTS-770 Home Theater System and, in some cases, a Sony 27" WEGA TV and a Cyberhome CH-DVD300 DVD player.)
© 2005 Horror DNA.com. No use of this review is permitted without expressed permission from Horror DNA.com.