Jeepers Creepers Collector's Edition Blu-ray Review
Written by Robert Gold
Blu-ray released by Scream Factory
Written and directed by Victor Salva
2001, 91 minutes, Rated R
Blu-ray released on June 14th, 2016
Starring:
Gina Philips as Trish
Justin Long as Darry
Jonathan Breck as The Creeper
Patricia Belcher as Jezelle Gay Hartman
Brandon Smith as Sgt. Tubbs
Eileen Brennan as Cat Lady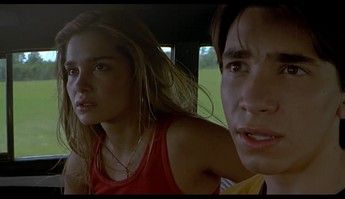 Review:
Once every twenty-three years, for twenty-three days, it gets to eat. The legend of the mysterious Creeper is known by some, but most everyone that crosses its path never lives to tell the tale. Trish and Darry Jenner are on their way home from school when they have the misfortune of being in the wrong place at the wrong time. On a lonesome backcountry highway, the two are nearly run off the road by an aggressive driver in a creepy truck. Not long after, they witness what appears to be a body dump at an abandoned church. The siblings double back to investigate, but what they discover is far worse than anything they could imagine. The Creeper makes it a priority to stop them from escaping and pursues them through even the most fortified surroundings. Darry and Trish's only hope may be Jezelle Gay Hartman, a woman dismissed as the town crazy because she believes she is psychic. The Creeper is coming and will not be denied so the kids better pray she has insight into how they can survive the next twenty-three minutes, let alone days!
Jeepers Creepers is a fun monster movie that doesn't take itself too seriously, but doesn't make fun of its story either. The script introduces our heroes Trish and Darry, in a very simple manner and spends just enough time letting viewers get to know and care about them before introducing the seemingly unstoppable villain. The casual tone is extremely lulling, but quickly shifts with the arrival of a menacing truck with an intimidating horn. The reckless driver remains unseen and this sequence calls to mind some of the finer points of Spielberg's classic car flick Duel (1971). The picture then changes tone with the introduction of the horrors under the church. What Darry finds leaves him frozen with fear and Trish takes the lead as she cares for her brother. At the one hour mark, the film delivers its biggest punch, and it is here that fans will either turn away in frustration or embrace the reveal and run with it. The final act becomes something more of a siege picture and builds to a very exciting conclusion that I found both unexpectedly dark and yet satisfying.
Gina Philips (Dead & Breakfast) and Justin Long (Drag Me to Hell) star as Trish and Darry and share an immediate onscreen chemistry as teen siblings. Their banter sets up an almost playful tone that is refreshingly well-written. Each handles their turn taking the lead with ease, whether it's Long moving from smartass brother to traumatized survivor or Philips revealing an unexpected strength when her family is threatened. For so much of the story to rest on these two actors' shoulders, the casting choices couldn't be more perfect. Patricia Belcher (Flatliners) makes a strong entrance as Jezelle the psychic. Though some of her line readings are a bit bumpy, she brings an emotional urgency to all of her scenes. Jonathan Breck (Spiders) is all menace as the Creeper, a silent beast that is focused on the task at hand: to gather as much of what it needs in the time it has, and to prevent anything from getting in its way. The Creeper is a welcome return to serious villains in the wake of wise-cracking, self-referential baddies more interested in being hip than scary. Everyone in the supporting cast does a fine job and though her character adds nothing to the plot, it is always nice to see the late, great Eileen Brennan (Pandemonium) turn up if only for a few minutes as a crazy cat lady.
Writer/ director Victor Salva (Clownhouse) has created a very effective and dark fairy tale that tells a simple story in the most straightforward manner and covers a lot of ground doing so. Audiences are immediately invested in the main characters and want to see them survive this ordeal, and Salva plays with this dedication as he continues to up the danger level from one sequence to the next. He also knows how to have fun with his set pieces, including an early highlight set to a cover of the classic Siouxsie and the Banshees hit song "Peek a Boo". Cinematographer Don E. FauntLeRoy (Munchie) makes the absolute most of the unsettling Florida locations and the film is rich with atmosphere. He accomplishes some impressive camera work in terms of both movement and lighting, making it compelling to watch two people talking in a moving car, crows resting atop an abandoned church and a nasty reveal along the walls of a spooky basement, just to name a few. Complementing the picture is an intense score by composer Bennet Salvay (Rosewood Lane), whose orchestral arrangements enhance the thrills from the quiet moody opening to the exhausting finale. Legendary filmmaker Francis Ford Coppola (The Godfather) serves as executive producer and lends the production an air of clout.
Jeepers Creepers is full of surprises and energy. Victor Salva hits all the right notes with this fresh spin on a classic monster movie and introduces an all-new favorite villain into the lexicon of modern horror. Fifteen years ago, genre fans welcomed the ride and audience support led to a box office gross nearly four times its production budget. There were a few speed bumps for the release, namely the director's checkered past spotlighted in the media, and the film's opening just ten days before the terrorist attacks on September 11th. The picture found new life on home video and late-night cable television, and with this success there soon came word of a proposed trilogy. Jeepers Creepers 2 followed two years later, but as of this writing the final chapter remains in pre-production. Originally released by MGM on DVD in 2002 and on Blu-ray in 2012 (coincidentally on September 11th), the title has always included the company's famous logo, but oddly it does not appear on this edition.
Video and Audio:
Presented in the original 1.85:1 aspect ratio, Jeepers Creepers has received a new 2K scan from the original interpositive film elements and looks much sharper and more colorful than the previous MGM Blu-ray. There is a lot more detail and a nice balance between the bright sunny exteriors and the shadowy basement interiors. This is a very pleasing transfer that despite a few minor dings in the source material, I really cannot complain.
The DTS-HD MA 5.1 mix is likely the same that accompanied the previous release and that is totally fine, as there is nice bass, clean and clear dialogue and some welcome use of the rear channels to showcase many unsettling sound effects. A DTS-HD MA 2.0 stereo track is also included for anyone curious to hear something of a more straightforward mix.
Optional English subtitles are included for anyone in need.
Special Features:
Disc 1:
There are two audio commentaries on this disc. The first features Victor Salva reuniting with actors Justin Long and Gina Philips for the film's 15th anniversary. The trio has a lot to say and covers a lot of ground and it is nice to hear their thoughts so long after the production. The track is conversational and laid-back with a lot of laughter and fond memories and is definitely worth a listen.
The second commentary is a solo effort from Salva that was recorded for the 2002 DVD release. He has plenty of information to share and rarely slows down, so check it out and have fun.
Disc 2:
Looking back on the film many years later, Salva, cinematographer Don FauntLeRoy, editor Ed Marx and producer Barry Opper share their thoughts on how the project came together and how they became involved in it in the retrospective piece, Jeepers Creepers: Then and Now (37 minutes).
Opper reflects on his career in From Critters to Creepers (20 minutes) and discusses how he got into the business and how fortunate he has been in casting future stars at the beginning of their careers. There is a lot of talk of his first movie, Android, working with both Roger Corman and Robert Shaye and how he made a career off the Critters franchise.
The Town Psychic (17 minutes) catches up with actress Patricia Belcher, who talks about how emotionally demanding her character was and how she became involved with the film.
Returning from previous releases is the excellent six-part documentary Behind the Peepers (60 minutes). There is a lot of on-set footage and behind-the-scenes interviews with members of the cast and crew. This piece is very informative and well-made and comes easily recommended.
A collection of deleted scenes (17 minutes) offers extended and alternate material cut from the final version. Highlights include an extended opening and alternate version of the ending. Wisely trimmed material includes a scene of the Creeper talking; something that would kill the mood. I am glad it is included here, but honestly this deserved to be cut.
A photo gallery (8 minutes) offers both color and black & white production stills including behind-the-scenes images, promotional shots, marketing materials and location photographs presented as a video montage set to the film's creepy score.
The original trailer attempts to push the film into both slasher and action territory with an interesting set of editing choices.
A radio spot featuring critic quotes gives the movie the hard sell.
Grades:

Movie:


Video:
Audio:
Features:
Overall:
This page includes affiliate links where Horror DNA may receive a small commission at no extra cost to you.