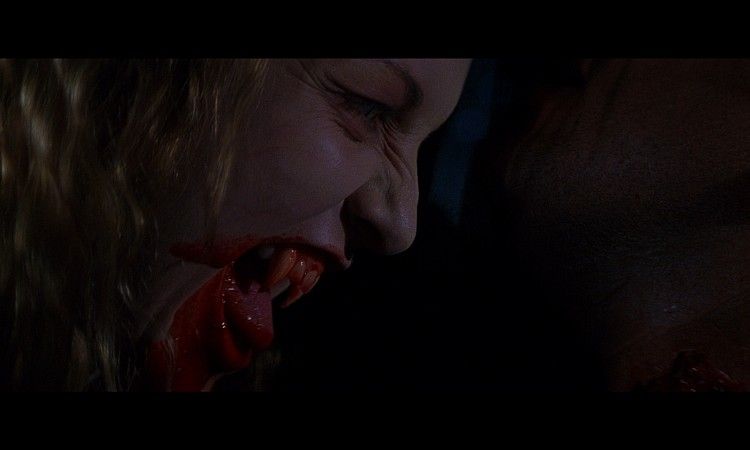 Vampires Blu-ray Review
Written by Robert Gold
Blu-ray released by Twilight Time
Directed by John Carpenter
Written by Don Jakoby, based on the novel Stake$ by John Steakley
1998, 108 minutes, Rated R
Blu-ray released on October 27th, 2015
Limited to 3,000 copies.
Starring:
James Woods as Jack Crow
Daniel Baldwin as Anthony Montoya
Sheryl Lee as Katrina
Thomas Ian Griffith as Valek
Maximilian Schell as Cardinal Alba
Tim Guinee as Father Adam
Mark Boone Junior as Catlin
Gregory Sierra as Father Giovanni
Review:
Vampires are real and nothing like what you've seen in the movies. They are nasty bottom-feeders that are killed only by either exposure to direct sunlight or a stake through the heart. The Catholic Church has known about their existence for centuries and secretly fights this evil with teams of hunters, strategically located around the world. Jack Crow heads the crew in the American Southwest and his men have just cleared a nest of these creatures in an isolated desert farmhouse. Their day was spent killing monsters, but the night is saved for festivities. When a master vampire named Valek crashes the party and returns the favor, Jack is left without the majority of his team. He escapes with his comrade Montoya and a hooker named Katrina. The girl has been bitten and Jack knows he can use her growing telepathic link with the bloodsucker to stop him forever. The church appoints young Father Adam to work alongside the others and report back any new discoveries. Their task is twofold: kill the vampire and find out how it knows Jack's name.
The push to make classic movie monsters sympathetic reached its peak in the 1990s with adaptations of Bram Stoker's Dracula (1992) and Interview with the Vampire (1994), and television shows like Angel and Buffy the Vampire Slayer. The once-terrifying Nosferatu was romanticized into a tragic figure that made women swoon the moment he appeared on screen. In 1998, director John Carpenter (The Fog) moved Transylvania's most notorious residents back into the realm of depravity with Vampires. Anti-hero Jack Crow has nothing but contempt for these foul creatures of the night and wastes little energy listening to any instructions that don't begin with "please go kill more". He has no time for social niceties and little patience for what he sees as the stupidity of others. Crow is brought to life by the inimitable James Woods (Videodrome), whose intensity makes me wish the actor received more leading roles. Carpenter and Woods work well together and the actor is clearly having fun as a tough guy, scowling in every scene.
John Carpenter has frequently instilled themes of the western genre into urban projects like Assault on Precinct 13 and Escape from New York, but this is the closest he has come to emulating the work of his cinematic heroes, directors John Ford (The Searchers) and Howard Hawks (Rio Bravo). Setting the action in the desert environment of the American Southwest provides an additional depth to the story, offering both a natural beauty and a sense of quiet isolation to the proceedings. Cinematographer Gary Kibbe (Prince of Darkness) captures the inherent beauty of the locations, but falters in his efforts to keep the action sequences compelling. The usually reliable Don Jacoby (Lifeforce) hobbles the film at every turn with his underwhelming script based on the novel Vampire$, by John Steakley. Jacoby overloads the piece with horrendous dialogue, convoluted subplots and ridiculous character motivations. The heroes are introduced as badass vampire hunters, but they seem to lose all sense of training when asked to do their jobs. Carpenter's best work stems from screenplays he has at least co-authored and it is a shame he did not manage a healthy rewrite here.
James Woods carries the picture handily by giving Jack Crow the confidence to be an asshole and not care what other people think, because he is focused on the task of ridding the world of evil. Daniel Baldwin (Homicide: Life on the Street) is not as charismatic as Woods, and has the difficult task of making Montoya something more than just an abrasive brute. The character is every bit as seasoned as Crow and reliable in a fight, but outside of the working environment we see him abusing women and remaining generally repellant until the script requires him to step up and redeem himself for a few minutes. Sheryl Lee (Twin Peaks) is put through the emotional wringer as Katrina. She looks good and screams a lot, but doesn't get to do much more until the script forces a relationship between her and Baldwin's character. Thomas Ian Griffith (The Karate Kid III) is imposing as Valek, whose physical appearance counters everything that Crow claims about vampires. The real casting coup here is Maximilian Schell (Judgment at Nuremberg) as Cardinal Alba, a complicated church official in charge of dispatching the teams of hunters. Watch for small supporting appearances from Mark Boone Junior (Sons of Anarchy) and Gregory Sierra (Barney Miller) as Catlin and Father Giovanni respectively, as both are always welcome additions to any project.
Audiences that enjoy the idea of a vampire/western crossover should definitely check out Katherine Bigelow's underrated Near Dark (1987), a rich character-based approach to the material that is an infinitely more satisfying ride. As a lifelong John Carpenter supporter, I wish Vampires were a better movie. This is far from the worst title on his impressive resume, but it is also a long way down from the heyday he enjoyed throughout the 1980s. Taking the Jack Crow character from John Steakley's novel and tossing him into a Howard Hawks western does the character little justice, but if you like the guy and want to see him in action, the book is a fast and mostly entertaining read. It doesn't really work the other way however, as fans of the text will be disappointed to see how their hero is treated in the film.
Video and Audio:
Vampires is presented in the original 2.35:1 aspect ratio and looks pretty great. The picture clarity is much stronger than the previous DVD release and details really stand out with improved small-object detail. There are a lot of key sequences staged within shadowy environments, but nothing is lost here as color saturation and black levels are well balanced.
The default DTS-HD MA 5.1 track is fairly robust with decent use of the rear channels. There are some nice directional effects whenever Crow gets to go to work and the music cues are also effective. A DTS-HD MA 2.0 mix is also offered, but the 5.1 really is the way to go.
English subtitles are provided for anyone in need.
Special Features:
Director John Carpenter's audio commentary begins in a promising manner with the director eager to share as much information possible. He points out a few of the more noted musicians that appear on the score with him and has some fun things to say about James Woods too. Unfortunately, this track needs a moderator, as Carpenter runs out of steam pretty quickly and resorts to narrating on-screen actions and there are frequent gaps of silence as he quietly watches the film.
Carpenter's score is presented in an isolated DTS-HD MA 2.0 track for your listening pleasure. In the intro to the commentary, he points out that Vampires is his 15th film and 13th score. The track is solid and bluesy, but is fails to connect with the content. Good music, wrong movie.
A vintage promotional behind-the-scenes featurette (6 minutes) offers a rare glimpse of the notoriously grumpy director smiling and having fun on set. Watching Carpenter and Woods interact is easily a highlight of this all-too-short piece.
The original theatrical trailer is also included.
Grades:

Movie:


Video:
Audio:
Features:
Overall:
This page includes affiliate links where Horror DNA may receive a small commission at no extra cost to you.