Johnny Gruesome Movie Review
Written by Shane D. Keene
Released by Uncork'd Entertainment
Written and directed by Gregory Lamberson
2016, 90 minutes, Rated PG-13
DVD released on October 14, 2018
Starring:
Anthony De La Torre as Johnny Grissom (Gruesome)
Byron Brown II as Eric Carter
Karin Slatter as Aprilann
Machael DeLorenzo as Charlie Grissom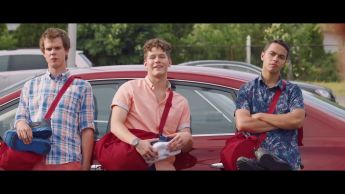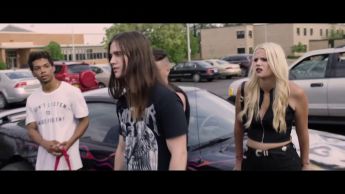 Review:
I'm always excited when a book I love gets made into the film it deserves to be, so it's safe to say that when I saw the name Johnny Gruesome in a recent list of available Horror DNA screeners I had a reply in Steve Pattee's inbox before he'd removed his finger from the send button. I read the novel back in 2010 or so and I fucking loved it. It's one of those criminally underrated horror tales that pays perfect homage to the nightmare fodder of the '70s and '80s, presenting readers with a new and seldom seen monster in the form of a true revenant. In the story and the movie, Johnny Grissom—played by Anthony De La Torre—and his friends are your typical high school losers; a collection of metalheads and stoners waiting to be dropouts and convicts. It starts out feeling like your average coming-of-age flick but doesn't take long to go straight to hell when Johnny's car, and his body, are discovered at the bottom of a river. His death is written off as an accident, but, as viewers will see, there is something much more insidious at work here.
Because Johnny Gruesome comes back, and he's pissed.
But when I say the film goes straight to hell, I mean that in a number of ways and not all of them are goo. So let me start with the positive things and then I'll tell you why I think this is a decent film for a late night bout of insomnia, but should otherwise be back-burnered for more worthy Halloween fare in this month of October.
First off, let's talk story. It would be criminal of me to neglect or in any way negate Gregory Lamberson's exemplary skills as a wordsmith, whether for print or screen, and Johnny Gruesome is a superb example of that. Originally developed as a screenplay, the story first found its way to the public via the previously mentioned and outstanding novel of the same title. That book was one of my favorite reads that year and one I much espoused via social media and other outlets and will continue to do so going forward. And like the story, the movie is exemplary from a writing standpoint. With many writing credits under his belt, Lamberson is a veteran creator and his hard-won experience shines through in fine form here in spite of many other pitfalls. If you come to this for only one reason, come for the tale woven by this exceptional author.
If you come for two reasons, make the practical and special effects the next item of priority, in particular Johnny's makeup, which gets exponentially creepier and more awesome as the film progresses. If I were nominating people for awards in this equation, it would be the writer and the makeup crew. They are absolutely brilliant. And then there's one not-particularly-technical-but-absolutely-stellar effect in the form of Johnny's ghost, who appears right after he is killed in ethereal form in an artifice never before seen, at least not by me. I've seen spirits depicted in many ways over the course of the last forty-five years, but never like this and it really stands out. If you watch the film, I think you'll see exactly what I mean.
Okay, so there's the good stuff. Now for the things I always hate to talk about, the ones that don't work. I promise I'll keep this part as brief as possible for all our sake. What takes this from being a five-star screening and bumps it all the way down to less than a three-star are the following: cardboard acting on the part of all but Anthony De La Torre (Gruesome) and Karin Slatter (Johnny's girlfriend, Aprilann), inconsistent pacing, and an utter lack of likeability on the part of literally every character in the movie. I just couldn't find any reason to invest myself in or give a damn about any them and it renders the whole film shallow and meaningless.
So, in the final estimation Johnny Gruesome is a watchable film that certainly wasn't a Did-Not-Finish but also wasn't anything to write home about or dance naked around the harvest fire over. I'm sure some will find greater enjoyment in it than I, as it's one of those types of B movies that a lot of folks are extraordinarily forgiving of, but if you're one like me who's overly picky about certain aspects, acting and relatability in particular, I'd give this one a pass until it hits your favorite video streaming service.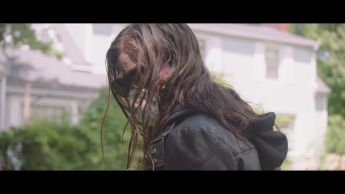 This page includes affiliate links where Horror DNA may receive a small commission at no extra cost to you.