Joy Ride 3: Roadkill Blu-ray Review

Written by Richelle Charkot
Blu-ray released by 20th Century Fox Home Entertainment
Written and directed by Declan O'Brien
2014, Region A, 96 minutes, Unrated
Blu-ray released on June 17th, 2014

Starring:
Ken Kirzinger as Rusty Nail
Jesse Hutch as Jordan Wells
Ben Hollingsworth as Mickey Cole
Gianpaolo Venuta as Austin Moore
Jake Manley as Bobby Crow
Kristen Prout as Jewel McCaul
Leela Savasta as Alisa Rosado
Review:

Although Joy Ride is one of the most anxiety provoking movies I have ever seen, the sequel, Joy Ride 2: Dead Ahead is just barely tolerable, the bad taste of which was still in my mouth when I sat down to watch the third film. I was afraid that I was in for another haphazard sequel that would take away everything that made Rusty Nail terrifying in the first movie, with nothing but cheesy, sleazy actors spewing out the same out lines like, "What do you want with us?!" or "Leave us alone, you freak!" Fortunately for me and my faith in the Joy Ride series, Joy Ride 3: Roadkill is a successfully gory movie with exclusively practical effects, and a fun plot that playfully uses slasher clichés and is laden with inventive kills.

A group of young street racers – Jordan, Mickey, Austin, Bobby, Jewel and Alisa – head out to the Road Rally 1000 and stop along the way at your standard, dodgy trucker café. Austin discovers that there is a route through Highway 17 that they could take which would shave a day off of their driving time, so he asks one lonesome truck driver if the road is still open because it did not appear on their GPS. The naysaying trucker implores the young people that they do not take the road because it is the infamous Slaughter Alley, where more people die or disappear than any other road in the United States. He goes on the make wild accusations that the government, aliens, and other harebrained conspiracies might be responsible for the deaths until a police officer steps in to calm the kids and tell them that Highway 17 isn't unsafe like the trucker says. The ill-fated group decide to heed the advice of the officer and hit the road, where within moments on Slaughter Alley they decide to "play" with an innocent truck driver by cutting him off and making him almost crash, who then turns out to be the worst person that anyone can play a prank on, Rusty Nail.

One thing that will almost always ruin a horror film is if there is too much reliance on computer graphics for the kill scenes. Although CGI has come a long way from its beginnings, the method is still ineffectual compared to practical special effects, which is why I was so happy to not see one scene of CGI throughout all of Joy Ride 3. Every kill scene is thoughtfully executed and realistic, although extravagantly bloody, and for a gore fan like myself, I was pleased that I could cringe and close my eyes rather than be bored by the obvious computer graphics that take away from the tension of a movie by being clunky and awkward looking.

The plot of the film is not especially inventive because it still takes a standard backbone with it being about a group of young people who piss off Rusty and then he hunts them all one by one, but it is woven with fun brushstrokes that makes it stand out from its predecessors. Every kill that Rusty executes is directly related to his truck, which makes the vehicle more of a character in itself than in the prior two films. Joy Ride 3 also playfully includes clichéd slasher characters such as the wacky but correct old man who warns the young people not to go somewhere and the fumbling, useless cops that ultimately help no one. This film is not a tired rip-off like Joy Ride 2, but instead it is a mischievous and good-hearted homage to the slasher genre.
Video and Audio:

Presented in 1:78:1, Joy Ride 3 is sharp and bright, which was an artistic choice of the director, Declan O'Brien, who wanted to steer away from the usual saturated and dark colours of the horror genre.

The DTS-HD 5.1 soundtrack successfully manages to remain at a levelled volume throughout the whole film, rather than in some horror movies where every calm scene is too quiet, then every action scene is far too loud.
Subtitles are also available in English, Spanish and French.
I recommend watching the special features for anyone who is even remotely interested in the Joy Ride series. Declan O'Brien is in almost every feature, and his admiration for the horror genre and bright eyed excitement in film making can bring a whole new appreciation for his instalment in the franchise. The features include audio commentary with O'Brien, Road Rage:The Blood, Sweat and Gears of Joy Ride 3, Director's Die-aries, Finding Large Marge, deleted pre-visuals, and deleted scenes.

Most of the features are behind-the-scenes looks at creating some of the kills and stunts, but by far the silliest and most enjoyable feature is Finding Large Marge, which details how Declan sought out to find a "mean and dour woman in her 60s" who could play his homage to Pee Wee's Big Adventure, an ambivalent waitress who works at the trucker stop at the beginning of the film.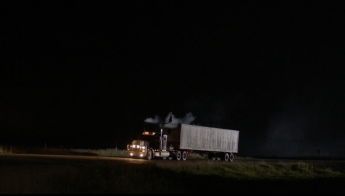 Grades:

Movie:








Video:
Audio:
Features:
Overall: