Jules Verne's Mysterious Island Movie Review
Written by Jennifer Turner

DVD released by Green Apple Entertainment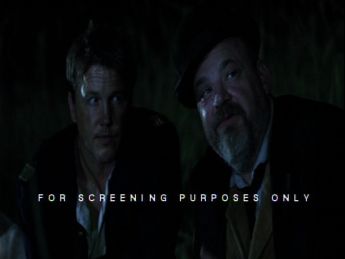 Directed by Mark Sheppard
Written by Cameron Larson, based on the novel by Jules Verne
2010, 92 Minutes, Not Rated
DVD released on June 5th, 2012

Starring:
Gina Holden as Julia Fogg
Lochlyn Munro as Captain Cyrus Harding
Pruitt Taylor Vince as Gideon Spilett
Susie Abromeit as Abby Fogg
Mark Sheppard as Young Captain Nemo
William Morgan Sheppard as Captain Nemo
Review:
I was pleasantly surprised by Mysterious Island. I was expecting something boring and low budget but found myself quite entertained. The movie is based on the Jules Verne novel of the same name. Fans of the novel should keep in mind that this adaption takes some creative liberties with the story. I have never read the novel myself, so I approached this movie with a cleaner slate.

The movie concerns of group of civil war soldiers who land on the aforementioned island. They soon learn that they have become lost in time. With the help of Captain Nemo they must escape before a volcano eruption destroys the island.

This movie is an entertaining blend of action and Sci-Fi. It doesn't take itself seriously and neither should the viewers. The actors are well cast, including Lochlyn Munro who plays the lead role of Captain Cyrus Harding. The actors take some cheesy dialogue and actually made it work.
The special effects and CGI of the film are good for a low budget movie. The costumes are another story. The savages run around in cheap fur costumes that are laughable. It really negates their roles as the movie's antagonists. I think they could have tried a little harder with that.

My only real quibble with the movie concerns the ending. The first part has great pacing but falls apart towards the end. The ending comes off as rushed and it ends too abruptly for my tastes.

Consider this movie fun way to spend a couple of hours and nothing more.
Video, Audio and Special Features:
Video, audio and special features will not be graded as this was a screener.
Grades:

Movie:
Video:
n/a
Audio:
n/a
Features:
n/a
Overall:
This page includes affiliate links where Horror DNA may receive a small commission at no extra cost to you.