Kalifornia Collector's Edition Blu-ray Review
Written by Robert Gold
Blu-ray released by Scream Factory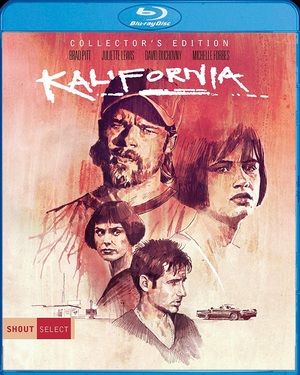 Directed by Dominic Sena
Written by Tim Metcalfe
1993, 118 minutes, Unrated
Released on March 5th, 2019
Starring:
Brad Pitt as Early Grayce
Juliette Lewis as Adele
David Duchovny as Brian Kessler
Michelle Forbes as Carrie Laughlin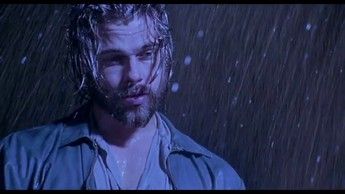 Review:
Brian Kessler is a graduate student who recently wrote a successful article on serial killers and has been given an advance to write a book on the topic. He spent the money on a convertible, but the ideas are not free-flowing and progress is slow. His girlfriend Carrie is an aspiring photographer with a bent toward the erotic. Her work is considered too risqué for mainstream audiences and she is having trouble cracking the code to success. Brian comes upon the idea of taking a cross-country road trip to California, stopping at notorious crime scenes along the way. The sites will serve as inspiration for the book and Carrie can take photographs. The plan is set, but finances are a bit tight, so they will need travelling companions to split costs.
Early Grayce is a less-than-well-educated man trying to make ends meet. He's lost his job, his parole officer is on his back and making matters worse, the rent on the trailer is overdue. The one bright spot in Early's life is his girlfriend Adele, a none-too-bright childlike young woman working as a waitress at the local diner. She is painfully shy with almost zero self-esteem, but she has Early. He is occasionally abusive, but only when she "deserves" it. Early answers Brian's ad for the ride share and settles a score with his landlord before hitting the road. The two couples meet and apparently have nothing in common, but try to make the best of it. They begin making stops at various crime scenes, with Brian and Carrie documenting the sites. Audiences are clued in that Early is secretly a mass murderer attacking random people at pit stops along the way, but his travelling companions remain blissfully unaware.
When it is discovered that Early is carrying a gun, Carrie is all for sending him packing, but Brian finds it fascinating. Early teaches Brian to shoot and their bond strengthens when Early protects him in a bar fight. As Carrie gathers more information from Adele, she grows more uncomfortable. Things reach their breaking point when she happens upon Early executing a convenience store clerk. Now, Brian and Carrie understand how hopelessly out of their depth they are as they travel the country with a serial killer. Early insists they stay on course visiting crime scenes on their way to California. Can Adele keep him happy long enough for Brian and Carrie to escape this nightmare alive, or will Early be finishing this journey alone?
1990s audiences were fascinated by serial killer flicks and they enjoyed quite a successful run at the box office. The material was dark and gritty and led to many outstanding performances from rising young actors. Kalifornia arrived in theatres as the subgenre reached the height of its popularity. Director Dominic Sena (Whiteout) delivers a gripping tale that builds suspense as our travelers get further into their journey. The countryside is beautiful, but the violence is stark. Early kills out of opportunity and without warning. His ability to murder someone and then go right back to socializing with his fellow travelers is terrifying. The film bears more than a passing resemblance to Terrence Malick's classic Badlands (1973). Written by Tim Metcalfe (The Haunting in Connecticut), the movie sucks audiences in with Early's charm, but quickly reveals his true nature as he murders his landlord and sets fire to his trailer.
Brad Pitt (Seven) sheds his pretty-boy image and delivers a powerhouse performance as Early Grayce, a backwoods sociopath lacking in etiquette but unquestionably clever and dangerous. From his physical appearance to his accent to the way he moves, Pitt is captivating and commands every second of his screen time. Matching Pitt in dedication is Juliette Lewis (Natural Born Killers) as his put-upon lady, Adele. She is hypnotic in the role of a simple-minded girl who doesn't know any better than to stick with her abusive boyfriend. Adele is merely along for the ride, defending Early when Carrie begins asking questions. David Duchovny (The X-Files) plays the straight man to Pitt's eccentric character. As Brian, Duchovny serves as narrator and clueless protagonist caught up in a terrible situation searching for serial killers while traveling with one in his car. Duchovny and Pitt work well off each other and their relationship feels natural throughout. Michelle Forbes (True Blood) is Carrie, the no-nonsense lady with a keen eye for bullshit as she tries to keep Brian out of trouble. She shares some tender moments with Lewis and is the strong rational voice that is needed on this road trip.
Kalifornia has a tight script with well-written characters that contain a depth usually absent in similar films. Pitt and Lewis share terrific on-screen chemistry with Pitt appearing earnest and at times playful opposite his leading lady. It is chilling watching him become the violent murderer with a casual calm demeanor that switches with the slightest whim. Their performances are worth the price of admission and the fact that the material stands up on its own is an added bonus. The movie could have been just another serial-killer-on-the-loose story that was so popular at the time, but Metcalfe's script encourages you to get to know this sociopath. This is a road trip worth taking and will serve as a warning when it comes to giving rides to strangers.
Video and Audio:
This is the same solid transfer from the MGM Blu-ray released in 2010. The picture looks pleasing and the 2.35:1 aspect ratio really shines. Colors are strong and black levels are inky with natural-looking flesh tones throughout.
The DTS-HD MA 5.1 is not completely satisfying, as the rear channels seldom get a workout. There is some play, but it is minimal. Dialogue levels are clean and free from any distortion and are well-balanced with music cues.
Optional English subtitles are included for anyone in need.
Special Features:
One of the main draws here is the Blu-ray debut of the film's theatrical cut (115 minutes). This version was previously available on DVD only and is for anyone out there that likes their horror a little less graphic and their sex scenes a bit less steamy.
Director Dominic Sena sits down for an all-new interview in Going to Kalifornia (25 minutes) and discusses how the project came together. He shares his memories of the shoot and of casting the film and working with his crew. He also relays an amusing story of correcting a car stunt that failed to go off as planned. Sena is an enthusiastic storyteller making this a fun segment worth checking out.
The original 1993 EPK featurette (5 minutes) offers cast interviews and clips from the feature.
Additional cast interviews (3 minutes) with Brad Pitt and Juliette Lewis are included to promote the movie.
Three theatrical trailers and a TV spot are also included.
Grades:

Movie:


Video:
Audio:
Features:
Overall:
This page includes affiliate links where Horror DNA may receive a small commission at no extra cost to you.