Killer Kate! Movie Review
Written by Lorry Kikta
Released by Freestyle Digital Media
Directed by Elliot Feld
Written by Daniel Moya and Elliot Feld
2018, 80 minutes, Not Rated
Released on October 26th, 2018
Starring:
Alexandra Feld as Kate
Danielle Burgess as Angie
Amaris Davidson as Sara
Abby Eiland as Mel
Tiffany Shepis as Christine
Grant Lyon as Jimmy
Robert Donavan as Briskman
Review:
In director Elliott Feld's debut feature, Killer Kate!, we revisit some pretty familiar horror tropes. There's the family of psychos, which we have seen in many different iterations since Jack Hill's Spider Baby. There's also the classic theme of a group of younger people taking a vacation together that has been covered in every conceivable way from Evil Dead to Party Hard, Die Young, or so I thought.
Killer Kate! in a nutshell is about two estranged sisters, Kate (Alexandra Feld, Slate Your Name) and Angie (Danielle Burgess, The Deuce), reuniting upon their dying father's behest at Angie's bachelorette party at an "L.A. B&B" (a very thinly veiled nickname for Airbnb). Along for the trip are Angie's fellow teacher friends, Sarah (Amaris Davidson, Light As a Feather) and Melanie (Abby Eiland, Witch-Hunt). Sarah is a sweet if not slightly naive math teacher. Melanie is a wild-child shop teacher. To round the group out we have the super straightlaced Kate and the ultimate spoiled brat youngest daughter, Angie.
All the characters fit certain standard horror archetypes, including the family that plans on killing the girls, The Briskmans. There's the tough-as-nails, take-no-prisoners sibling that in this film just so happens to be the daughter, Christine, played by horror legend Tiffany Shepis. There's the craziest-one-who-shoots-first-and-ask-questions-later-guy, Terry (Brandon Bales, Vessel). There's, of course, always the dumb one, who is the youngest son, Tino (Preston Flagg, Friday Night Lights), and finally there's an archetype that's not always explored, which is the sibling who doesn't really want to participate in the antics. That would be Jimmy (Grant Lyon in his feature acting debut), the oldest son, who is more than a little neurotic and clumsy, and although he would rather not kill anyone, the thing that's most important to him is pleasing his father. Then there's the father with an axe to grind, Mr. Briskman (Robert Donovan, The Black Room).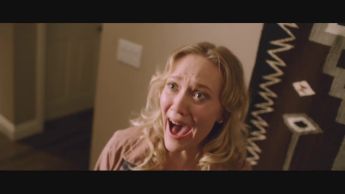 Why does this family want to kill the girls? I obviously can't tell you that or anything else about the plot without spoiling the fun. That being said, Killer Kate! is a fun slasher movie. It can be incredibly formulaic at times, but there are some unique aspects that make the film stand out, particularly the ending. There's a lot of homage going on throughout, including a bit of a twist on a famous scene from The Shining, a "Shop Smart" hat that Jimmy wears through half the movie that I can't help but making a connection to the Evil Dead films and Ash's workplace, S-Mart, and the whole family crime in the desert thing of course lends comparison to the Texas Chainsaw franchise and The Devil's Rejects.
Killer Kate! will make you want to call your parents and siblings, and also probably never want to use an Airbnb again. I'm not going to lie and tell you this film is groundbreaking, but like I said, it's fun. It's entertaining. There's are some great one-liners in Elliott Feld & Daniel Moya's script. There's hints of future greatness in their work with some aspects in the writing, and their ability to work within budget limitations is impressive. It just didn't blow my mind, which could say that I'm jaded, which is entirely possible, but I liked it. It is good, but I'm hoping that Elliott Feld's next offering can be more than that.
This page includes affiliate links where Horror DNA may receive a small commission at no extra cost to you.