Kung Fu Killer Blu-ray Review
Written by Robert Gold
Blu-ray released by Well Go USA
Directed by Teddy Chen
Written by Teddy Chen and Lau Ho-Leung
2014, 100 minutes, Not Rated
Blu-ray released on July 21st, 2015
Starring:
Donnie Yen as Hahou Mo
Wang Baoqiang as Fung Yu-Sau
Charlie Yeung as Inspector LukYuen-Sum
Michelle Bai as Sinn Ying
Shi Yanneng as Tam King-yiu
Louis Fan as Hung Yip
Yu Kang as Wong Chit
Alex Fong as Chief Inspector Lam
John Chiang as Chan Pak-Kwong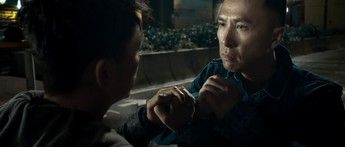 Review:
Hahou Mo is a former martial arts instructor currently serving time in prison for murder. When a serial killer begins targeting kung fu masters, Mo agrees to help the police catch the culprit in exchange for his own freedom. Working closely with Inspector Luk Yuen-sum and a special task force, Mo creates a list of seven potential targets. The villain's identity is quickly revealed, but his motives remain elusive as he shifts his focus to Mo's girlfriend, thus making things personal. What follows is a fairly standard cat-and-mouse pursuit scenario as the cops try to catch up to a highly-trained psychopath who remains one step ahead, until our hero can put a stop to his deadly plan...or some other well-worn cliché.
Kung Fu Killer (2014), not to be confused with the 2009 David Carradine film of the same name, has a lot of good things going for it, but manages to remain only mildly satisfying. The premise is intriguing and the action well-staged, but the script is weak and the energy between fight scenes sags, dragging everything down. What really works in Kung Fu Killer (aka Kung Fu Jungle) is the villain's choice of potential victims. By singling out masters of specific forms of martial arts, he is able to use a variety of fighting styles against the best in their field before moving on to the next level of his self-imposed challenges. Whether Mo is the primary target or simply an added bonus really doesn't matter, as viewers know these two will inevitably face off in a dynamic battle, likely in an unexpected location.
Donnie Yen (Ip Man) stars as Hahou Mo, and also serves as the film's action director. Working closely with director Teddy Chen (The Accidental Spy), the martial arts set-pieces welcome supporting turns from some familiar faces in the industry including Shi Yanneng (Flash Point), Louis Fan (Ricky Oh) and Yu Kang (Special ID) as a trio of masters trained in the arts of kicking, weaponry and grappling, respectively. Wang Baoqiang (Iceman) stars as the villainous Fung Yu-Sau, and really holds his own against these intimidating opponents. Many films of this variety focus on action first and character later, and this is the case here as Yu-Sau's motive is ultimately pretty lame. The screenplay, co-written by Chen with Lau Ho-Leung (Painted Skin), suffers from some terrible flashbacks that work against the plot by either reminding audiences of something revealed only moments before or, worse still, offering information that did not appear in an earlier sequence. Mo has the ability at one point to arrive at a crime scene, look at a corpse and imagine how the entire fight played out and led to that character's death. This is exciting for audiences, but not so great for logic.
The police procedural side of the plot is unfortunately dead on arrival, as Mo is immediately aware of what is going on following a brief TV news story involving a car accident (that in hindsight goes against the killer's methods for the entire picture). He is further able to anticipate enough moves that the police suspect he may actually be involved in the crimes, a sloppy subplot that wastes more time than should be allowed. Charlie Yeung (New Police Story) does a fine job as Inspector Luk Yuen-sum, a dedicated cop whose career is on the line as she heads the investigation. Yeung shares enough chemistry with Yen to make their relationship believable, but neither is going to win any acting awards any time soon. Michelle Bai (The Viral Factor) is Mo's estranged girlfriend Sinn Ying, and is allowed to briefly shine in an unexpected fight sequence late in the film.
Kung Fu Killer is not a terrible way to spend a hundred minutes, but your satisfaction mileage may vary depending on how many Hong Kong action films you watch. If your answer is, "Not many," then you are likely in for a thrilling adventure. Dedicated fans will be tempted to skip from one fight vignette to the next (and rightly so), but I discourage this, as the filmmakers have stacked this movie with an unprecedented number of surprise cameo appearances as a love letter to the industry. I will not reveal any names here, but stick around for the closing credits for a quick montage of faces. All of this unfortunately adds to the disappointment of what should have been a knock-out action movie, given the talent involved.
Video and Audio:
The picture is presented in the original 2.35:1 aspect ratio and looks incredible. Colors and black levels are both solid with the only weak element in the mix being the occasionally shoddy CGI elements that this transfer only highlights.
There are four audio options, the original Mandarin language and inferior dubs in English, French and Spanish. The Mandarin and English tracks each receive a robust DTS-HD MA 5.1 presentation that are equally impressive when it comes to low end bass levels and surround activity, while the latter two receive standard Dolby Digital 5.1 mixes. Music and effects cues are well balanced against dialogue levels and really come to life during the numerous action sequences. The English language dub is a bit ludicrous, but I have heard worse.
English subtitles are provided for anyone in need.
Special Features:
The supplements on this disc are split into four brief segments and feature interviews with members of the cast or crew. These sections are intercut with footage revealing a behind-the-scenes look at the production. Fight to the Top (2 minutes), Spirit of Kung Fu (2 minutes), The Final Duel (3 minutes) and Legendary Action Directors (3 minutes) are informative but frustratingly short.
A domestic trailer is followed by a gallery of additional titles available from Well Go USA.
Grades:

Movie:






Video:
Audio:
Features:
Overall:
This page includes affiliate links where Horror DNA may receive a small commission at no extra cost to you.