Last Shift Movie Review
Written by Joel Harley

Released by Matchbox Films
Directed by Anthony DiBlasi
Written by Anthony DiBlasi and Scott Poiley
2014, 90 minutes, Rated 15 (UK)
DVD released on 18th January 2015
Starring:
Juliana Harkavy as Jessica Loren
Joshua Mikel as John Michael Paymon
J. LaRose as Panty Belt Patrick Black
Natalie Victoria as Marigold
Sarah Sculco as Kitty Paymon
Review:
A rookie cop, trapped alone in a soon-to-be shut down police station, under attack from antagonistic third-party forces. Sound familiar? The Assault on Precinct 13 vibes are strong with this one, to be sure, but there's more at play in Last Shift than simply riffing on John Carpenter's playbook from start to finish.
Rookie Officer Jessica Loren is working her first shift as a uniform cop, babysitting a redundant, soon-to-be-closed police station during its final hours (the last shift in question) – plus radioactive materials that aren't nearly as cool as they should be. Unfortunate Officer Loren is under attack from something a little more supernatural than mere gangsters or '70s punks though (depending on which version of Assault on Precinct 13 you watch) – ghosts, nightmarish visions and prank phone calls from murder victims are the name of the game here, ring-led by dead cult leader John Michael Paymon. It's less Brooklyn 99, more Brooklyn 666 (I have no idea whether the film is set in Brooklyn or not – it almost certainly isn't).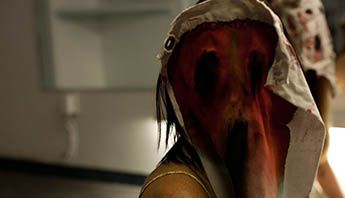 There's no denying the John Carpenter influence, but Last Shift is playing more to the Sam Raimi and Clive Barker crowd as it puts its nervy heroine through the ringer, flinging all manner of threats at her, physical and otherwise. Indeed director and (co) writer Anthony DiBlasi is the man responsible for the creepy Barker adaptation Dread, so such inspiration can't have been far from his mind throughout. Leading what is essentially a one-woman show as Officer Loren, Juliana Harkavay does a tremendous job – all at once vulnerable and strong, terrified yet competent. The deserted police station makes a fine setting, being nicely isolated and claustrophobic without ever feeling stale or played out. The sense of dread, as it were, is palpable.
As Loren tentatively tip-toes through the corridors of this haunted cophouse, there's a sustained sense of atmosphere and jump scares that accentuate the story rather than distract from it (looking at you, Blumhouse).Villain John Michael Paymon looms large over all of this, although, ultimately, he never seems to make the impact he should. The so-called King of Hell cuts a creepy figure, but is rarely ever more than that, and not the nemesis Officer Loren needs. Still, with handfuls of masked apparitions, streetwise hookers and a weird barefoot hobo, Loren is never short of company – or scares.
Last Shift is moody, chilling and scaring in all the right places. There's a sense that it never goes so far as to achieve all it could, but it makes for arresting entertainment, all the same.
This page includes affiliate links where Horror DNA may receive a small commission at no extra cost to you.