Late Phases: Night of the Lone Wolf Blu-ray Review
Written by Richelle Charkot
Blu-ray released by Dark Sky Films
Directed by Adrian Garcia Bogliano
Written by Eric Stolze
2014, Region A, 96 minutes, Not rated
Blu-ray released on March 10th, 2015
Starring:
Nick Damici as Ambrose
Ethan Embry as Will
Lance Guest as Griffin
Tina Louise as Clarissa
Tom Noonan as Father Roger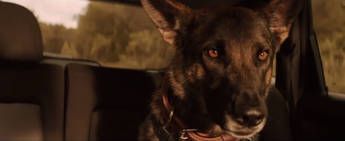 Review:
I first saw this film last year at Toronto After Dark and was immediately in love with its Straw Dogs-with-werewolves vibe. With a sorrowful and intense score, it is a unique movie with one of the most layered scripts I have seen in the recent years of horror, and I have been eagerly awaiting this Blu-ray release for months. Although my prior festival review states that the only flaw I found in the movie is that the werewolf costumes are jarring because they look fairly schlocky, Late Phases: Night of the Lone Wolf is such an easy film to watch, that with repeated viewings even the over-sized Gremlins-esque monsters will grow on you.
Ambrose (Nick Damici) is a Vietnam War veteran who has lost his sight due to trauma in the field. His son Will (Ethan Embry) is often riddled with worry for his afflicted father, in spite of the fact that Ambrose remains as independent as ever, especially with his seeing-eye dog Shadow. Will suggests to his father the he moves into a gated retirement community called Crescent Bay so that he may rest easier, and Ambrose reluctantly agrees. Immediately after setting foot onto his new property and still as 'with-it' as ever, Ambrose introduces himself to his pretty and soft spoken neighbour Delores, and charms her with compliments before returning to his new home. That evening, multiple residents of Crescent Bay, including Delores and Ambrose, are attacked by a rogue animal, and although he survives the attack, he is left with a burning desire to settle the score with whatever is terrorizing his new neighbourhood.
There is always charm to a story with a well-written hero such as Ambrose. Alongside its several characters with depth to their personas, Late Phases: Night of the Lone Wolf is enormously re-watchable because there's enough to pick up on in its script that may not be apparent in a first viewing. Viewers suspend disbelief that werewolves exist because of the inherent understanding that Ambrose has heightened instincts being a Veteran and a blind man, so he is to be trusted. The bulk of the narrative acts like a whodunit for figuring out who the werewolf is, and with carefully placed red herrings at every turn alongside even quieter foreshadowing, it is easy for a person to feel captivated by the story because they are granted an opportunity to be a part of it. Writer Eric Stolze also exercises a vast use of brushstrokes in the characters that could be analyzed and interpreted differently by each viewer, such as the fact that for the majority of the film Ambrose uses a shovel as a walking stick, which may be interpreted as him 'digging his own grave.' Regardless of whether or not this is intentional, it still creates a very memorable character.
Strong writing can always be thwarted by a lacklustre cast, but Damici in particular delivers Ambrose with complete believability. In spite of the fact that he is portraying not only a character who is much older than he is in real life, but a man who has lost his sight, which would be a large feat for someone with less talent than Damici. He shows no moments of weakness in his performance. Alongside the ever-enjoyable character actor Tom Noonan, who plays Father Roger, a priest with a vice for smoking too many cigarettes, the moments when these two men muse on life are arguably the best scenes in this film.
Late Phases: Night of the Lone Wolf is a must watch for those who appreciate a strong script. With so much that is interesting about how this narrative is executed, it can be enjoyed by horror fans and non-horror fans alike.
Video and Audio:
Presented in 2.39:1 aspect ratio, the film looks sharp in spite of its soft sepia tones, which match the quiet atmosphere to the retirement community, Crescent Bay.
The audio in Dolby Digital 5.1 sound remains even for most of the picture, save for some of the louder moments with the werewolves that can become jarring if the volume is too high.
This Blu-ray also has subtitles in English and Spanish.
Special Features:
There is a commentary with director Adrian Garcia Bogliano that is very captivating, especially for those interested in the process of directing. Bogliano is intelligent and erudite, and his explanation of why specific moments of the movie are presented the way that they are allows viewers to understand the subtlety and artistic merit to Late Phases.
There is also an approximately fifteen-minute "Making Of" video available, which details the preparation for getting Late Phases into production, featuring several interviews of the crew and cast. It is an interesting short piece that shows each person complimenting the work of each other, but instead of feeling self-gratifying, it gives a sense that the group worked well together with little friction.
An offered FX featurette is a little over thirty minutes and showcases the meticulous process of creating the werewolves. Although interesting for fans of practical effects, it may be dull and too long for those who have no interest in the craft.
The trailer for the film is also included in the special features.
Grades:

Movie:






Video:
Audio:
Features:
Overall:
This page includes affiliate links where Horror DNA may receive a small commission at no extra cost to you.