Let My Puppets Come Blu-ray Review
Written by Robert Gold
Blu-ray released by Vinegar Syndrome
Written and directed by Gerard Damiano
1976, 76 minutes, Not Rated
Released on August 27th, 2019
Starring:
Gerard Damiano
Penny Nichols
Al Goldstein
Luis De Jesus
Viju Krem
Lynette Sheldon
Review:
Adult films have been around in one form or another since the dawn of cinema. For years these were not really movies as much as they were more a series of short loops showing increasingly risqué behavior. The industry was forever changed with the arrival of Gerard Damiano's Deep Throat (1972), a film that launched "The Golden Age of Porn". The picture was feature-length and was the first of its kind to offer a plot, character development and relatively high production values. It received a theatrical release and upper-middle class mainstream audiences flocked to it, starting the "porn chic" movement of the 1970s. Damiano followed his success with The Devil in Miss Jones (1973) and remained at the forefront of the movement throughout the decade. In 1976, he entertained a new idea that would lampoon the industry he helped revolutionize with his next project Let My Puppets Come, an adaptation of the stage play Kumquats (1971), an adult-themed musical featuring a cast of puppets.
The story involves three brothers, Ned, Fred and Red, who run a successful business in New York City that falls on hard times due to the failure of a recent venture, leaving unpaid debts to a local mafia boss named "Mr. Big". They are given twenty-four hours to settle up or face dire consequences. The brothers try to think of a way out of their predicament and land on the idea of shooting a pornographic movie. They brainstorm ideas for a plot and begin making phone calls. Their grandfather, "Gramps", reaches out to a director named Frederico Gepetto for technical assistance. Gepetto makes new puppets to perform in the movie and later that day filming begins. What follows is a madcap day of shooting musical numbers and various sex scenes racing against the clock to finish the picture and make their fortune as filmmakers.
Let My Puppets Come is a musical comedy featuring a cast of puppets performing sexual acts on each other and then singing show tunes. There are a few human characters that do not participate in the sex scenes, including adult industry names Al Goldstein, Penny Nichols and Viju Krem. Writer/director Gerard Damiano loads the picture with jokes, puns, fake commercials and sight-gags that expand the wacky premise and keep things moving at a brisk pace. The puppets themselves are a little creepy in appearance, particularly the Pinocchio character who becomes a real boy in a truly terrifying dance number.
In a weird case of fluke timing, Let My Puppets Come was released the same year Jim Henson's The Muppet Show debuted on television. Obviously aimed at vastly different audiences, it is just strange that 1976 would bring such a puppet renaissance to viewers. Years later, Peter Jackson (The Lord of the Rings trilogy) would revisit the idea with his mainstream feature Meet the Feebles (1989), a film that shows the harsh realities of life behind the scenes of a successful variety show in a world of puppets. Jumping ahead another few decades, Brian Henson (Muppet Treasure Island) made The Happytime Murders (2018) in which puppets and humans co-exist in Los Angeles and it explores the idea of someone targeting puppets for murder.
Let My Puppets Come is the first puppet porno musical and it remains highly entertaining. The film received a theatrical release and later turned up on VHS in a highly edited version with a running time of only forty minutes. Vinegar Syndrome has restored the original camera negative and presents the film uncut for the first time with a release aimed to introduce the picture to a new audience. The picture had disappeared into obscurity for years but returns with renewed energy. Fans of quirky underground cinema will definitely want to check this one out as it is pretty creative and entertaining.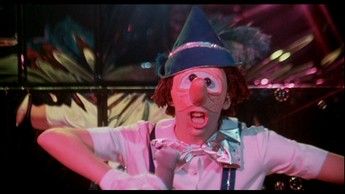 Video and Audio:
Presented in the 1.85:1 aspect ratio, the original 35mm film elements have received a 2K scan and full restoration and the results are pretty incredible. The movie has circulated as a murky VHS bootleg for years and longtime fans are in for a real treat. Colors are given new life and there is plenty of small-object detail absent from the earlier release. There is some print damage in the form of scratches and chemical stains that pop up during reel changes, but the overall picture quality is awesome.
A DTS-HD MA 1.0 preserves the original mono recording. Dialogue is clean and free from hiss or distortion and music cues are well-balanced and full.
Optional English subtitles are included for anyone in need.
Special Features:
Film historians Heather Drain and Samm Deighan specialize in 1970s porn films and are tremendous fans of this picture. In their audio commentary they discuss the director's career and other porn musicals of the era. Other topics include the look of the puppets, the quality of the musical numbers, the bias against actors appearing in pornographic movies and the effort that went into this picture.
In a newly-recorded phone interview, film historian Casey Scott talks to puppeteer and puppet designer James Racioppi about his work on the picture. He reflects on how he got into working with puppets, working with others in the field and the numerous differences between this and the edited version of the film. This is a thoughtful and informative conversation that runs the length of the picture as something of an additional audio commentary.
The history of the stage production "Kumquats" is recalled by director Nicolas Coppola in a phone interview with Casey Scott. This is another interesting conversation that runs for forty-two minutes.
Rare audio recordings from a production of the musical "Kumquats" (1971, 10 minutes) offer a sample of some of the highlights from the play including selections from a few musical numbers.
The original theatrical trailer has been included.
Grades:

Movie:


Video:
Audio:
Features:
Overall:
This page includes affiliate links where Horror DNA may receive a small commission at no extra cost to you.