Magic DVD Review
Written by Steve Pattee
DVD Released by Dark Sky Films
Directed by Richard Attenborough
Written by William Goldman
1978, Region 1 (NTSC), 107 minutes, Rated R
DVD released on April 25th, 2006
Starring:
Anthony Hopkins as Corky/Voice of Fats the Dummy
Ann-Margret as Peggy Ann Snow
Burgess Meredith as Ben Greene
Ed Lauter as Duke
Movie:
After failing miserably at his debut, magician Corky (Anthony Hopkins – The Silence of the Lambs) refines his craft and a year later is blowing up on the club circuit. He's added something new to his show that the crowds love: Fats, a foul-mouthed dummy.
When his manager, Ben Greene (Burgess Meredith – Rocky), informs him that a television deal is within reach, and all Corky needs is a medical clearance, Corky freaks out and leaves town to get away from the pressure.
He ends up hiding out in the Catskills, at a cabin owned by Peggy (Ann-Margret – Grumpy Old Men), a woman whom he had a crush on in high school. Peggy is in a loveless marriage, and after some talking (and sex), the two decide to run off together and get away from their problems.
However, Fats has other plans, because no one is gonna come between him and Corky. And if they try, they die.
Jealous little bastard.
Review:
When Dark Sky Films announced they were releasing a special edition of Magic, I was elated — for a couple of different reasons. The first was, considering the work they did with Henry: Portrait of a Serial Killer and The Manson Family, I knew I'd be in for a treat. The second was this movie scared the piss out of me when I was a young buck, and I was quite curious to see how it held up.
Well, one thing's for sure: This is not the same movie I remember.
The movie I remember was about an evil dummy with a switchblade that it used to kill people.
The movie I watched is about a man having a mental breakdown, who has a dummy, and people die.
And it is better than the movie I remembered.
Instead of a Chucky-esque story of an evil doll running around hacking people to bits, I was treated to Hopkins' stellar performance as a man going mad.
Now, don't get me wrong, killer dolls are a blast. But a killer doll movie doesn't leave you with any more thoughts after it's over. Well, other than maybe "that was cool" or "that sucked." The bottom line is, generally, they aren't very deep.
But not Magic. Magic is a thinking man's maniac doll movie.
In one of his early roles, a young Hopkins shines. It is easy to see why he eventually became the well-respected actor he is today. And, dare I say it, Hopkins' performance as Corky easily rivals, and in some instances is better than, the one that solidified Hopkins as a household name — Hannibal Lecter. The Lecter character was just plain evil. In Magic, Hopkins was required to play both hero and villain. He made it look easy.
And while Hopkins' performance is stellar — and it is — Burgess Meredith as Ben Greene is amazing. Greene is a man who puts up with no shit, and Meredith handles the role so well that I'm damn inclined to believe part of the real person is shining through. Throw in the beautiful Ann-Margret, who manages to easily hold her own as the love interest, and you have some great performances.
But even great performances require a great script, and Magic shines there, as well. Written by William Goldman — author of All the President's Men, Misery and Marathon Man, and novels such as "The Princess Bride" (as well as its script) — Magic manages to not only be believable, but never cross the line into hokey. And, let's face it, when dealing with killer dolls (or dummies), that line is very easily crossed.
Richard Attenborough, the Oscar winning director of Gandhi, should be mentioned as well. He not only pulled outstanding performances out of one already outstanding actor and one up-and-coming one, he took a tight script and turned it into a gripping movie without missing a beat.
Oh yeah, and Ann-Margret gets naked.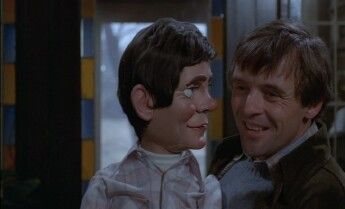 Video and Audio:
Like everything else about the movie, the 16:9 presentation is great. Colors are natural — with reds being especially vibrant — and blacks are suitably dark. In addition, I saw no spots or damage on the film. That's right, no visible blemishes. A beautiful picture.
The 2.0 track is very clean. While I wish there were more bass, but all things considered, it's more than adequate.
English subtitles are available.
Special Features:
Fats and Friends Featurette
An Interview with Victor J. Kemper
An Interview with Anthony Hopkins
Anthony Hopkins Radio Interview
Ann-Margret Make-Up Test
Theatrical Trailers
TV and Radio Spots
Photo Gallery
Dennis Alwood, ventriloquist and creator of Fats, is the centerpiece of the "Fats and Friends Featurette." Clocking in at just under a half hour, this featurette covers a lot of ground, from a brief history of ventriloquism to some interesting trivia about Magic — some of which is told by Fats himself. If you watch no other special feature on this disc, watch this one.
Victor Kemper, Magic's cinematographer, explains what a cinematographer does, and the choices he made when filming Magic. This cat has done almost 60 movies, including Pee-wee's Big Adventure, Arthur! Arthur!, Eyes of Laura Mars and Dog Day Afternoon, and the 12-minute interview is pretty damn good.
There are two interviews with Hopkins, a radio interview and a television interview. The television interview was obviously filmed for a Spanish station, as the interviewer asks Hopkins questions in English and immediately translates the questions to Spanish (as well as Hopkins' response). It's not too annoying, as the interview runs just over six minutes, but it does get somewhat distracting.
The radio interview is just over three minutes and it plays over a video of some behind-the-scenes clips as Hopkins briefly talks about the film.
Ann-Margret's make-up test is about a minute and a half and has no audio. But it's a minute and a half of Ann-Margret, so that's cool with me.
The trailers, TV and radio spots are exactly that. The trailer has a very interesting opening tagline that some horror fans may find amusing. And one of the TV spots ("English 2") is interesting, as it only aired once, but was pulled due to complaints from parents. Sweet.
The photo gallery contains 26 pictures, including lobby cards and posters. But the last few contain head shots of Fats and Hopkins. I'm not a fan of photo galleries, but the Fats head shots were pretty neat.
Grades:

Movie:
Video:
Audio:
Features:
Overall:
Conclusion:
Sometimes you catch a movie you haven't seen in years, and it's different than you remember it — especially if you haven't seen the movie since you were kid. But it's very rare when the movie that scared you as a kid still affects you as an adult. Magic does that. It's better than I remembered and it still creeps me out — but this time on a completely different, higher, level. Go out and buy it. It's more than worth its $19.98 MSRP.
This page includes affiliate links where Horror DNA may receive a small commission at no extra cost to you.