Man's Best Friend Blu-ray Review
Written by Robert Gold
Blu-ray released by Scream Factory
Written and directed by John Lafia
1993, 87 minutes, Rated R
Released on March 12th, 2019
Starring:
Ally Sheedy as Lori Tanner
Lance Henriksen as Dr. Jarret
Fredric Lehne as Perry
Robert Costanzo as Det. Kovacs
John Cassini as Det. Bendetti
J.D. Daniels as Rudy
William Sanderson as Ray
Trula M. Marcus as Annie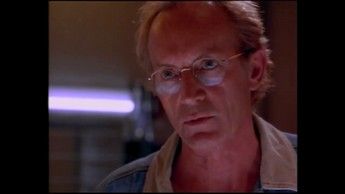 Review:
Ambitious TV journalist Lori Tanner is following a scoop on a local genetics research lab suspected of animal cruelty. She sneaks in with her camera operator and discovers Max, a large Tibetan mastiff, caged with a bunch of electronics strapped to him. She frees the dog and takes him home against the wishes of her boyfriend Perry. He reluctantly agrees to allow her to keep the dog, but the animal takes an immediate disliking to him. Max becomes overly protective of Lori and is also proving to be territorial in the neighborhood. Meanwhile, back at the lab, Dr. Jarret, the man conducting experiments on the animals, is freaking out that someone took his lead test subject. He reports Max stolen and works with the police to get him back.

Man's Best Friend is a bizarre Frankenstein patchwork of a picture pieced together from parts of an animal rights drama crossed with a horror film and mixed with the humor of a pitch-black comedy. What begins as an anti-vivisection tale quickly shifts to a monster movie as we learn that our hero dog has had his DNA genetically modified with that of large cats, birds of prey and various other predatory animals. He is prone to fits of aggressive behavior but is currently under the influence of a neuropathic inhibitor. The drug will wear off in a matter of hours and Max will eventually turn dangerous if he is not returned to the lab for treatment. The dog builds a bit of a body count before long and now that he has a taste for blood it is only a matter of time before he turns on Lori.
Written and directed by John Lafia (Child's Play 2), the picture is full of canine clichés, as we see Max chasing the paperboy or attacking the mail man – in slow-motion (!), but there are some unique twists on the behavior, like when he chases a cat up a tree. What happens next is surprising and generates one of the film's biggest laughs. There is a romantic subplot that plays more like doggie rape than mutual affection as Max pursues a neighborhood bitch. Much of the humor stems from the absurdity of the situations, as the script shows little restraint in what Max is capable of. Lafia keeps things moving at a brisk pace to keep audiences from thinking too much about the logic on display. The characters are largely unlikeable cartoons, including a pair of bumbling dog catchers and stereotypical cops on the case.
Ally Sheedy (The Breakfast Club) stars as delinquent protagonist Lori Tanner, the pushy television personality trying to improve her position at work. She breaks into private property, steals a valuable asset and never takes the poor dog to the vet in case he might need medical attention. She's pretty clueless when it comes to Max's activities until he finally turns on her and I'm not certain I didn't want to see her get eaten too. Antagonist Dr. Jarret is energized by a dedicated Lance Henriksen (Pumpkinhead). He delivers his usual intensity in the performance and is always fun to watch. Sure, Jarret mistreats cute little animals for a living, but at the end of the day he wants to get on with his work, and he just wants his dog back. The rest of the cast does a serviceable job, but for the most part remain unremarkable. One standout supporting player is William Sanderson (Sometimes They Come Back) as an abusive junkyard owner; you will love to hate him.
Man's Best Friend arrived during the horror drought of the early 1990s and is not particularly scary. The tone is a bit inconsistent bouncing between horror and a few other genres, including drama, action and comedy. In a sense the movie has a little bit of everything and succeeds in an empty sort of fashion. It is an easy way to pass an hour and a half without too much investment. When the film arrived on DVD, the cover art featured a large dog/half-cyborg image that misleads audiences into believing this is a Terminator knock-off. That could be an interesting concept, but it is not what we have here. Give this one a rental before deciding whether or not to bring it home.
Video and Audio:
Presented in the 1.85:1 aspect ratio, the original film elements have received a 2K scan and look fantastic. Colors are well-saturated and black levels are solid and there is plenty of small-object detail in fabrics and fur.
The sound mix is also pleasing, arriving with a DTS-HD MA 5.1 track that is livelier than expected. Music cues are robust and well-balanced with dialogue levels.
Optional English subtitles are included for anyone in need.
Special Features:
Director John Lafia's audio commentary is pretty entertaining, as he is well aware of the kind of movie he has made. There are plenty of anecdotes to keep the track interesting and worth a listen.
The original theatrical trailer and a teaser trailer are joined by a collection of TV spots.
Grades:

Movie:


Video:
Audio:
Features:
Overall:
This page includes affiliate links where Horror DNA may receive a small commission at no extra cost to you.