Mark of the Devil Blu-ray Review
Written by Robert Gold
Blu-ray released by Arrow Video
Directed by Michael Armstrong (and uncredited Adrian Hoven)
Written by Michael Armstrong and Adrian Hoven (credited as Sergio Casstner and Percy Parker)
1970, Region A, 97 minutes, Not Rated
Blu-ray released on March 17th, 2015
Starring:
Herbert Lom as Lord Cumberland
Udo Kier as Count Christian von Meruh
Olivera Vuco as Vanessa Benedikt
Reggie Nalder as Albino
Herbert Fux as Executioner Jeff Wilkens
Johannes Buzalski as Advocato
Michael Maien as Baron Daumer
Gaby Fuchs as Deidre von Bergenstein
Ingeborg Schöner as Puppeteer's wife
Adrian Hoven as Puppeteer
Review:
Hundreds of years ago, the devil spent a lot of time on holiday in Europe. He dated lots of women, had sex with witches and tricked countless people into making bad decisions. Luckily, the God-fearing people of the land were protected from evil by an arsenal of church appointed witchfinders. These men were really good at spotting the devil's concubines, and knew all the best ways of convincing them to confess their sins, using methods involving physical torture, naturally. Once persons acknowledged their crimes against God, the only thing to do was kill them, usually by either fire or decapitation. Unfortunately, opportunistic scumbags on both sides of the law frequently cried witch in order to settle scores or avenge a perceived slight.
Mark of the Devil tells the story of an apprentice witchfinder named Count Christian von Meruh, who arrives in a small Austrian village ahead of his master, Lord Cumberland, sent to seek out the devil's advocates. Upon arrival, Christian is immediately smitten with a beautiful barmaid named Vanessa. She has also caught the eye of Albino, a revoltingly cruel man who happens to be the local witchfinder. When she refuses the latter's advances, he labels her a witch and has her jailed until she can be properly interrogated. It is fairly obvious to anyone with eyes that Albino is a tyrannical misogynist, but no one in this village of cowards dares cross him for fear of his wrath. Once Lord Cumberland arrives, hopes of salvation are dashed, as he quickly proves to be an even more sinister character. He not only punishes the weak, Cumberland also abuses his power to claim other people's wealth and property in the name of the church. Well-meaning and loyal Christian must decide what is the right thing to do, and at what cost if he is to consider himself a decent man.
Director Michael Armstrong's infamous German classic Mark of the Devil has been heavily censored and banned in several countries for decades. The legendary violence is unprecedented for a film made in 1970, as the value of human life is repeatedly cheapened for the sake of entertaining crowds. The picture starts with a pair of nuns being raped and then burned alive, before moving on to include several scenes of physical torture to both men and women alike, with the female victims usually appearing in the nude. This is a cruel and brutal tale intent on exposing and condemning the (historically accurate) atrocities conducted in the name of religion. The message is unfortunately lost in the delivery, as too much effort is spent wallowing in the despicable acts the filmmakers supposedly decry.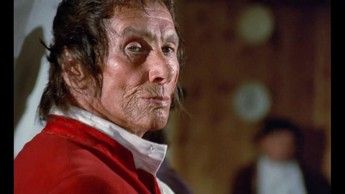 Written by Michael Armstrong and Adrian Hoven (credited as Sergio Casstner and Percy Parker), the feature showcases violence over character development and fills the tale with unlikeable cretins, lowering the bar for all humanity. Hoven is reported to have stepped in as director to complete the picture when Armstrong was removed for taking too long. In contrast to all of the highlighted wretched behavior, the film sports some gorgeous images courtesy of Cinematographer Ernst W. Kalinke (School of Fear), but these too are hindered by the once-popular device affectionately known as "the unnecessary zoom". Music lovers will appreciate Michael Holm's soothing score, and genre fans will recognize its influence it had on Riz Ortolani's theme to Cannibal Holocaust (1980).
Top-billed Herbert Lom (The Phantom of the Opera, 1962) stars as Lord Cumberland, the impotent woman hater, but he does not arrive until roughly halfway through the picture. He casts a long shadow over the proceedings, but his character feels a bit underdeveloped, as he is content to simply represent all that is wrong with the system.The real stars of the show however, are Udo Kier (Suspiria) and Olivera Vuco (Goya) as Christian and Vanessa respectively. Both actors are unbelievably attractive and their beauty is used against them. Kier is hypnotic every moment he is on the screen, giving a glimpse that signals a long career ahead. Vuco is especially eye-catching as she lends a defiant strength to her role as the woman willing to stand up for what is right. The third star of this picture is easily Reggie Nalder (Salem's Lot), whose distinct features perfectly counter the beauty of others. His command performance as the diabolical Albino is immediately threatening and intimidating and he quickly becomes a favorite nasty source of malice. The beautiful Gaby Fuchs (The Werewolf VS. Vampire Woman) has the unfortunate honor of starring in the most salacious sequences of the film as Deidre von Bergenstein, the woman stripped naked and tortured until she agrees to change her story about who raped her (Satan, obviously).
Mark of the Devil owes a huge debt to Michael Reeve's masterpiece Witchfinder General (1968), but lacks that film's elegance. Herbert Lom is nowhere near as engaging as Vincent Price, but it is actually the tone of the picture that sets it apart. Devil easily surpassed the level of sex and violence that was offered at the time through popular studios Hammer Films, Amicus or American International. Upon release in America, the picture reveled in the novelty of being the first film self-rated "V for Violence" and theater owners provided novelty vomit bags for squeamish audiences. Once billed as the most violent movie ever made, it retains a lot of its disturbing power forty-five years on. Fans of this material will rejoice at the chance to see this work uncensored and lovingly restored for this Blu-ray release, but casual genre buffs may want to stay clear, as this package does not come wrapped in a vomit bag.
Video and Audio:
This new special edition of Mark of the Devil is quite simply, stunning. All previous versions I have seen pale in comparison to the work done here. The uncensored version is presented in the original 1.85:1 aspect ratio, with unbelievably rich colors and solid black levels. This looks at times like the film was shot within the last decade and bears little evidence that it is over 40 years old.
As there was no location audio recorded, everything was dubbed in post-production. A pair of DTS-HD MA 1.0 mono tracks offer both the original German and English language presentations of the film. Music cues are particularly impressive and dialogue remains clean and free from distortion.
English subtitles are provided for anyone in need.
Special Features:
Mark of the Times (47 minute) is an excellent documentary on the rise of the new wave of British horror cinema in the 1970s. Directors Michael Armstrong, Norman J. Warren (Bloody New Year) and screenwriter David McGillivray (Frightmare) are paired with historian Peter Hutchings (author of Hammer and Beyond) and film critic Kim Newman for a series of insightful interviews on genre films. The fast-moving piece covers the works of directors Pete Walker (The House of Whipcord), Robin Hardy (The Wicker Man) and Michael Reeves (Witchfinder General) among others, and is definitely worth checking out.
Michael Gingold (Fangoria magazine) discusses some of the outlandish marketing practices of the film distributor Hallmark Releasing in the entertaining segment Hallmark of the Devil (12 minutes).
Up next we get a series of interviews with actors Udo Kier, Herbert Fux, Gaby Fuchs, Ingeborg Schoner and composer Michael Holm. Also included is an amusing audio-only interview with Herbert Lom. The interviews are a welcome addition, but each one is saddled with production problems, either a noisy environment (Kier), poor lighting (Fux) or less than stellar picture quality (Fuchs).
Mark of the Devil: Then and Now (7 minutes) returns to the scene of the crime, as it were, and visits the original shooting locations as they appear today, contrasted with clips from the film shot in 1970.
A collection of outtakes (3 minutes) primarily offers glimpses of the actors just before or after a take as the scenes are being slated.
The photo gallery is surprisingly robust (147 images) and includes assorted international lobby cards, posters, newspaper ads, production stills and various home video box art variations.
The original theatrical trailer included is full of spoilers and not surprisingly highlights the film's violent content.
Grades:

Movie:


Video:
Audio:
Features:
Overall:
This page includes affiliate links where Horror DNA may receive a small commission at no extra cost to you.