Meridian Movie Review

Written by Charlotte Stear

DVD released by 88 Films
Directed by Charles Band
Written by Dennis Paoli
1990, 85 minutes, Rated 15 (UK)
DVD released on 28th May 2012

Starring:
Sherilyn Fenn as Catherine
Malcolm Jamieson as Lawrence / Oliver
Charlie Spradling as Gina (as Charlie)
Hilary Mason as Martha
Review:
Meridian follows a young graduate, Catherine (Sherilyn Fenn) who moves back to Italy after inheriting her father's estate. She is joined by an old friend from school who has managed to get work restoring paintings. The two girls catch up on old times and while walking through the town surrounding Catherine's castle (yes, castle) see a traveling sideshow and are instantly mesmerised by the magician leading the performance. They invite the whole cast back to the castle for dinner but the magician is not all what he seems; he drugs the girls and takes advantage of them. After this, Catherine starts seeing a vision of a dead woman and learns of an old curse on the family, she knows it is related to the magician and intends on finding out how.
The overriding feeling when Meridian finished was a creepy one. Not a good, "This film is so creepy, it's great!" kind of feeling, more unsettled in the way in which Catherine is portrayed; she loves a man who is at times lovely, but other times evil and hurts her. Yes, there is a solid reason for these character changes, but I couldn't shake the feeling that this woman had been drugged and then blindly followed this man to wherever he wanted to go. Empowering this film is certainly not and there isn't much else to make for this flaw in the story.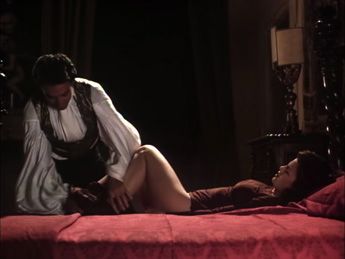 If nothing else, Meridian can claim it has one of the most unbelievably unnecessary and ridiculously long sex scenes of any horror film. Well, that I can recall anyway. I was able to go and make a cup of tea and when I came back they were still at it. Fair enough if that's what you're after ladies and gents, but if you wanted a mystical story about a curse, this all seems a bit gratuitous. But maybe I'm just a prude…

Basically, this film is just a bit silly. And by the end you'll be so blasé about all the events happening that pretty much anything will go and you won't raise an eyebrow. Granted, this was never going to be a "believable" film, but a little bit of logic would have been nice.

It is good to see Sherilyn Fenn take a lead role like this, she certainly has the chops for it and anyone who is a big fan of Twin Peaks will love how she plays someone completely different to the deviant Audrey from that epic TV series. She has a real classic Hollywood beauty that does light up a screen, but ultimately her talents are a little wasted here as the film fails to deliver anything of real substance.

Meridian does have an interesting atmosphere to it, it just never delivers on anything it seems to promise and by the end there are just too many loose ends left waving around which is always annoying.
Video, Audio and Special Features:
Video, audio and special features will not be graded as this was a screener.
Grades:

 



Movie:
Video:
n/a
Audio:
n/a
Features:
n/a
Overall:
This page includes affiliate links where Horror DNA may receive a small commission at no extra cost to you.