Mimic Director's Cut Blu-ray Review

Written by Joel Harley

Blu-ray released by Studiocanal
Directed by Guillermo Del Toro
Written by Donald A. Wollheim and Matthew Robbins
1997, Region B (PAL), 112 minutes, Rated 15 (UK)
Blu-ray released on 31st October 2011

Starring:
Mira Sorvino as Dr. Susan Tyler
Jeremy Northam as Dr. Peter Mann
Alexander Goodwin as Chuy
Giancarlo Giannini as Manny
Charles S. Dutton as Leonard
Josh Brolin as Josh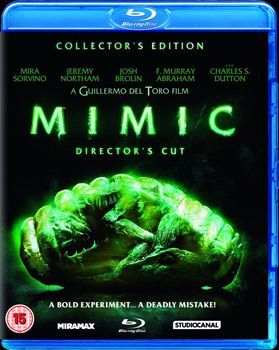 Review:
Giant insects with human faces run amok in Manhattan, eating children and tramps in dark alleyways. An entomologist and her CDC agent husband track the bugs down to a disused subway system, where a shoe-shiner has lost his autistic son and a grumpy cop panics a lot. A relatively young Josh Brolin wanders around in the darkness, playing such a bit-part role that his survival is far from guaranteed. As the bugs' origins are discovered, it emerges that mankind and our meddling eggheads may be more than a little bit culpable for their evolution. Oops.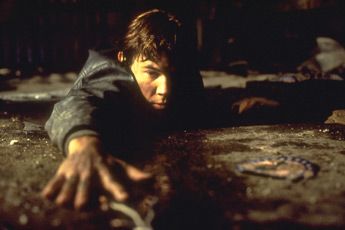 Those with a phobia of bugs would be well advised to give Mimic a miss. Amidst the darkness, gore and slime, there's enough subterranean scratching, squealing and squeaking to make the skin crawl. It's surprisingly cruel at times, even going so far as to feed a few children to its monsters (albeit mostly off-screen). As with director Guillermo Del Toro's trilogy of bloodsucking Strain novels, enough attention to detail is directed to the scientific aspects of the story to make it almost plausible. Regular Joe characters such as terrified cop Leonard and Manny the shoe-shiner keep the horror grounded in enough reality to prevent the script from overdosing on clever scientists.

Even with the high definition upgrade, it's a little too dark at times. Some of the creature effects can't help but show their age. But it's a very tense movie, expertly constructed, well-acted and with some great action scenes. Those set in a disused subway car remain the highlight, as does Charles S. Dutton's terrified cop, constantly alternating between swearing, singing and screaming. It's an amusing novelty to see a less famous Josh Brolin in a supporting role, whilst Mira Sorvino and Jeremy Northam are a likeable pair of leads (even if Northam does seem to be doing his best impression of Egon from Ghostbusters throughout).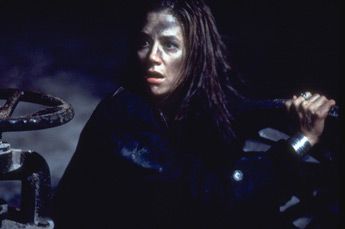 The first Hollywood piece by Del Toro, Mimic certainly showcases much of the style that would later become the director's hallmarks; weird, gruesome creatures in an underground environment, pitted against confused scientists and professionals trying to stop the hidden terror. Mimic is one of the finest sci-fi/horror hybrids of the nineties, a less sleazy version of Species. But Del Toro hasn't always agreed with that assessment. It was disowned by the man himself due to studio interference and arguments with producer Bob Weinstein. With this director's cut, we can see Mimic almost as intended. In a video prologue, he describes it as "a cautionary tale". A feature entitled "reclaiming Mimic" should inform the viewer how passionately Del Toro feels about his new cut, referring to the seven minutes of restored footage as "that which could be saved." Those all-important seven minutes bring more definition to the characters.

Mimic may not be as great as Del Toro had initially envisioned it, but with his director's cut it comes incredibly close. This version breathes all new life into an old classic. This is the definitive Mimic.
Video and Audio:
The icky oozing and scratching of the bugs makes this sound like a nature documentary, whilst the humans screaming in their death throes sounds great too. The 1080P High Definition upgrade makes it easier to see what's going on under all that darkness.
Special Features:
The special features on the Blu-ray are enlightening and enjoyable. Del Toro talks the viewer through a series of featurettes and an audio track, passionately and frankly describing his love for the short story upon which Mimic is based and his problems with the studio release. It's great to see a filmmaker with such passion for his craft.

The complete list of features comprises: A video prologue from Del Toro, three feaurettes, deleted scenes, storyboards, a gag reel and an audio commentary by the man himself.
Grades:

 

Movie:
Video:
Audio:
Features:
Overall:
*Note: The screenshots on this page are publicity stills and not a reflection of the Blu-ray image.*
This page includes affiliate links where Horror DNA may receive a small commission at no extra cost to you.