Monsturd DVD Review
Written by Daniel Benson
DVD released by Elite Entertainment
Written and directed by Dan West & Rick Popko
2003, Region 0 (NTSC), 81 minutes, Not rated
DVD released on February 3rd, 2004
Starring:
Paul Weiner as Sheriff Duncan
Beth West as Susan Hannigan
Dan Burr as Dr. Stern
Brad Dosland as Jack Schmidt
Dan West as Deputy Dan
Rick Popko as Deputy Rick
Hannah Stangel as Munchkin
Movie:
Escaped serial Killer, Jack Schmidt, is hunted by the FBI and the local police department and meets an untimely death in a vat of toxic waste from the Dutech chemical plant. The waste, dumped by evil scientist Dr. Stern into the local sewage system, mutates the killer's DNA with human excrement to create a part man, part poop, all psycho Monsturd.
Meanwhile, Butte County Sheriff Duncan (Paul Weiner) assisted by FBI Agent Susan Hannigan (Bev West) are the only ones convinced of the existence of the fecal fiend. With the Butte County Chilli cook-out planned for the weekend it is the perfect opportunity for the Monsturd to claim as many victims as possible. Armed with water pistols full of diarrhea remedy and using nappies (diapers) as body armour, they set off into the sewer system to flush the turd out into the open where it can meet its sticky end.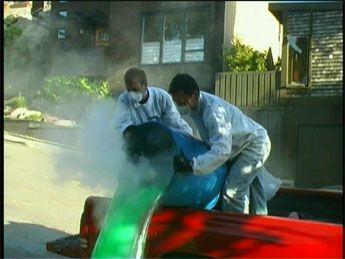 Review:
There are two ways a movie about a giant turd monster could go; either you get a gross-out comedy which doesn't take itself seriously and works because of that or it turns out to be a real stinker (sorry!). Thankfully, Monsturd falls into the former category, as long as you can take 80 minutes of peurile potty puns. In short, if you're a guy you'll probably enjoy this movie.
Fortunately the filmmakers have taken an extremely silly premise, and delivered the goods with equally over the top performances and characters. Practically everything in the movie is a euphemism related to toilets, excrement, or bowel movements but it's put together with such gusto, you can't help but enjoy it. It's an anal Airplane, and I could just see Leslie Nielsen delivering straight faced lines like the police sketch artist trying to establish how the monster looks, "How did it look? Was it smooth or chunky? Did it have peanuts in it?"
It seems, from the behind the scenes feature, that someone realised a creature made from expanding builder's foam and spray painted brown would look like a giant doody. That same person also realised that chocolate sauce would make ideal thing to spray all over victims of the Monsturd when it killed them. But that is how the entire film is shot; there are no big budget special effects, everything focuses on simple, and more importantly, effective use of limited resources.
When you look back at the work of Peter Jackson, who started off making similarly low-budget comedy horrors, you see how far a director can come with the right attitude and the ingenuity to create something with limited resources. It remains to be seen if Rick Popko and Dan West will go on to create their Lord of the Rings, but the very least we could hope for is Monsturd Number Two : The Second Movement.
Video and Audio:
This is a Region free NTSC DVD. The movie was shot on Digital Video and doesn't appear to have undergone any post production on the picture, so the overall feel of the movie is like a TV episode. That said, the colours are bright and vivid, and the picture is pin-sharp. The movie is presented in the original 4:3 aspect ratio.
A 5.1 surround sound track which is crisp, clear and easy to understand. There are no options on the disc for other soundtracks and the 5.1 track makes little use of the rear speakers. The original music score fits really well with the on screen action and lends itself well to the b-movie feel. There is also the option of a commentary track with main men Dan West and Rick Popko, accompanied by Bev West (Susan Hannigan) and Dan Burr (Dr. Stern). The four laugh and joke about the movie during the commentary and frequently wander off on a tangent entierly unrelated to the on screen action.
Special Features:
Monsturd Trailer
Behind the Scenes
23 minute feature consisting of outtakes and bloopers, with some production footage and some coverage of the Monsturd premiere. It's all pretty raw and looks as if it's been thrown together for the sake of the DVD.
Commentary Track
| | |
| --- | --- |
| Grades: | |
| Movie: | – Stupid, childish, disgusting and orifice obsessed. A hoot! |
| Video: | – Bright, vivid and crystal clear from the digital source. |
| Audio: | – Clear and easy to understand. |
| Features: | – Very little, but I suspect that everything that could have been included, has been. |
| Overall: | – Great piece of low budget cinema, and an ideal party movie. |
This page includes affiliate links where Horror DNA may receive a small commission at no extra cost to you.